Students Care for the Homeless and Hungry
Weeklong Activities Promote Volunteerism, Advocacy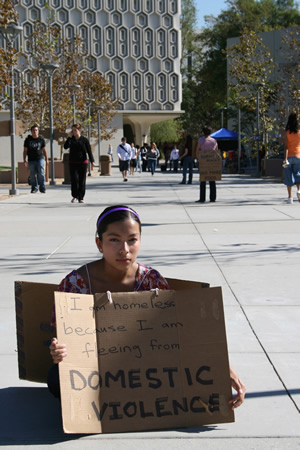 Students from 2007's awareness event demonstrate in the Quad.
What:
With thousands of people homeless in Orange County alone, Cal State Fullerton students are hosting activities Nov. 17-21 to engage peers in community service and advocacy to help alleviate homelessness and hunger through the Volunteer and Service Center's "Hunger & Homeless Awareness Week."
When:
Monday, Nov. 17, through Friday, Nov. 21, at various locations on campus
Why:
"The 33-member student committee has come up with an incredible series of events that will have a very strong impact on anyone who attends," said Amy Mattern, coordinator of the Volunteer and Service Center. "Campus members will leave each event with knowledge that will enable them to confront stereotypes and actively work toward making change in both small and big ways."
"I think it's important to raise awareness about hunger and homelessness, particularly on a campus full of students because we have the power to educate everyone — and to hopefully make a difference in our lives and in other people's lives," said senior Julissa Prado, sociology major and project director for Hunger & Homelessness Awareness Week.
Schedule:
• 10 a.m.-2 p.m. Monday, Nov. 17, and Tuesday, Nov. 18
Information about volunteering, getting involved and supporting the week's activities will be distributed along the walkway between the Pollak Library and the Titan Student Union.
• 6 p.m. Tuesday, Nov. 18 in McCarthy Hall Room 238
Screening of documentary "Ties on a Fence: Women in Downtown Los Angeles Speak Out," about homeless women in downtown L.A., followed by a discussion facilitated by Pamela Hope, senior development officer for ChildNet Youth and Family Services of Long Beach. Hope, who was once homeless is an advocate in the community, as well as president and co-founder of Colette's Children's Home, a program for homeless women and children. Screening and discussion to be held in McCarthy Hall Room 238.
• 11 a.m.-1 p.m. Wednesday, Nov. 19
Resource Fair in the Quad, featuring local organizations that work on issues related to hunger, homelessness and poverty.
• 11 a.m.-5 p.m. Wednesday, Nov. 19, and Thursday, Nov. 20
"Tent City," an interactive exhibit offering information and ways to get involved, in the Quad. Visitors can walk through the "tents" and find out, for example, the "reality vs. the stereotype" about the homeless and hungry population.
• 9 a.m.-3 p.m. Friday, Nov. 21
Homeless and at-risk children from local shelters and Project Hope, a school for the homeless, will visit the campus to experience a day of education and fun. The visit will include a campus tour, sessions in a science lab and theater class, a visit to the studio of Titan Internet Radio, recreation time for billiards and bowling in the basement of the Titan Student Union, and meeting with college students and faculty members.
• Through Wednesday, Dec. 3
Food items and monetary donations will be accepted by the Volunteer and Service Center and Latino-based fraternity, Lambda Theta Phi. Items can be dropped off at Room 2 of the Titan Student Union. For more information, call 657-278-7623.
Additional:
The canned food drive will benefit Second Harvest Food Bank of Orange County, and monetary donations will go to the Women's Transitional Living Center, a local organization committed to seeking solutions to end domestic violence.
Background:
Last year's efforts netted more than 1,100 food items, which were given to Second Harvest Food Bank of Orange County, and more than $500 in donations to Isaiah House, a Santa Ana homeless shelter. Additionally, 110 Cal State Fullerton students performed 1,015 hours of community service — a 75 percent increase in the number of student volunteers and service hours performed in 2006.
Information:
Call 657-278-7623, e-mail volunteer@fullerton.edu or visit www.fullerton.edu/volunteer