Dirty Air Costs California Economy $28 Billion Annually
More Than 90 Percent of SoCal Residents Breathe Air That Threatens Health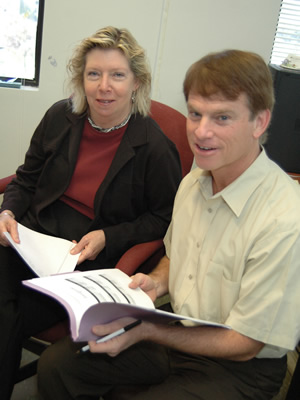 Jane V. Hall and Victor Brajer
Air pollution costs the California economy more than $28 billion annually, according to a new study released today and co-authored by two Cal State Fullerton economics professors.
The study, which focuses on the South Coast and San Joaquin Valley air basins, also found that the life- and health-threatening pollution in these regions contributes to more than 3,800 premature deaths each year.
"These findings come at a critical juncture as lawmakers grapple with California's commitment to protect public health in a weak economy," said Jane V. Hall, a nationally recognized environmental economist at Cal State Fullerton and the lead author of the study. "It may be tempting to think California can't afford to clean up, but, in fact, dirty air is like a $28 billion lead balloon on our economy.
"Given the state of California's economy, imagine what could be done if that $28 billion was being spent productively," she added.
Hall; CSUF economics professor Victor Brajer; and Fred Lurmann, manager of exposure assessment studies at Sonoma Technology Inc., examined the health and economic consequences of two pollutants, ozone and particulate matter (PM2.5). The study found that nearly every resident in the South Coast air basin and every resident in the San Joaquin Valley is exposed to life-threatening pollutants on a regular basis.
The cost of air pollution in the San Joaquin Valley is more than $1,600 per person per year, or $6 billion to the region's economy, according to the researchers. Simply meeting federal clean-air standards would save the region that annual cost.
In the South Coast air basin, the cost is more than $1,250 per person per year, making the annual total savings nearly $22 billion if federal clean-air standards were met.
Pollution sources in the two areas vary, but fuel combustion, including heavy-duty diesel truck exhaust, dominates both regions. Exposure to air pollution causes premature death, hospitalizations and respiratory symptoms, limiting a person's normal daily activity and increasing school absences and loss of workdays, said the researchers. The cost reflects the impact these health problems have on the economy.
Each year, the life- and health-threatening levels of pollution cause the following adverse health effects for the two basins:
Premature deaths among those age 30 and older: 3,812

Premature deaths in infants: 13

New cases of adult onset chronic bronchitis: 1,950

Days of reduced activity in adults: 3,517,720

Hospital admissions: 2,760

Asthma attacks: 141,370

Days of school absence: 1,259,840

Cases of acute bronchitis in children: 16,110

Lost days of work: 466,880

Days of respiratory symptoms in children: 2,078,300

Emergency room visits: 2,800
"To place the reduction in premature deaths in perspective, attaining the federal PM2.5 standard would save more lives than reducing the number of motor vehicle fatalities to zero in most of the counties in this study," said Lurmann. In Los Angeles County, pollution-related deaths are more than double the number of motor vehicle-related deaths.
Exposure to these pollutants directly leads to poorer health and premature death, but these adverse effects are not distributed equally within the regions. Traditionally, communities of color and low-income communities are most affected by air pollution, but the report found that exposure to these pollutants is equalizing.
"Air pollution has fast become an equal opportunity public health hazard," said Brajer.
The largest contributing factor is where people live. At one time, the worst exposure was in areas where poor or minority families reside; this time researchers found that the dangers of pollution are moving beyond the poor and minority neighborhoods. Exposure is evening out. For example, each person, on average, was exposed to ozone pollution above the legal limit on nearly 20 days and 30 days a year in the South Coast air basin and San Joaquin Valley, respectively. However, the number of days rises to nearly or more than 50 days in Kern, Riverside and San Bernardino counties.
In the San Joaquin Valley, 100 percent of the population is exposed to health-endangering levels of PM2.5, as well as 91 percent in the South Coast air basin. However, the percent of the population exposed rises to 97 percent in Los Angeles County, while 100 percent of residents in San Joaquin, Stanislaus, Merced, Madera, Fresno, Kings, Tulare and Kern counties are exposed to PM2.5 annually.
The study, "The Benefits of Meeting Federal Clean Air Standards in the South Coast and San Joaquin Valley Air Basins," was conducted by the Institute for Economics and Environmental Studies at Cal State Fullerton and Sonoma Technology Inc. and funded by the William and Flora Hewlett Foundation. The research determined the benefits of attaining federal ozone and PM2.5 air-quality standards by identifying and quantifying the links between air quality and exposure, exposure and ill health, and ill health and the resulting economic losses.
The executive summary and full report can be found online at http://business.fullerton.edu/centers/iees/.