Students Who Drive You Crazy
Faculty Couple Write Book to Help Teachers Deal With Difficult Students
Teachers' pets they're not.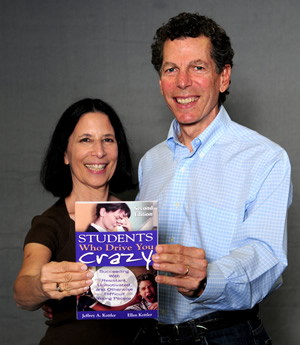 Ellen and Jeffrey Kottler
To help educators deal with challenging students, Cal State Fullerton faculty members Ellen Kottler, lecturer in secondary education, and her husband, Jeffrey A. Kottler, professor of counseling, have written a book that addresses the challenges of "remaining vibrant, excited and enthusiastic" about teaching when faced with students who seem to be difficult learners.
"Students Who Drive You Crazy: Succeeding With Resistant, Unmotivated and Otherwise Difficult Young People," published by Corwin Press, is written for elementary and secondary teachers, as well as counselors, administrators and other school personnel, Ellen Kottler said.
"The book provides a model for assessing, understanding and responding to the most difficult of interactions at school, whether with students, parents or colleagues," she explained.
"It addresses many problems we face today: disrespect, verbal abuse, lack of motivation, obtrusiveness and apathy. It covers the kinds of conflicted relationships that occupy one's time and energy and even intrude on one's personal life, as well as one's professional morale."
The book's second edition was released this fall and brings together most of what is known about the subject of difficult student relationships, specifically those children who appear needy, hostile, bored, unmotivated, withdrawn, isolated, inarticulate, manipulative, attention seeking or otherwise disruptive in school, she added.
Not only does the book help readers to understand student behavior and adult reactions to their behavior, it offers strategies for improving student behavior, working with parents, colleagues and administrators and preventing future problems.
Over the last 15 years, the faculty couple have written a dozen books together. Their collaboration started when Kottler was a high school teacher and her husband was a counselor and professor at another university.
"I would come home at the end of the day and tell him stories about my students. Then, I'd ask him for advice on what to say to specific students and how to deal with them," she said.
The couple's first collaboration resulted in "Teacher as Counselor" published in 1993. Their different backgrounds and expertise in education and counseling led them to collaborate on other books, including 2004's "Secrets of Success for Secondary Teachers: How to Succeed in Your First Year," which the pair co-authored with their son, a high school student at the time.
More recently, the Kottlers, who live in Huntington Beach and have been married for 33 years, partnered to write other books for educators, including "On Being A Teacher: The Human Dimension" in 2005, and this year, "English Language Learners in Your Classroom: Strategies That Work" with Chris Street, chair and professor of secondary education at Cal State Fullerton.
To date, Kottler has authored or co-authored 13 books, and her husband has 75 titles to his credit.
Photo:
Available online at www.fullerton.edu/newsphotos