Emeritus Professor Robert B. McLaren Dies at 85
Among Cal State Fullerton's First Faculty Members in Child Development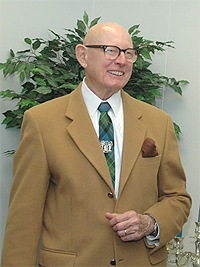 Robert B. McLaren
Robert B. McLaren, emeritus professor of child and adolescent studies and an active campus member since he joined Cal State Fullerton in 1967, died Oct. 9 after a yearlong battle with myasthenia gravis. He was 85.
McLaren, who joined the campus as assistant professor of education, was a co-founder of the Department of Religious Studies — now known as the Department of Comparative Religion — and co-organizer of the Child Development Program that eventually became the Department of Child and Adolescent Studies.
During his many decades of service, he established campus chapters of the honor society of Phi Kappa Phi and the freshman honor society of Phi Eta Sigma, and founded, coordinated and chaired the Faculty Lyceum for seven years. In 1979, he was named outstanding professor in the School of Human Development and Community Service, and in 1984, received the university's exceptional merit award.
In 1996, he presented a series of lectures on moral and ethical issues in family therapy at the Russian Academy of Science's Institute for Psychotherapy. That same year, he was elected to serve on the Moscow Center for Psychology and Psychotherapy board of directors, serving on its special committee on publications.
In addition, the educator presented papers or lectures at Oxford University, University of Calgary and Debrecen University in Hungary. McLaren was a visiting lecturer in USC's overseas graduate program in Germany, Holland and Belgium during the 1975-76 academic year. He also was a member of numerous organizations, including the American Academy of Judaic, Christian and Islamic Studies; American Academy of Religion; American Guild of Authors; British Society for the Study of Christian Ethics; and Society of Christian Philosophers.
Prior to joining Cal State Fullerton, he taught philosophy and served as director of religious activities at the University of Houston. McLaren also was an ordained minister of the United Presbyterian Church.
Though he was granted emeritus status in 1997, retirement never put a dent in McLaren's involvement on campus, his writing, travels or other activities. He continued to write, lecture around the world and be interviewed on topics ranging from moral development, ethics and philosophy to gun control. He returned to Russia in 1998 to present another series of lectures sponsored by the University of Moscow and the Russian Academy of Science at the Moscow Christian School for Psychology and Psychotherapy and was elected president of the American Society of Christian Ethics, Pacific Section.
In 2003, he reported yet another article of his that had been published and noted: "Cal State has been a good home for all of us, for personal, intellectual and professional development. Since coming to Cal State in 1967, I've had the good fortune to have four books and more than 60 articles published in journals ranging from the Bulletin of the Atomic Scientists to the International Gymnast and Philosophy of Education. More will follow!"
In 2005, the Child and Adolescent Studies Department dedicated Room 425 of the Education-Classroom Building as the Robert and Althea McLaren Conference Room, in honor of the emeritus professor of child and adolescent studies and his late wife, who died in 1995. Althea, a noted sculptor and CSUF graduate, created the bust of founding university President William B. Langsdorf that adorns the front entryway of Langsdorf Hall.
McLaren is survived by his sons, Craig and Kirk, and daughter, Christina Tardif.
In lieu of flowers, contributions in McLaren's name may be made payable to the Cal State Fullerton Philanthropic Foundation; the memo section of the check should reference the Robert and Althea McLaren Scholarship Fund. Checks may be sent to the CSUF Philanthropic Foundation, 2600 E. Nutwood Ave., Suite 850, Fullerton, CA 92831.