CSUF Offers Doctorate in Community College and Higher Ed Leadership
20 Educators Enrolled in New Program Launched This Fall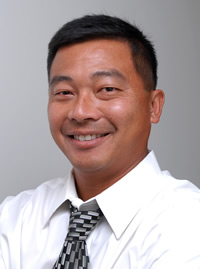 Tran Hong is among students enrolled in the new Ed.D. in community college leadership.
Tran Hong has been in high tech for more than 20 years — on the cutting edge as a technology professional. Now, he is seeking to advance his career by pursuing a doctorate in educational leadership.
To attain his goal, Hong gained admission to Cal State Fullerton's new doctoral program introduced this fall in education with a specialization in community college and higher education leadership.
Hong is among 20 students enrolled in the three-year program. All are full-time professionals, most working at local community colleges.
In fall 2007, Cal State Fullerton launched its first independent doctorate in education program, to prepare leaders for California's pre-K-12 schools. Fourteen students from the inaugural class are continuing in the second year of the pre-K-12 program this fall, and 24 new students are enrolled for 2008-09.
With the launch of the community college and higher education specialization, Hong believes the program is the key that could open new professional doors.
"This program will provide more opportunities for future administrative positions that may require a doctorate," said Hong, who for the past eight years has served as technology director at Irvine Valley College, overseeing 15 employees and managing the campus' technology needs.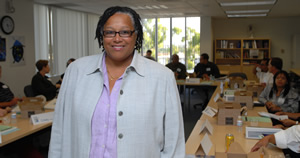 Dawn Person, professor of educational leadership, is the coordinator of the new Ed.D. in community college leadership. Her goal: to produce the next generation of top leaders needed to support California's workforce.
"In addition to technical experience, professionals that have a solid education are distinctive and can serve as catalysts for many changes in higher education. I look forward to learning from my professors and others in the cohort," Hong added.
For Dawn Person, professor of educational leadership and coordinator of the Ed.D. in community college and higher education leadership, that is her goal: to produce the next generation of top leaders needed to support California's workforce.
"Our graduates will be stronger critical thinkers and change agents so we don't continue doing business as usual," said Person, who joined CSUF in January to develop the curriculum and lead the program. "They will have the skills to serve as reflective scholar practitioners and stewards of the education community."
There is a strong demand for such a doctoral program in Southern California, in order to fill the need for qualified educators to step into top administrative leadership positions at community colleges and universities, explained Person, who received her Ed.D. in higher and adult education from Teachers College, Columbia University.
"There are not enough people with doctoral degrees to fill these positions, especially in the community college system," added Person, who taught for 10 years in the doctoral programs in higher education at Cal State Long Beach before joining Cal State Fullerton.
The doctoral candidates will spend two years in evening classroom instruction and the third year of the program focused on dissertation work. The students are expected to learn to lead in diverse, demographically challenging settings; integrate new technologies into education; and conduct research, Person said. Moreover, students' course work and research will include case studies about work-specific problems faced by colleges and universities, she added.
New Center Supports Doctoral Program
Doctoral candidates and students enrolled in the college's master's degree programs will be involved in research projects through the College of Education's newly established Center for Research on Educational Access and Leadership, due to open this fall.
"The goal of the center is to have our students conduct research focusing on long-term and short-term solutions to the complex challenges of education specific to practice, policy and change," said Person, the center's director and whose own research interests include retention issues of underrepresented students, multicultural issues and programs that support student success. "The emphasis will be on access, equity, diversity and leadership issues."
As a result of the College of Education's partnerships with school districts throughout the region, such a center is of strong interest to these districts, noted Claire Cavallaro, dean of the CSUF College of Education.
"School leaders have asked us to assist them in research that would focus on issues that are specific to our region — and this center will enable us to do so in a coordinated, systematic fashion," she said.
Person is contacting businesses and national professional associations to urge them to affiliate and collaborate with the center and support its activities. Eventually, the center will be self-supporting through grants, contracts and memberships.
New Faculty Members
Two new faculty members are joining the College of Education to teach courses in the doctoral program: John L. Hoffman, assistant professor of educational leadership, and Jerome Hunter, as a lecturer in educational leadership.
Hoffman earned his doctorate in higher education and policy and administration from the University of Minnesota and spent 10 years working in administrative roles in academics, student affairs, strategic planning and fundraising before transitioning to a faculty role. He spent six years as a dean of students in private Christian universities, and most recently taught in the master's and doctoral programs in higher education at Cal State Long Beach.
Hunter, who received his Ed.D. from the University of Southern California, has 38 years of community college experience, and prior to joining Cal State Fullerton, served as chancellor of the North Orange County Community College District. Hunter also has taught at Santa Ana College and was a lecturer at Cal State Long Beach, where he taught the course "Introduction to the Community College."
Scheduled to join the college's educational leadership team in January is Christina J. Lunceford, formerly the associate dean of students for student development and leadership at Concordia University in Irvine. She earned a Ph.D. in higher, adult and lifelong education from Michigan State University and is currently in South Africa as a consultant with the University of the Western Cape.