Campus Veteran Named to Academic Affairs Position
Dorota Huizinga Appointed Associate VP at Cal State Fullerton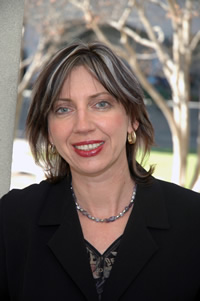 Dorota Huizinga
A veteran administrator and computer science professor is the newly appointed associate vice president for graduate studies and research at Cal State Fullerton.
Dorota Huizinga was appointed to the position by Cal State Fullerton President Milton A. Gordon on the recommendation of Ephraim Smith, vice president for academic affairs, and a nine-member search committee led by Sheryl I. Fontaine, professor of English, comparative literature and linguistics.
In her new role, Huizinga has overall responsibility for the development and quality review of programs that lead to academic degrees, in consultation with the college deans, the Academic Senate and variousfaculty committees.
Huizinga served as associate dean of the College of Engineering and Computer Science the past two years and as acting associate dean for three years. She joined the university's computer science faculty in 1991.
College of Engineering and Computer Science Dean Raman Unnikrishnan characterized her appointment as "a well-deserved and timely promotion for a valued colleague. At the same time, the college is losing the services of a dedicated administrator from its ranks. I take this opportunity to thank Dorota personally for her many and significant contributions to ECS, as well as her camaraderie and collegiality. ECS will miss her."
Huizinga said: "I look forward to both new challenges and an opportunity to expand my administrative experience and technical skills to many different disciplines within the entire university."
The Anaheim Hills resident has a doctorate in computer science from Wayne State University. She is the co-author, with Adam Kolowa of Parasoft, of the book "Automated Defect Prevention: Best Practices in Software Management," published in September 2007 by John Wiley & Sons. She also has authored more than two dozen peer-reviewed articles and is responsible for bringing in nearly a quarter-million dollars in grants.
Huizinga succeeds Robert A. Young, who served in the position from January 2005 until his retirement this month.
Photo: Available online at www.fullerton.edu/newsphotos