'Spirit of Volunteerism' Award Presented to CSUF Coordinator
Amy Mattern Honored for Work Battling Hunger and Homelessness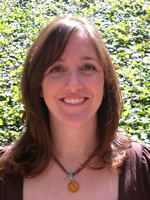 Amy Mattern
For outstanding work fighting hunger and homelessness in Orange County, Amy Mattern, coordinator of Cal State Fullerton's Volunteer & Service Center, is the recipient of a 2008 Spirit of Volunteerism Award.
The honor from the Volunteer Center of Orange County and the Orange County Register was presented to the Brea resident for her contributions to the Orange County Food Bank. The award recognizes "those who give their precious gifts of time and talent to improving lives and strengthening our community."
"For me, it was special to receive this award, not for the recognition itself, but it reminded me why I do this work and why it's important to give back to our community," said Mattern, who joined Cal State Fullerton in 2001. She has held a variety of posts on campusand in 2005, joined the Dean of Students Office to oversee the Volunteer & Service Center and its student volunteer programs.
Through the center's Hunger Coalition program, Mattern helps coordinate a variety of student volunteer events focusing on hunger and homelessness, particularly in Orange County. Activities include overseeing student volunteers who prepare and serve food at local soup kitchens and shelters; packing food for needy and homeless families; and coordinating campus drives for food, clothing and hygiene kits. With her guidance, students also spend time interacting with homeless individuals and families to better understand the conditions and issues they face, Mattern said.
Mattern and student volunteers work with the Orange County Food Bank through the organization's "Pack-A-Box" project, putting on campus food drives and helping with the National Letter Carrier Food Drive.
"We also have exposed many campus student organizations to the food bank that have gone on to host food drives and coordinate volunteer groups for Pack-A-Box," she added. Mattern's work with the Orange County Food Bank has included:
participating in a Pack-A-Box volunteer day and bringing 22 Cal State Fullerton student volunteers to the food bank's warehouse. Together, they packed about 1,200 food boxes for low-income and homeless individuals in Orange County.

helping student leaders organize a food drive at a local grocery store, resulting in nearly 550 items of donated food items for the Orange County Food Bank.
Additionally, Mattern recruits and trains student leaders, who work throughout the year to coordinate Hunger Coalition projects, as well as other center projects that focus on children, the environment, blood donations and social justice.
Mattern, who earned a master's degree in American studies from Cal State Fullerton in 2000, has been involved with community service and social action since she was a child and is committed to raising awareness about social issues.
"A lot of people don't realize that right here in Orange County there are people living on the streets, in motels and in shelters, as well as facing many other issues," she said. "But through the center's hunger and homelessness project, along with other projects, we're not only raising awareness, but we're finding ways for students to get involved and make a difference with those issues."
For more information about the center and volunteer opportunities, visit the website at www.fullerton.edu/volunteer or call 657-278-7623.
Photo: Available online at www.fullerton.edu/newsphotos