Exploring a Scientific Future
CSUF Students Spend the Summer in Research Labs From Berkeley to Princeton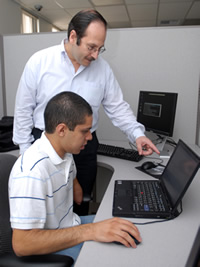 Spiros H. Courellis, assistant professor of computer science, mentors MARC scholar Harold Pimentel. Photo by Kelly Lacefield
Harold Pimentel of La Mirada, a senior computer science major, is spending the summer delving into computational crystallography under the direction of Spiros Courellis, CSUF assistant professor of computer science, through Aug. 9."As an aspiring computer scientist, I plan to pursue a Ph.D. in computational science. My interests are collaborative applications to the biomedical field."
Five Cal State Fullerton students have scattered to Princeton, North Carolina State, the University of Pennsylvania and UC Berkeley, while two others are spending their summer in CSUF laboratories - all as scholars in the Minority Access to Research Careers program.
Funded by the National Institutes of Health, the 13-year-old program offers research opportunities for underrepresented students seekingcareers in biomedical research. So far, 29 scholars have completed the two-year program and gone on to doctoral or postdoctoral programs.
"The idea," said Amybeth Cohen, associate professor of biological science and MARC director, "is to give them the preparation to compete for slots at the top Ph.D.-granting schools in the country."
The program has received $232,282 in grant support this year and nearly $1.4 million over the last five years. MARC scholars receive an annual stipend for their research activity, plus fee waivers and travel funds todeliver presentations at professional meetings.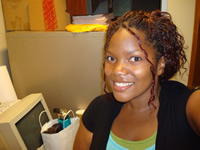 Vanessa Harris, a senior psychology major, is conducting research in a developmental psychology lab.
"It's a lot of hard work," said Cohen, who has mentored 11 scholars through the program and is working with an additional four who have completed their first year. "We expect a lot of them, but if they rise to the challenge, they do well."
One of those Cohen mentored is recent graduate Jacob Gonzalez, a speaker at the May College of Natural Sciences and Mathematics commencement ceremony. He will enter a doctoral program in chemistry and biochemistry at Yale this fall.
Another student Cohen mentored was Laura Arce, who in 2000 earned her degree in biological science at Cal State Fullerton and her doctorate at UC lrvine in 2006. She is now conducting postdoctoral research at the City of Hope in Duarte and has taught biological science at her alma mater.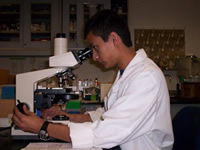 MARC Scholar Rolando Ruiz is researching cell development and cell biology.
MARC, Arce said, gave her a distinct advantage in becoming a scientist. "In addition to challenging me academically, it also pressed me to be proficient in my presentation and scientific writing skills . and my ability to think as a scientist."
Program participants are required to complete specific science courses, as well as conduct an average of 15 hours of research per week during the academic year. During eight weeks in the summer, MARC Scholars are in the lab full time, conducting a specific research project that will culminate in a senior thesis. In addition, MARC scholars attend a weekly seminar, where they read scientific papers, learn how to develop research presentations and hear from guest speakers, such as Timothy Swager, John D. MacArthur Professor of Chemistry at MIT.
Those conducting research as CSUF MARC scholars this summer are:
MARC Scholar Amanda Cook-Sneathen takes a break from her summer research activities. Photo by Kelly Lacefield

Amanda Cook-Sneathen of Capistrano Beach, a junior chemistry major, is researching the synthesis of chiral aziridines in the laboratory of Christopher Hyland, assistant professor of chemistry and biochemistry, through Aug. 9."My educational goals are to graduate CSUF with a bachelor's in chemistry and then go on to graduate school to pursue a Ph.D. My career goal is to work in industry in research and development."

Gary Gallego of Mission Viejo, a senior biological science major, is conducting research in organometallic chemistry at UC Berkeley through Aug. 9. "My educational goal is a Ph.D. in organic chemistry, but my career goal is to do hands-on work in organometallic chemistry in an industrial lab."

Vanessa Harris of Riverside, a senior psychology major, now at North Carolina State University through Aug. 1, is conducting research in a developmental psychology lab. "My goal is a career conducting research in the area of developmental or social psychology."

Amybeth Cohen

Lilia Rodriguez of Placentia, a junior psychology major, is working with a practicing psychiatrist at University of Pennsylvania through Aug. 9."I want to get a Ph.D. in neuropsychology or cognitive neuropsychology, with an emphasis in evolutionary psychology and neuroscience."

Rolando Ruiz of San Juan Capistrano, a senior biological science major, is at Princeton University through Aug. 15, researching cell development/cell biology. "I hope to someday be a professor at a university, teaching what I like most, cell biology."

Anna Trinidad of Chino Hills, a senior biochemistry major, is researching molecular and structural biochemistry and cancer biology at North Carolina State University through Aug. 1. "Being a chemist-biochemist is my primary goal, with a research element. There are many ways to go with that, and I will explore them."
Photos: Available online at www.fullerton.edu/newsphotos