Leo Shapiro Was a Volunteer Extraordinaire
Nov. 6, 2007 :: No. 96
Leo Shapiro, founding president of Continuing Learning Experience (CLE) at Cal State Fullerton, where he also spearheaded the fundraising drive to build the university's Ruby Gerontology Center, has died. He was 102.
Following a short illness, Shapiro, a founding member of the Orange County chapter of the National Conference of Christians and Jews, passed away Oct. 31 at Emerald Court in Anaheim. He was a former resident of Brea.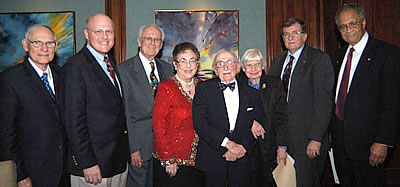 On his 100th birthday, Leo Shapiro was the guest of honor at a special 2005 dinner party where the founding CLE president was feted many campus members. Pictured, from left, are Kirt Spradlin; Sal Rinella, former vice president for administration, emeritus professors James Young and P. June Pollak; Shapiro and Barbara Paige; Bill Dickerson, executive director of the Auxiliary Services Corp.; and CSUF President Milton A. Gordon.
"Cal State Fullerton has lost a real friend and supporter," said CSUF President Milton A. Gordon. "Leo Shapiro was one of the early founders and supporters of the CLE organization; he really got it started," he said.
"We will all be at a loss with his passing."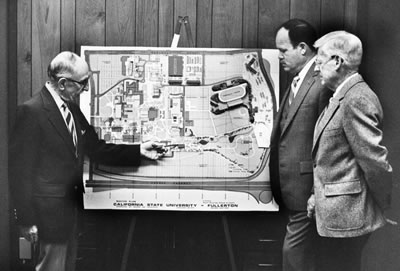 Leo Shapiro points out a location on the Cal State Fullerton campus for a proposed gerontology center that would eventually become the Ruby Gerontology Center after a successful fundraising effort. At right in the 1982 photo are the late James Sharp, associate vice president for facility planning and operations, and the late Lucien Miner, who succeeded Shapiro as president of Continuing Learning Experience.
At CSUF, Shapiro was the first of two individuals to receive the President's Medallion, the university's highest honor awarded to community members.
The honor was bestowed in 1989 by Jewel Plummer Cobb, former CSUF president. "He was the most incredible volunteer fundraiser," she recalled. "He was able to get contributions from everyone he talked to because he was so excited about CLE and lifelong learning for seniors."
Pauline Abbott, director of the CSUF Institute of Gerontology, described Shapiro as "a man of extraordinary vision and passion. Even at 102 years, he still had things he wanted to do and wasn't ready to stop living," she said. "How wonderful to live life to its fullest to the end. … He did more after his retirement than many people accomplish over a lifetime."
The Chicago native retired in 1970 from his post as vice president of advertising and sales for Alpha Beta. Born Jan. 4, 1905, one of four children of Russian immigrants, Shapiro earned a bachelor's degree in economics from the University of Chicago in 1925 and began his career in retail merchandising at Sears, Roebuck and Co., where he became national merchandising manager. He left Sears in 1944 to launch a marketing enterprise, The Druggette, a forerunner of pharmacies in grocery stores.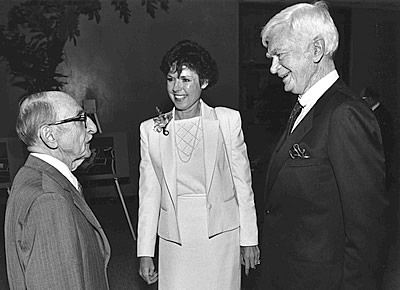 Leo Shapiro chats with Dorothy Knott and Buddy Ebsen at one of the fundraising events held in 1984 for the Ruby Gerontology Center at Cal State Fullerton.
In 1950, his company was acquired by Raisin Markets Inc., where Shapiro served as general merchandise manager until 1958, then joined Alpha Beta.
In the decade since his retirement from the grocery store chain in 1970, he worked as an independent consultant, then in 1978 was asked by the university's Office of Extended Education to organize a self-supporting educational programming unit on campus for the community's older adults. Betty Robertson, then director of community programs for Extended Education had secured grant funding for the effort, and with an eye to UC San Diego's Institute for Continued Learning, she recruited Shapiro and others to shape it.
"They said 'we can do this,' and they not only did it, they did it 10 times over," said Bill Dickerson, executive director of the CSUF Auxiliary Services Corp., noting that CLE became a model for other universities.
"As the years go by, the elderly of this nation will be in better health, will live longer and they'll have more discretionary income," Shapiro said in a 1983 interview. "I have contended through the years that you can retire the body, but you can't retire the mind. We need mental stimulation."
With its study groups, lectures, workshops and travel groups, CLE was the embodiment of that vision, and in 1979, Shapiro was elected its first president. Two years later, he was tapped to co-chair the fundraising drive for a university gerontology center that would serve as the headquarters for CLE and site for gerontology research. The Ruby Gerontology Center opened in 1988 and its Lifespan Wellness Clinic followed in 1995.
One part of the center was named the Leo and Devora Shapiro Wing, in honor of the couple's generosity for the building campaign and gerontology programs.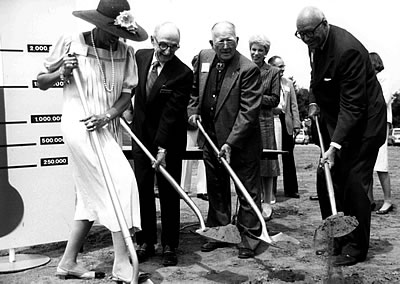 Leo Shapiro, second from left, was among those who celebrated the groundbreaking in 1985 for the Ruby Gerontology center at Cal State Fullerton. Pictured with him, from left, are Jewel Plummer Cobb, former CSUF president; the late Charles L. Ruby, for whom the center is named; and James Roosevelt, the keynote speaker for the Nov. 20 celebration.
"He was the builder . . . He was a leader, a tremendous, constructive, inspiring person, who brought people along with him about his vision of CLE," said P. June Pollak, emeritus professor of English and comparative literature. She became acquainted with Shapiro and his late wife even before Pollak joined the university faculty in 1961, when the Shapiros lived next door to her parents in Anaheim.
"My father and Leo were very close friends," she said, noting that after her parents died, she and her husband, George, continued the friendship, and Shapiro became "more like an uncle."
Arnold Miller, retired corporate vice president for Xerox Corp., president of the Technology Strategy Group and former president of the CSUF University Advisory Board, is among those who described Shapiro as a "role model."
"What a good heart he had, and what drive he had to accomplish things that would do good," he said. "There were many organizations, not just CLE, that he helped along or helped to organize." Chuckling at the memory of philanthropic activities they participated in together over the years, Miller noted, "Leo could give out assignments."
Barbara Talento, associate professor emeritus of nursing and CLE president, recalls meeting Shapiro in the 1970s when she served on a committee to help establish CLE — now known as the Osher Lifelong Learning Institute — which began with 27 members and today has more than 800 members.
"He was a witty, dynamic . . . dynamo," she said. "Whatever he set his mind to, he did it. Nothing stopped him," she said. Shapiro "was certainly a mentor for me, a role model of how to be active and vibrant, 'till the day he died."
An avid world traveler, Shapiro coordinated CLE's very first study group on travel, "Around the World in 60 Minutes," which debuted in fall 1979, exploring the wonders of Africa, Australia and New Zealand, Central and South America, Greece, Guam and the Philippines —places he and CLE members had visited.
Until recently, the centenarian also exercised daily, combining 30-minute walks with stints on the machines in the gym. "Sit-ups and push-ups were a regular part of his morning routine," said Dickerson, a friend for two decades.
For Shapiro's 100th birthday in January 2005, CLE members, friends and other well-wishers gathered at the Center Club in Costa Mesa for a dinner party hosted in his honor by Barbara Paige, his longtime companion.
Among the highlights of the tributes paid to him was a poem written and read aloud by James Young, founding chair and emeritus professor of theatre and dance, in which he called Shapiro "the great champion of CLE." A joint resolution of the California Legislature presented to him that evening commended Shapiro for "his unparalleled record of civic leadership."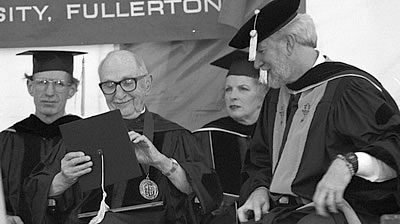 Shapiro prepares to don his mortarboard after being presented with the President's Medallion during Cal State Fullerton's commencement ceremonies in 1989. The 84-year-old volunteer and university donor was the first of just two recipients of the honor, which is the highest award CSUF gives to community members.
He received many awards throughout the years, including being named the university's Volunteer of the Year in 1984 and a Vision & Visionaries honoree in 1995. In 1986, Shapiro was honored by the Orange County chapter of the National Society of Fund-Raising Executives during the first National Philanthropy Day and named Man of the Year in 1998 by the Fullerton Chamber of Commerce. In addition, he was awarded an honorary life membership by the California Newspaper Advertising Executives Association.
Shapiro also served as a board member for the American Cancer Society, and volunteer for the Braille Institute and Doheny Eye Institute.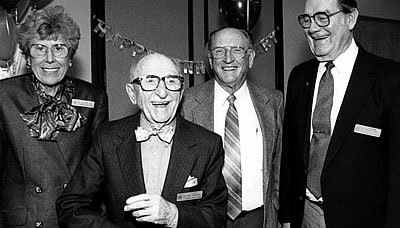 Shapiro, in bow tie, shared center stage in January 1995 with Continuing Learning Experience President Louise Lee as CLE members celebrated the group's 15th anniversary and Shapiro's 90th birthday. Joining in the fun were veteran CLE members Bill Coston and Russell Ball.
"Leo's legacy will see him remembered as being a caring, outgoing, creative person whose life had purpose," said Young. "That purpose was to make things better wherever you found him . . . More than once, he advised me 'Always have something that simply has to be done, keep moving, and life will be worthwhile.' His projects and interests were always worthy ones, and he had the energy and vision to make things happen."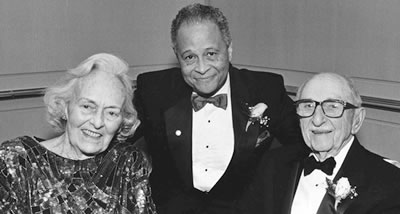 Cal State Fullerton honored Leo Shapiro in 1995 with a Vision & Visionaries Award. CSUF President Milton A. Gordon, center, poses with honorees Betty Hutton Williams and Shapiro.
In his private life, the volunteer extraordinaire was a caring companion. "Hanging around Leo," said Paige, "you never lift a finger." At Emerald Court, he continued to iron his dress shirts, donning coat and bow tie for their weekend candlelight dinners in the dining room. "He said, 'if they cared enough to provide this for us, the least we can do is dress for the occasion,'" said Paige. "We were always the dapper couple."
Besides Paige and his many friends, Shapiro is survived by two nieces and a nephew.
Memorial services are scheduled for 2 p.m. Nov. 20 at Temple Beth Tikvah, 1600 N. Acacia in Fullerton. In lieu of flowers, donations may be made to the Braille Institute, Doheny Eye Institute or Temple Beth Tikvah.
| | |
| --- | --- |
| Media Contact: | Paula Selleck, Public Affairs, 657-278-4856 or pselleck@fullerton.edu |