Program:
All or Nothing at All
arr. George Stone
A Good Time Was Had by All
Thad Jones
Central Park West
J. Coltrane / arr. J. Fedchock
Arenas
Bob Washut
with Bill Cunliffe:
Strollin'
Horace Silver / arr. Bill Cunliffe
Between the Devil and the Deep Blue Sea....
arr. Cunliffe
Rockin' in Rhythm
Duke Ellington / arr. Cunliffe
Third Piano Concerto, 1st movement
Prokofiev / adpt. & arr. Cunliffe
Background: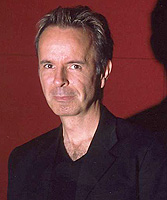 Grammy nominated composer, arranger and jazz pianist Bill Cunliffe is gathering nationwide attention with his innovative and swinging recordings and compositions. After teaching in Ohio, he toured as pianist and arranger with the Buddy Rich Big Band and worked with Frank Sinatra. He then joined with many legends of jazz, including Ray Brown, Benny Golson, James Moody, Joshua Redman and others in performances.
In 1989 Cunliffe was awarded the Thelonious Monk International Jazz Piano Award, and has received stipends from the National Endowment for the Arts. His three albums for Warner/Discovery Records all charted in nationwide jazz polls, and recent projects include a groundbreaking audiophile recording, "Live at Bernies," with bassist Darek Oles and drummer Joe La Barbera for the Groove Note label. In addition, "Imaginacion" an album featuring his Latin Jazz Nonet, on Torii Records, spent a month in the number 2 position in the JazzWeek radio polls and features his arrangement of "Do It Again" which was nominated for a Grammy in 2006.
In addition so solo performances, he currently plays with his own trio, his group Imaginacion, and duets with the great jazz flutist Holly Hofmann, with whom he has recorded five CDs. He is also composer-in-residence at All Saints Episcopal Church, in Pasadena, California, and Assistant Professor of Music at California State University, Fullerton.
"Cunliffe offered beautifully crafted melodic textures, enhanced by his playful takes on samba and choro rhythms" "Cunliffe transform[s] the clustered harmonies and loping swing … into a compelling, improvisationally atmospheric vision of his own" — Los Angeles Times
Jazz Ensemble I, directed by Chuck Tumlinson, consistently receives high scores and acclaim at major west coast jazz festivals. They have been featured on a live radio broadcast across North America as part of the Playboy Jazz Festival, and in 1991 and 1992 won the Pacific Coast Collegiate Jazz Festival competing against groups from 50 colleges and universities in seven western states. They have performed, by invitation, at many leading California festivals and events, and have produced four award-winning recordings and are currently at work on a fifth.