2006 Vision & Visionaries to Honor Professional and Personal Achievements
"Desperate Housewives" creator Marc Cherry among six distinguished alumni who will be honored at annual gala.
April 6, 2006 :: No. 203
by Gail Matsunaga
One created a television phenomenon with a show that millions of Americans are "desperate" for on Sunday nights. Another is committed to ensuring the safety of children in their own homes. Yet another is helping Russia and China develop real estate management programs.
Marc Cherry, Joann Schaefer and Robert M. Taylor are among the six distinguished alumni who will be honored at the 13th annual Vision & Visionaries gala Saturday, April 22, at the Crowne Plaza Anaheim Resort in Garden Grove.
The honorees are: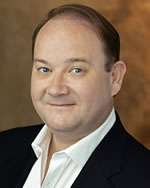 Marc Cherry (B.A. theatre arts '95), creator and executive producer of the Emmy-winning "Desperate Housewives." After winning $15,000 on the "$100,000 Pyramid" game show in the late 1980s, Cherry headed to Hollywood to pursue a career in writing. Beginning as a personal assistant to Dixie Carter on the set of "Designing Women," he soon found success as a writer and producer on the hit series "The Golden Girls" and its sequel, "The Golden Palace." Subsequent credits include writer and executive producer of "Some of My Best Friends," "The Crew" and "The Five Mrs. Buchanans." In 2004, ABC and Touchstone Television picked up his original "Desperate Housewives" script for production. The show became a groundbreaking success, a ratings powerhouse and worldwide hit. Cherry currently is developing a one-hour drama pilot, "Kill/Switch," for ABC. .
Rachelle Cracchiolo (B.A. psychology '71, M.S. education '76) of Huntington Beach; president and founder of Teacher Created Materials. Developed by teachers for teachers and parents, Teacher Created Materials publishes supplemental educational resources in all areas of the curriculum - language arts, social studies, math, science, technology and the arts. The company's first book was written in 1976, and today, its products are distributed throughout the United States and in 45 countries. Prior to founding Teacher Created Materials, Cracchiolo taught K-6 in the Fountain Valley School District. She currently serves as vice president of the Association of Educational Publishers, and as a member of the Advancement Board for the College of Education at Cal State Fullerton.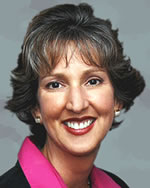 Joann Schaefer (B.A. biological science '90) of Omaha; director of the Department of Regulation and Licensure and chief medical officer for the Nebraska Health and Human Services System. Prior to her current position, Schaefer was an associate professor in the department of family medicine at Creighton University Medical School and served as deputy chief medical officer for the Nebraska Health and Human Services System. As an appointee of Nebraska Gov. Dave Heineman, she coordinates the state's bioterrorism preparedness planning and readiness assessment, and chairs the Child Death Review Team. Previously, she was appointed by then-Gov. Mike Johanns to devise a statewide plan to deal with cases of domestic violence and the effects on children's lives. She is committed to helping children live in safe, nonviolent and drug-free homes and for the past eight years, has been involved in the education efforts on the subject to the general population and medical community. In 2004, the Nebraska Medical Association named her Physician of the Year.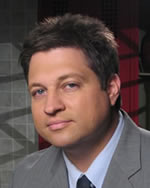 Marc Stein (B.A. communications '91) of Carrollton, Texas; senior NBA writer for ESPN.com. Before being read, seen and heard via various ESPN platforms as an NBA writer and analyst, Stein built his journalism foundation in Southern California - first with the student newspaper, the Daily Titan, and then at the Orange County Register and Los Angeles Daily News. As a student, he served a summer internship at the Washington Post and continued to write weekly articles for the paper during his senior year as a West Coast correspondent covering primarily the NFL. Beginning in 1997, he spent more than five years at the Dallas Morning News, where he first was the Dallas Mavericks beat reporter before covering the NBA. In 2000, he began his association with ESPN as a weekly NBA contributor to its website. Two years later, he joined the sports media company full time.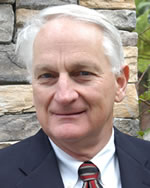 Robert M. Taylor (B.A. business administration '67, M.B.A. '73) of Villa Park; founder and president of the REMM Group and chairman of REMM-China. Established in 1978, the REMM Group manages shopping centers, office buildings and residential properties in California, with clients that include pension funds, syndicators, foreign investors and individuals. In addition, the firm is an investor and developer of real property, such as a 700-acre resort project at Lake Oroville in Northern California. Taylor also actively promotes international real estate management in the former Soviet Union and the People's Republic of China. He is one of the founders of the first real estate schools in Russia and has been a consultant to government ministries and private enterprises in China since 1996. Prior to founding the REMM Group, he managed a portfolio of residential and commercial properties in the Western United States as vice president of the Robert A. McNeil Corp. In 2004, he was awarded the James Felt Creative Counseling Award from the Counselors of Real Estate for his work in China. Taylor is a former president and actively involved with the College of Business and Economics Executive Council.
This year's Vision & Visionaries Corporate Partner of the Year Award will be presented to Kaiser Permanente, whose partnership with the university's Department of Nursing includes a statewide distance education program, joint anesthetist program and the development of new academic initiatives. These include plans for a specialized master's degree program in nursing that is tailored for those who have earned bachelor's degrees in fields other than nursing. Additionally, Kaiser Permanente has contributed to the university's Ruby Gerontology Center and the Family Business Council.
Personalized musical tributes to the honorees, performed by students from the university's award-winning Theatre and Dance Department, as well as the homecoming of previous Vision & Visionaries recipients, will be among the highlights of the event.
Media Contacts:

Stefanie Light, University Advancement, 657-278-7728, or slight@fullerton.edu
Gail Matsunaga, Public Affairs, 657-278-4851 or gmatsunaga@fullerton.edu