Professor Receives Funding to Continue Research on Copper's Role in the Body
Maria C. Linder studies how copper transmission through breast milk can affect babies.
March 4, 2006
By LINDA CAPLETTE
Maria C. Linder has spent a good part of her research career delving into a mystery — that of how copper and iron function in the body and how disease affects their functionality.

Her current research into copper transmission through breast milk to nursing babies is supported by the National Institutes of Health. The federal agency recently awarded Linder $237,600 in third-year funding as part of a five-year, $1.2 million grant.

"The more things you learn through research, the more you realize how much there is yet to be discovered," says Linder, chair and professor of chemistry and biochemistry who began her study into copper in the body while teaching at the Massachusetts Institute of Technology in the early 1970s. She joined Cal Fullerton in 1977.

Respiration, brain function, hormones and antioxidants are just a few of the body's activities that are dependent on copper, Linder notes.

"Newborns need copper in fairly substantial quantities. They are born with a small stored supply, which was passed from their mother, but it doesn't last very long," she says. "We also need to determine the form of copper in milk that allows for optimum delivery."

Copper is easily eliminated through the body, so too much copper is rarely a problem. However, a genetic condition called Wilson Disease results in an over abundance of copper, Linder explains.

"We also can see instances of too much copper in babies, particularly in India where baby's milk is sometimes warmed in brass vessels. Copper gets into the milk and if there is too much, it is toxic." In parts of Italy and Austria, Linder noted that researchers have found babies with too much copper as a result of over consumption and local genetic traits.

Normally, copper enters the blood stream and is first transported to the liver. During lactation, a large amount of copper bypasses the liver and goes directly to the mammary gland where it rapidly enters the milk supply.

"We don't know exactly what is involved in this process at the molecular level, and there are many areas to investigate," Linder says. "We suspect that hormonal changes occurring during pregnancy trigger the diversion of copper to the mammary gland."

Linder utilizes cultured cells for some of her tests. "Colleagues in Australia have developed a mammary gland model that responds to lactation hormones by producing milk. cells are grown on filters, which allow contact with blood on one side and release of milk on the other.
"We use radioactive copper and track the route it takes as it passes through the filter into the mammary gland. We also manipulate hormones on the mammary side of the filter and determine how copper transportation is altered."

Through Linder's research, "we've discovered additional copper binding molecules in the blood we had not known about. Further research needs to be done to determine how these molecules function and how they interact with other molecules."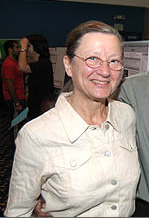 Maria Linder