Information systems and decision sciences professor wins top faculty honor.
May 18, 2006
By PAMELA MCLAREN
A leading scholar in the field of location analysis whose students praise him for making statistics "fun," is this year's recipient of the Outstanding Professor Award.

Zvi Drezner, professor of information systems and decision sciences, was about to begin his Monday night lecture when he was surprised by a group of faculty members and administrators led by President Milton A. Gordon who announced his selection for the top faculty award.

"For anyone to achieve this honor is really tough. It's given in recognition of your excellence as a teacher and mentor, world renowned scholar and researcher," said President Milton A. Gordon, handing Drezner a statue of an elephant — a symbol of the university, he noted, that has been presented to luminaries across the country, including President Bill Clinton.

Looking out at the students, Gordon said: "They tell me he's a fairly good teacher. What do you think?"

"Yes, he is!" answered one student as the rest applauded in agreement.

"Dr. Drezner has been a leader in the College of Business — he's always been one of its top researchers and always one of the top classroom performers," said Ephraim Smith, vice president for academic affairs and former business dean.

"Zvi has always been my role model," added department colleague George A. Marcoulides, who was the 1998-99 Outstanding Professor.

"I am speechless," said Drezner as he was congratulated by colleagues from throughout the campus, including 2004-05 Outstanding Professor honoree Nancy Segal. "I'm overwhelmed and gratified and honored to be the outstanding professor."

Last year, Drezner — a member of the CSUF teaching ranks since 1985 — was honored with a lifetime achievement award from the Institute for Operations Research and the Management Sciences (INFORMS). The triennial award, recognizing career achievements that influence location analysis research, has only been awarded six times by the 12,000-member society.

Location analysis is the science of geographic location of economic activity, like where to locate stores and other facilities based on factors such as budget.

"It is no exaggeration to consider him one of the few leaders in this profession. One of his work's most outstanding features is that it includes new approaches and results that have paved the way for new directions of location theory," said H.A. Eiselt, professor of business administration at the University of New Brunswick in Canada. "The issues he introduces always seem to be ahead of their time."

"Even at the first class [statistical analysis] I was greatly impressed by your ability to communicate such a hard subject to the students," noted alumnus Giedrius Markus (M.B.A. '01), a manager at Ford Motor Co. "You have a great way of teaching such incredibly hard subjects as mathematical modeling. Amazingly enough, your explanations are simple and right to the point. … It may sound unusual, but I feel like you opened a door to a new universe of infinite harmony and order."

On campus, in addition to teaching, Drezner served as department chair for nine years, from 1986 to 1995, and has been a visiting professor at a number of institutions, most recently at USC's Marshall School of Business in 2002, and including UCI, Canada's McMaster University, University of Auckland and Hong Kong University of Science and Technology. He has served as a consultant to the South Coast Air Quality Management District and the governments of Ecuador and Bolivia.

"It is rare to find an individual who has the combination of intellect and humility that Zvi has," said Barry Pasternack, chair and professor of information systems and decision sciences. "While compiling a stellar record as a researcher, Zvi has also shown great expertise in the classroom environment. He is one of our most sought after instructors and traditionally gets nearly the highest student evaluations in the department."

"Math was never one of my strongest subjects. When I signed up for [Quantitative Business Analysis: Statistics and Management Science], I knew it was going to be difficult," said former student Jason Nguyen. However, due to the professor's "dedication and caring," Drezner "made the subject fun and easier to learn."

"Out of all the professors I've had," noted Jennifer Ancheta (B.A. business administration-marketing '02), Drezner's "teaching style has been the best."

Drezner made "learning a joy," said former President's Scholar Melissa Tellez (B.A. business administration-management '04). She is among many alumni who praised the professor for his teaching style, dedication to students and use of real-world examples to make a "challenging subject" understandable.

Drezner has authored more than 200 papers, based on his research endeavors in theory, modeling and solution algorithms, in such publications as Operations Research, Management Science, Nava Research Logistics and European Journal of Operational Research.

"His long list of top-rated publications will be the envy of any faculty member, not only at Cal State Fullerton, but at any leading university in the U.S.," noted Anil K. Puri, dean of the College of Business and Economics. "He is a well-recognized authority on the optimal location theory, and his work is widely cited."

James G. Morris, chair and professor of operations and information management with the University of Wisconsin- Madison, agrees. "He is, without a doubt, one of the world's leaders in location theory. His record of contributions to the literature is unprecedented."

"It seems impossible to work on any aspect of continuous location theory without direct connection to some, and often many, of Drezner's works," noted Frank Plastria, coordinator of the EURO Working Group on Locational Analysis at the Vrije Universiteit, Brussels, and editor-in-chief for Studies in Locational Analysis. "His scientific output is not only prolific … but more so, he has been the initiator of many new models, always opening the way to new areas of application and investigation."

He has served as associate or area editor of three journals, and served as editor and co-editor of two books — "Facility Location: A Survey of Applications and Methods" and "Facility Location: Applications and Theory."

On campus, the veteran business professor has served on the personnel, research, academic standards and academic appeals committees, and chaired the professional leaves committee. He led the College of Business and Economics dean selection committees in 1989 and 1998, and has chaired several CBE committees, including the ad-hoc committee for restructuring the M.B.A. A member of the Academic Senate, Drezner represents the College of Business and Economics through 2007.

Drezner — who earned his doctorate in computer science from Technion in Haifa, Israel — has been a member of INFORMS College on the Practice of the Management Sciences Council since 2003 and served on the International Scientific Advisory Committee, International Conference on Environment, Locational Decisions and Regional Planning.

As the 2005-06 Outstanding Professor, Drezner will be recognized at the university's May 26 Honors Convocation and carry the mace to lead the faculty at the May 27 and 28 commencement ceremonies. He will receive a $4,000 cash award from the President's Associates and will present a public lecture next spring.

Jesa Kreiner, professor of mechanical engineering, chaired the Outstanding Professor Selection Committee.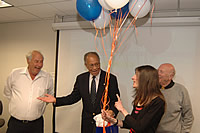 Nancy Segal, center, professor of psychology and last year's winner of the Outstanding Professor Award, congratulates Zvi Drezner.