Cal State Fullerton's Debate Team Ends Year on a Winning Note
CSUF debate team extends winning streak to four years in a row, defeating teams from Harvard, USC, Northwestern and Berkeley.
May 18, 2006
By VALERIE ORLEANS
Rack up another winning season! Once again the Cal State Fullerton team has ended their season on a high note and added to an above–average winning record that includes victories over such favorites as Harvard, USC, Northwestern and Berkeley.

This year, the team completed the season by competing at the National Debate Tournament (NDT) and the Cross Examination Debate Association (CEDA) tournament.

"The NDT is smaller and more prestigious, while the CEDA national tournament is larger and open to all competitors," said Jon Bruschke, associate professor of human communication studies and team coach. Sophomore Luis Magallon and junior Brenda Montes qualified for the NDT and after eight preliminary debates, advanced to the single–elimination round. They are only the third CSUF team since 1997 to advance to that level. Montes was awarded the fourthspeaker distinction — the best finish in team history.

At CEDA, the pair advanced to round 32 where they lost a 2–1 decision. Magallon was named fifth speaker, and Montes was ranked second. (Much as basketball teams earn wins and losses but individuals score points, debaters are judged as part of a team and as individuals.) Only two schools finished with two debaters in the top five: One was Harvard, the other was CSUF.

"Debating is so intense and so high energy," said Bruschke. He and fellow coach Jeanine Conglaton have gone on to produce one winning team after another.
"You spend huge amounts of time on research, and it builds you up intellectually. Most debaters are a little quirky — they have a lot to say, and this is a different way for them to say it."

This year, China was the focus of the national debates. With the issue centered on a country, debaters have to be knowledgeable on topics ranging from medicine, to the one–child policy, to contemporary philosophy.

Before each individual debate, team members are told whether they will be arguing the affirmative or negative position on their specific topic, said Bruschke. They then develop a nine–minute speech on the spot, using the research they've completed over the season. It requires debaters to be prepared to argue in favor of a position in one round and against it the next, he explained.

Debaters speak rapidly — often from 400 to 800 words a minute, rather than the 140 of normal speaking — trying to get across as many points as possible. Why? To generate points, Bruschke said. "If you don't respond to all the issues that are presented, points are subtracted. The idea is to raise so many issues that your opponent can't meet them all," he noted. Bruschke, however, has a different approach that seems to work.

"Our students choose to speak from passion and experience," he said. "Yes, you need to be able to respond to arguments that are raised, but I think it's a much more effective debate if you can speak from the heart.

"What I appreciate about my team is how they support each other," Bruschke said. "This isn't about winning a pile of trophies. This is about them developing into caring individuals. I'm not as interested in how they are as debaters. I'm interested in what they're like as human beings."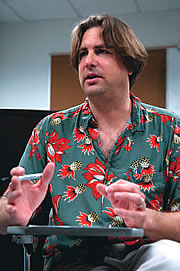 Jon Bruschke, debate team coach and associate professor of human communication studies