Conditions of Children in Orange County
CSUF Center for Community Collaboration's annual report on conditions of children discussed at campus forum.
November 21, 2006 :: No. 83
Kelly Reed refused prenatal tests that could have revealed whether the child she was carrying would be born with birth defects.
After all, she was finally pregnant after seven years of trying, and "it wasn't important to me to get the amniocentesis and all the other tests," Reed said. "So, it was somewhat of a huge shock that Katelyn was born one month early and with Down Syndrome."
Reed found solace and support from various Orange County community organizations. She said the groups' staff and volunteers taught her and her husband to accept their daughter's diagnosis and to help her reach her potential.
"Katelyn's in a pilot program that integrates her in a typical classroom with other 3-year-olds, and she's expected to learn with the other students," said Reed, a resident of Brea. "She's performing within the range normal for a typical 3½-year-old. … Our hopes and dreams for her are the same as other parents' hopes and dreams. We are very confident in Katelyn's abilities. That would have been difficult for us without the support we received."
Reed's story illustrates the need for prenatal and postnatal care, child and parent support groups and educational programs throughout the nation, according to the sponsors of the 2006 Annual Report on the Conditions of Children in Orange County.
"This report brings together all aspects of what's happening to our children in Orange County," said Michael L. Riley, director of Children and Family Services of the Orange County Social Services Agency and co-chairman of the report released Nov. 15 during a community forum on campus.
"Frankly, the report shows that some things are getting better, but there are areas that need improvement," added Orange County Supervisor Bill Campbell, chairman of the report, which was produced by Cal State Fullerton's Center for Community Collaboration.
The forum was attended by about 500 representatives of various organizations that deal with children's issues. The organizations use the report's findings to address the needs, said Michael M. Ruane, executive director of the Children and Families Commission of Orange County.
"The report guides people to action," he said. "We're not a think tank. We're a 'do' tank. These people are school nurses, social workers, dentists, doctors, the front-line advocates."
Michelle Berelowitz, director of the Center for Community Collaboration, said the report's statistics represent human beings, and it's up to the advocates to answer the questions: "What is the impact on policy?" "What are the budgetary implications?" and "What are the challenges?"
Among of the report's findings:
The percentage of Orange County children born with low birth weight (less than 5.5 pounds) increased from 5.3 percent in 1994 to 6 percent in 2003. That's 25,937 underweight babies during the 10-year period. African American women had the highest percentage (10.3 percent in 2003) of underweight infants. According to research cited in the report, underweight babies have a higher risk than their healthy weight counterparts for serious illnesses, disabilities, developmental delays, lifelong health difficulties and are more likely to die before their first birthdays.
The number of obese children in Orange County is growing. From 2002 to 2004, there was an 18.8 percent increase in overweight children ages 0 to 4. For 5- to 11-year-olds, the increase was 9.7 percent and for 12- to 19-year-olds, the increase was 13.1 percent. Asian and Pacific Islander children had the greatest increase, at more than 25 percent in all three age groups.
The number of students receiving free or reduced-cost lunches in Orange County public schools increased by 18 percent from 163,883 during the 1996-97 school year to 193,802 in 2005-06. To qualify for free or reduced-cost lunch, children must be at or near the poverty level (a family of four earning $19,806 or less).
During the 2004-05 school year, Orange County public schools spent an average of $6,944 per pupil. The average expenditure per pupil in California was $7,815, and the average nationwide was $8,554.
There were 373 adoptions in 2004, a 27 percent decrease from 513 in 2002. Evidence shows that "adoption is the best alternative for children lacking capable caregivers," according to the report.
Between 1995 and 2005, the total number of juvenile arrests decreased by 27 percent, from 17,832 to 13,033. Felony arrests dropped by 35 percent, from 5,080 to 3,293. Arrests for violent crime also declined, by 38 percent, from 1,042 to 643, and misdemeanor arrests fell by 19 percent, from 10,095 too 8,157.
Harold C. Slavkin, dean of USC's School of Dentistry and an expert on craniofacial development and genetic birth defects, delivered the forum's keynote address.
"It is absolutely imperative that we take care of our children — in the family and in the community," he said. "Just because they exist, children must have affirmative action on their behalf. We must remove obstacles, enhance opportunities. Too many children have no advocate. Someone has to step up and take that role. It is forever, a sustained commitment. It is long and chaotic and difficult and so rewarding."
Slavkin stressed the importance of oral health in a country where 110 million Americans do not have dental insurance.
"Tooth decay is the No. 1 reason why kids don't go to school," he said. "We need to provide early intervention, immunizations, clean water. … It's a team activity to help one another. We have an enormous opportunity for advocacy. Minimally, every child should receive healthcare."
The purpose of the forum was to raise awareness about the conditions of children in Orange County and to find ways to improve them, Berelowitz said.
"Now, we take action," Ruane said.
This year's 196-page report can be viewed online at www.ochealthinfo.com/cscc/report. It contains data that provides an analysis of trends over the past decade. It includes 39 indicators — presented in four sections: good health, economic well-being, educational achievement and safe homes and communities — that describe the status of Orange County's children.
Media Contacts:

Michelle Berelowitz, 657-278-5681, mberelowitz@fullerton.edu
Mimi Ko Cruz, Public Affairs, 657-278-7586 or mkocruz@fullerton.edu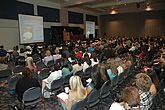 A large audience gather for the 2006 Annual Report on the Conditions of Children in Orange County.
---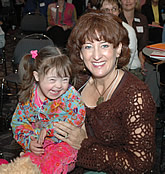 Kelly and Katelyn Reed
---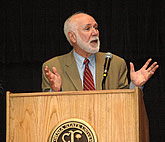 Keynote speaker Harold C. Slavkin, dean of USC's School of Dentistry
Get Expert Opinions On...