NASCAR's Robby Gordon Presents Second Check to CSUF
For the second time in a year, Robby Gordon has presented a $20,000 check to Cal State Fullerton for alcohol education and programming
September 1, 2006:: No. 19
For the second time in a year, Robby Gordon, a National Association for Stock Car Auto Racing (NASCAR) driver, has presented a $20,000 check to Cal State Fullerton for alcohol education and programming
Robby Gordon visited the commuter campus, where more than 35,000 students are enrolled in December to award a similar check
Today's presentation was made at the California Speedway in Fontana, where Mary Hermann, CSUF's director for health education and promotion, and Brieana Roumeliotis, a CSUF health educator, met Gordon on the racetrack prior to his NASCAR Nextel Cup qualifying race. Gordon, a Bellflower native and Anaheim Hills resident, has competed in all levels of racing, including NASCAR Nextel Cup and NACAR Busch Series.
Cal State Fullerton's Division of Student Affairs and Dean of Students Office will use the funds to further educational efforts on campus related to alcohol use, consequences and impact, specifically drinking and driving.
The funds are provided by the Century Council and presented through Robby Gordon Motorsports. The Century Council is a nonprofit organization of distilled spirits companies that encourage education programs geared to curtailing underage drinking and drinking and driving.

Media Contacts:

Mary Hermann, Student Health and Counseling Center, 657-278-2847 or mhermann@fullerton.edu

Brieana Roumeliotis, Student Health and Counseling Center, 657-278-7223 or broumeliotis@fullerton.edu

Robby Nisenfeld, Public Affairs, 657-278-3798 or rnisenfeld@fullerton.edu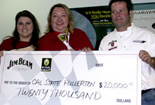 Mary Hermann, director of health education and promotion in the Student Health and Counseling Center, joins Kandy Mink Salas, dean of students, in accepting a $20,000 check from NASCAR driver Robby Gordon.