Titan Athletics Hall of Fame Launched
October 27, 2005
The Titan Athletics Hall of Fame, honoring some of Cal State Fullerton's best athletes and coaches, will be launched at a dinner and reception beginning at 6 p.m. Saturday, Nov. 5, in the Titan Student Union.
"This evening will provide us with the opportunity to honor some of our best and brightest," said Brian Quinn, director of intercollegiate athletics. "It also provides us with a chance to celebrate our rich athletics history, which includes 12 national championships."
Among those who will be honored at the evening's event are Greg Bunch (men's basketball), Nancy Dunkle and Eugenia Miller-Rycraw (both women's basketball), Tami Elliott-Harrison (gymnastics), Augie Garrido (coach - baseball), Susan LeFebvre-Wyman (softball) and Tim Wallach (baseball).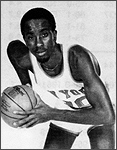 Greg Bunch was the star of the Titans' "Cal State Who?" basketball team that advanced to the finals of the 1978 NCAA Western Regionals — the university's only appearance — coming up one basket shy of the Final Four. The Titans upset highly favored New Mexico and San Francisco before losing in the final seconds to Arkansas. The sinewy four-year starter at forward also led the Titans to their only conference championship in 1975-76. Bunch played briefly with the New York Knicks in the National Basketball Association before launching a successful career in the cable television industry, where he currently serves in an executive position with SiTV, a station that programs to second and third-generation English-speaking Hispanics.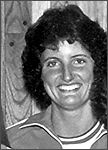 Nancy Dunkle is the fifth- leading scorer in Titan history, scoring 1,559 points during the 1973-77 women's basketball seasons. She was a three-time Kodak All-American (1975-77) who averaged 19.0 points (second best) and 9.1 rebounds (fourth best) as a Titan. Dunkle was appointed Titans' head coach for women's basketball in 1977, compiling a 28-23 overall record in her two-season tenure. In 2000, she was inducted into the second class of the Women's Basketball Hall of Fame in Knoxville, Tenn.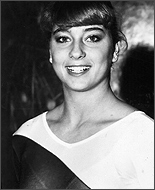 Tami Elliott-Harrison was one of the nation's top gymnasts, winning All-American status 10 times before suffering a serious neck injury that curtailed her 1987 season. In 1984, she was an All-American on vault, uneven parallel bars and all-around, repeating in vault and all-around, and adding floor exercise a year later. Elliott-Harrison returned in 1986 to add additional awards on bars, balance beam, floor exercise and all-around. Despite her injury, she received the 1987 American Award, an annual award given to the nation's top collegiate senior gymnast. Elliott-Harrison returned to Fullerton to coach for the 1988 season before moving to the East Coast. In 1989, she was named Miss Virginia and competed in the Miss America pageant. Today, she is owner and head coach at World Class Gymnastics in Newport News, Va.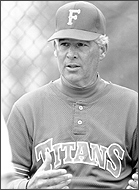 Augie Garrido was the architect of Fullerton's highly successful baseball program. In 21 seasons (1973-87 and 1991-96), he compiled a record of 931 wins, 391 losses and six ties, including 15 conference championships — 11 consecutively. Garrido took the Titans to the College World Series in Omaha on seven occasions, winning national championships in 1979, 1984 and 1995, and placing second in 1992. Selected national coach of the year four times, Garrido coached three years (1988-90) at Illinois and since 1997, has been at the University of Texas, where he has won two more national titles and raised his 37-year victory total to 1,542.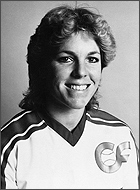 Susan LeFebvre-Wyman won the Broderick Award as the nation's top softball player in 1986 when she led the Titans to their first and only NCAA softball championship. The two-time All-American posted a 31-6 pitching record that season and holds virtually all of the university career pitching records, including wins (100-21), appearances (149), starts (116), complete games (98), shutouts (59), strikeouts (702) and innings pitched (894.2). Her 34 complete games in 1986 also are a single-season record. LeFebvre-Wyman currently is a software engineer at PacificLife.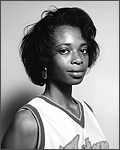 Eugenia Miller-Rycraw holds virtually every career record in CSUF women's basketball history. She led the Titans to their only two NCAA tournament appearances in 1989 and 1991. In the latter season, Miller-Rycraw was the Big West Conference player of the year, the Big West Tournament MVP and one of 10 players on the Kodak All-American team. She scored 2,415 career points and holds the Big West record for single-season scoring. During her Titan career, Miller-Rycraw grabbed 1,162 career rebounds and blocked 428 shots, which stood as the NCAA record until this past season. She played professionally in Japan (1991-93) and returned after several years of raising a family to play for the Los Angeles Sparks of the WNBA in 1998-99. She currently is in her fourth year (1993-94 and 2003 to present) as assistant coach in the Titans' program.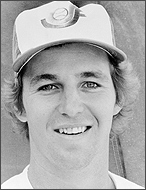 Tim Wallach was the Titans' first baseball star. He won USA Baseball's Golden Spikes Award and the Sporting News College Player of the Year awards in 1979 when the first baseman led the Titans to the school's first Division I NCAA title. Wallach drove in 102 runs, which still is the CSUF single-season record. He was a first-round draft choice of the Montreal Expos and hit a home run in his first official "at bat" as a professional and major leaguer. He spent 17 seasons with the Expos, Angels and Dodgers, winning three Golden Glove Awards for fielding excellence at third base and making the National League All-Star team five times. Wallach returned to CSUF as an assistant coach in 2000 before joining the Dodger's as hitting coach.
Alumni Justin and Kristin Isom Alderson (B.A. communications-TV/film '98 and B.A. communications-public relations '97, respectively) have pledged $25,000 on behalf of the Alderson Family Foundation to fund the Titan Athletics Hall of Fame that will be established in the gymnasium. Justin is the TitanSports.org Web cast play-by-play announcer for men's baseball and basketball games.
Tickets are still available for this inaugural event at $75 per person ($25 tax deductible) or $750 for a table of 10. For further information, call 278-3480.