Honoring Staff Service
Campus Celebrates Dedicated Workforce
Cal State Fullerton honored its staff members for continuing service during the June 1 Staff Appreciation and Recognition Day in the Titan Student Union's Portola Pavilion. The annual event recognized this year's Outstanding Staff and Titan Excellence Award recipients and staff members who have earned college degrees, as well as recognizing staff members for their years of service. To see additional photos of celebrants and honorees, click here.
Four Decades of Service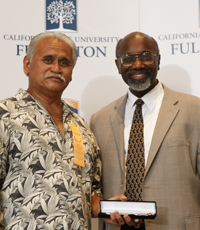 Caption: Tony J. Espere is congratulated on 40 years of service by Willie Hagan, interim university president. Download Photo
Among those honored were two staff members who have served the campus for 40 years.
Tony J. Espere, automotive/equipment mechanic, Physical Plant
Espere began on campus in November 1971 as a custodian and moved through several positions, including laborer and mechanic's helper before becoming the automotive mechanic — a position he describes as working on almost anything with a motor — in 1986.
Jill L. Rodriguez, administrative analyst, College of Health and Human Development
Rodriguez, like many staff members, came to CSUF as a student and has been content to stay. Her first position was as a quarter-time student assistant, a position she held while earning a bachelor's degree in sociology in 1972. Rodriguez became a secretary in the Management Department, went on to a master's degree in social science in 1983, and in 1989, became an administrative analyst in the College of Health and Human Development. In that role, Rodriguez has worked with faculty and staff members on the college's curriculum committee, classroom scheduling, recruitment issues and all part-time faculty contracts.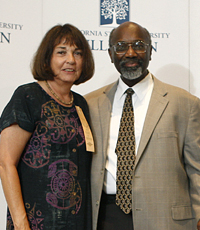 Caption: Jill L. Rodriguez is recognized for her years of service to the campus community. Pictured with her is Interim President Willie Hagan. Download Photo
Thirty-Five Years Recognized
Two long-time campus members were honored for three-and-a-half decades of service to the university.
James Corbett, associate director, Physical Plant
Armed with a degree in plant science from the University of New Hampshire, Corbett moved west and joined the university in December 1976 as a grounds worker. He later earned a master of science in public administration in 1980 while serving in various positions within facilities management. He currently manages operations and maintenance for Physical Plant and has been involved in many of the energy-saving projects on campus, including the trigeneration plant.
Juan Espinoza, facilities maintenance mechanic, Physical Plant
If it involves the quality of water on campus, it probably comes under the perview of Juan Espinoza, who tests and mades adjustment to water controllers and the treatment of all water systems throughout the campus. That means the chlorine and other chemical levels in the swimming pools, fountains, cooling towers and thermal storage systems. Espinoza, who began his CSUF career in custodial services, is the only one in this position on campus.
Caption: James Corbett is congratulated for his 35 years on campus by Interim President Willie Hagan. Download
 30 Years of Service 
Timothy G. Arias, Shipping and Receiving
Sharon L. Hagar, Humanities and Social Sciences
Hyun K. Lim, Capital Project Management
Robert L. Minor, Music
Honored for 25 Years
Peggi M. Barlow, Financial Aid
Marian J. Benedict, Student Financial Services
Debra C. Blackley, Financial Aid
Patricia L. Nelson, Information Technology
Kathleen Olmstead, Associated Students
Jonita K. Pasquale, Physical Plant
Betsy Stuck, Admissions and Records
Edna L. Turnbow, Mihaylo College of Business and Economics
Roberta L. Valentine, Pollak Library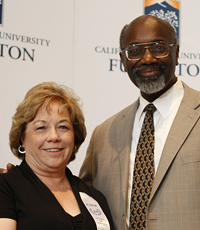 Caption: Sharon L. Hagar, pictured with Interim President Willie Hagan, is recognized for her 30 years of service to the campus. Download
Two Decades of Service
Karen A. Batten, Payroll Services
Matthias R. Botzheim, University Police
Yick Ching Chan, Physical Plant
Vadim V. Chissek, College of Engineering and Computer Science
Janet E. Emery, Student Health and Counseling 
Denise P. Johnson, Human Resource Services
Fatima W. Khan, Chemistry and Biochemistry
Gale M. Kirkland, Athletics
Lance Meredith, Titan Shops
Harry L. Norman, University Extended Education
Jacqueline Otis, Student Academic Services
Valerie J. Ramirez, Campus Dining
15 Years Recognized
John W. Bedell, University Police
Kim D. Bette-Wright, Geography
Arthur L. Booth, Information Technology
Richard D. Boucher, Student Health and Counseling
Patrick J. Castillo, Physical Plant
Susan Cervantes, University Advancement
Victoria D. Cortes, Admissions and Records
Barrien G. Crudup, Physical Plant
Dennis L. Davids, Physical Plant
Michael F. Dickerson, Titan Shops
Gregory T. Dyment, University Extended Education
Debi L. Esquivel, University Learning Center
Thomas L. French, Physical Plant
Barbara A. Glennan, Fullerton Arboretum
Judy I. Goberdhan, Auxiliary Services Corporation
Maria L. Gonzalez, Human Resource Services
Kenneth W. Goodwin, Financial Aid
Naomi A. Goodwin, President's Office
Willie J. Hagan, President's Office
Dennis Hernandez, Physical Plant
Frank J. Herrera, Titan Shops
Nancy J. Hill, University Extended Education
Pamela L. Kedulich, Admissions and Records
Marina Kutsak, Student Health and Counseling
Stefanie A. Light, University Advancement
Alfred Lozada, Physical Plant
Chris A. Manriquez, Information Technology
Jennifer L. McCormick, Titan Shops
Gordon McCray, Physical Plant
Burton Morton, Mihaylo College of Business and Economics
Kenneth S. Moyer, University Extended Education
Christine V. Murillo, Auxiliary Services Corporation
Mark A. Panozzo, Physical Plant
Kathleen A. Pomykata, Strategic Communications
Robert Ramos, Logistical Services
Kathryn A. Ruzzi, Student Affairs
David A. Sullivan, Information Technology
Antonina M. Williams, Information Technology
Rochelle C. Woods, College of Natural Sciences and Mathematics
Norbella E. Zalasar, Campus Dining
A Decade of Service
Victoria E. Agnew, Financial Aid
Christine C. Alessi, Student Health and Counseling
Seyed A. Athari, Campus Dining
Cheryl L. Barba, Admissions and Records
Christopher M. Barnhill, Fullerton Arboretum
Evelyn E. Beasley, University Extended Education
Jeffrey A. Bechtold, Physical Plant
Erika L. Blossom, Grants and Contracts
Richard L. Bohlen, Admission and Records
Sandra K. Boulanger, Computer Science
Deborah L. Briggs, Admissions and Records
Howard T. Chang, Strategic Communications
Jennifer D. Chung, Budget, Planning and Administration
Diane M. Costello, English, Comparative Literature and Linguistics
Abigail Dawson, Art
Stephen J. DiTolla, Athletics
Helen D. Dolbin, Pollak Library
Pamela M. Drummond, Information Technology
Debra A. Ellis, University Police
Susan C. Garofalo, Accounts Payable
Roy P. Gonzales, Physical Plant
Jessica B.A. Hammond, American Language Program
Lolita T. Hartono, Nursing
Mildred H. Heaton, University Advancement
Claudia Hernandez, Campus Dining
Jean C. Hess, Graduate Studies
Ernestine R. Hood, Biological Studies
Anh T. Huynh-Nelson, Faculty Development Center
Gabriel J. Ibarra, Accounts Payable
James A. Kiser, Physical Plant
Lisa J. Kopecky, Academic Affairs
Angelaa M. Lawson, University Extended Education
Yi-Jun Lin, Health and Human Development
Mandy Loo, University Extended Education
David Luu, Humanities and Social Sciences
Rachel Lynch, Student Affairs
Gladys Maldoon, Information Technology
John P. Marquez, Information Technology
Amy W. Mattern, Student Life
Jovita C. McCoy, Information Technology
Margie McMillan, Administration and Finance
Elizabeth Meyer, Admissions and Records
Valerie M. Nguyen, University Advancement
Mony C. Nhong, Information Technology
Sandra Norell, Engineering and Computer Science
Zarita J. Owens-Moore, Accounts Payable
Kellie C. Padilla, Irvine Campus
Peter K. Poon, Titan Shops
Brian Quinn, Athletics
Donna H. Rader, Pollak Library
Deena L. Robinson, University Advancement
Kenneth J. Sanchez, Physical Plant
Christine Schloffer, Human Resource Services
Robert B. Scialdone, Athletics
Dipali V. Shedge, Campus Dining
Susan T. Shoho, Gerontology Institute
Andrea F. Sims, Student Affairs/College of the Arts
Linda J. Smith, Nursing
Jennifer E. Solorzano, Parking and Transportation Services
Michelle M. Swadish, Student Financial Services
Leilani E. Thomas, Human Services
Margaret N. Titular, Physical Plant
Mary Ann Torres, Accounts Payable
Sheree E. Traub, Physics
Esiquio R. Uballe, Dean of Students
Miguel C. Valencia, Campus Dining
Catherine A. Vanriette, Women's Center
Phil Vo, Nursing
Roberta L. Winter, Graduate Studies
Sally S. Yassine, Contracts and Procurement
Emeline M. Yong, Student Affairs/Mihaylo College of Business and Economics
Luz M. Zapata, Special Education
June 6, 2012