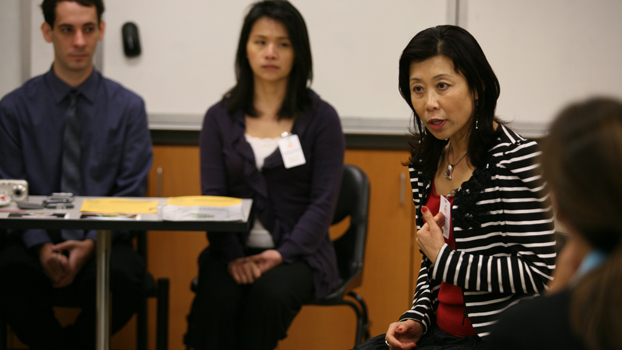 Caption: Jie Weiss, right, explains her research on parental decisions to feed their children healthy foods at Cal State Fullerton's recent obesity prevention symposium. Photo: Greg Andersen Download
Target: Obesity
Researchers Reveal Prevention Strategies
How parents decide what to feed their preschool-age children, how to promote healthy lifestyles in elementary schoolchildren and how to get kids to exercise as ways to combat obesity were a few of the topics discussed at Cal State Fullerton's recent "Obesity Prevention Through the Life Span: Reflections of the Past and Visions of the Future" symposium, sponsored by the university's College of Health and Human Development.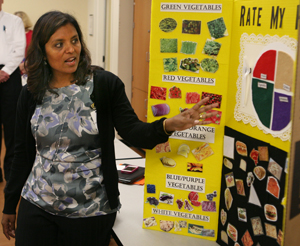 Caption: Archana J. McEligot explains an interactive nutrition guide. Photo: Greg Andersen Download 
About 80 representatives from health care agencies, hospitals, clinics, nonprofit organizations and school districts attended to learn more about the research and community projects run by the university's Center for the Promotion of Healthy Lifestyles and Obesity Prevention. The goal, said event organizers Shari G. McMahan, dean of the College of Health and Human Development, and Jie Weiss, associate professor of health science, was to inform the public about the center's work and to:
disseminate results from obesity prevention and intervention projects;
share lessons learned regarding collecting data on eating behaviors and physical activities in the community; and
increase obesity prevention and intervention collaborations between the university and community groups.
"The prevalence of obesity in children has doubled over the past two decades," McMahan said. "Intervention during the formative years is of utmost importance."
Among the projects presented at the symposium were:
McMahan said the Center for the Promotion of Healthy Lifestyles and Obesity Prevention has been awarded grants totaling $573,187 since 2008 from the Centers for Disease Control to address childhood obesity through an interdisciplinary approach. As a result, the center's projects involve myriad community groups and faculty members from across disciplines.
The center's mission is to work with schools and other community-based organizations and agencies to: develop and test model health promotion programs and interventions, evaluate programs that support obesity prevention in the community and identify models and environments that can explain behavior patterns across different groups that are at risk of becoming obese. For more information on the center and its projects, visit the website. 
June 4, 2012