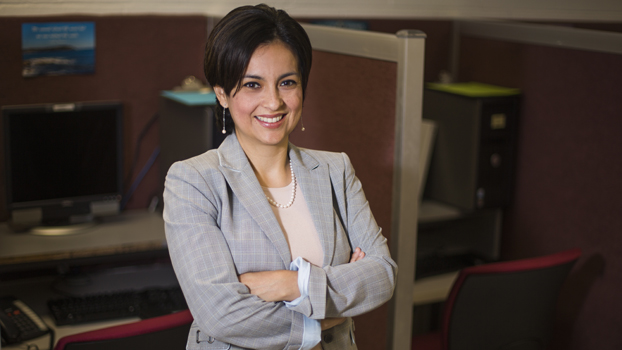 Caption: Laura Gil-Trejo is the new director of CSUF's Social Science Research Center. Photo: Matt Gush Download
SSRC Director Named
Gil-Trejo Appointed to Lead Social Science Research Center
Laura Gil-Trejo has been appointed director of Cal State Fullerton's Social Science Research Center (SSRC). That marks a promotion for Gil-Trejo, who has been serving as the center's acting director since 2008.
"Laura's career at the SSRC started when she was hired as a research associate in 2004," Angela Della Volpe, dean of the College of Humanities and Social Sciences, noted in her announcement of Gil-Trejo's appointment. "She was promoted to associate director in 2007 and to acting director in 2008, where she has maintained her position and grown the program in a very positive direction."
Gil-Trejo, of Rancho Santa Margarita, said she is excited about her appointment and already has begun planning for the center's future.
"I think we have a great opportunity to elevate the recognition of this center," Gil-Trejo said. "We've already received 150 percent more external grants in the past year over the previous year, and we're in negotiations now with outside funders for new grant projects. We want more people to know that we exist here and to learn about what we do."
The survey data produced by the center are used by research organizations, scientists and community agencies and businesses to produce trend reports and other information, said Gil-Trejo, who supervises four full-time staffers and a number of part-time pollsters conducting phone surveys.
Gil-Trejo's past experience includes stints as a project coordinator and research associate at UC Irvine and at San Diego State. 
She has a bachelor's degree in psychology and social behavior from UC Irvine and master's degrees in social ecology from UC Irvine and in public health from San Diego State. At present, she is working on a doctoral degree in program evaluation and applied research methods at the School of Behavioral Organizational Sciences, Claremont Graduate University. Gil-Trejo has taught at CSUF and Santiago Canyon College.
July 9, 2012