Emmy Nod for Costner
Actor-Director Saddled Up Again, for Post-Civil War Drama
Update:
Alumnus Kevin Costner took home an Emmy Sunday night for lead actor in a miniseries or movie, for his role as Devil Anse Hatfield in the popular miniseries "Hatfields & McCoys."
Oscar-winning alum Kevin Costner (B.A. business administration-marketing '78) is on the trail of scoring another industry honor — this time in television.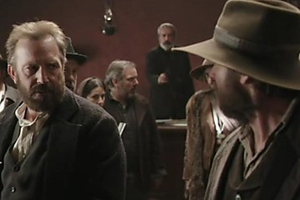 Caption: Kevin Costner, left, and Bill Paxton in a scene from the History Channel's miniseries "Hatfields & McCoys." Photo courtesy of the History Channel
Among recently announced Emmy nominees, the History Channel's miniseries "Hatfields & McCoys," co-starring Costner as Devil Anse Hatfield, racked up 16 nominations, including one for Costner in the category of lead actor in a miniseries or movie.
Los Angeles Times television critic Mary McNamara observed that the nomination served to "restore our faith in Kevin Costner, who could certainly win ..."
His competition is: Bill Paxton, Costner's co-star in "Hatfields & McCoys"; Woody Harrelson from HBO's "Game Change"; Clive Owen from HBO's "Hemingway & Gellhorn"; Idris Elba from BBC America's "Luther"; and Benedict Cumberbatch from PBS' "Sherlock: A Scandal in Belgravia."
The three-part "H&M" aired over the Memorial Day weekend, drawing a record 13.9 million viewers for its premiere and even more the following two nights. The History Channel bills its first original dramatic miniseries as the "#1 cable telecast of all time." It was released on DVD and Blue-ray in June.
When the Emmy nominations were announced last week, Costner — a producer on the project — was touring with his band, Modern West, to promote their album released in May, "Famous for Killing Each Other," which features music from the miniseries.
The veteran actor won his Oscar for directing the 1990 blockbuster "Dances With Wolves," which also won the Academy Award for best picture that year. He's had success with other westerns, including "Silverado," "Wyatt Earp" and "Open Range." Kevin Reynolds, who directed Costner in "Robin Hood: Prince of Thieves" and "Waterworld," also directed the "Hatfields & McCoys," which was nominated in the category for miniseries or movie.
July 27, 2012