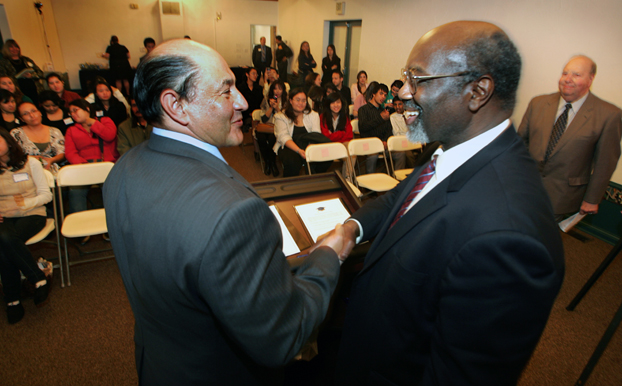 Caption: State Sen. Lou Correa, left, and Willie Hagan, interim president of Cal State Fullerton, shake on it after signing a partnership agreement to help young people achieve a college degree. High school students and their parents were there to visit the campus and learn more about Sen. Correa's Young Senators Pathway to College Program. At far right is Steven N. Murray, interim provost and vice president for academic affairs. Photo: Karen Tapia Download Photo
Creating a Pathway to College
Sen. Correa's Young Senators Program Offers Caring and Support
Delanee Balta, a sophomore at Villa Park High School, is going to have a lot of explaining to do if she decides to take a pass on math classes during her senior year. Steven N. Murray, interim provost and vice president for academic affairs, sought out her mother at a recent campus meeting/tour to launch the partnership between Cal State Fullerton and Sen. Lou Correa's Young Senators Pathway to College program.
"Mom," Murray advised. "I know your daughter is just a sophomore right now, but when she gets to her senior year, she's going to want to stop taking math. Don't let her do it. You hear that, Delanee? If you stop in your senior year, by the time you arrive here, you'll have forgotten many of the principles you already know. Math is critical for almost all majors, so don't let that slide."
"I love that," said Delanee's mother, Dreena Naggar. "I believe it takes a village to prepare our children, and these sorts of events confirm that the people at Cal State Fullerton and in the Young Senators Program really do care about the students — even if it's telling them something they don't want to hear."
At the recent Friday evening reception, high school students and their parents gathered to hear CSUF Interim President Willie J. Hagan, State Sen. Lou Correa (D-Santa Ana) and Murray discuss the importance of a college education and what students should do now to prepare for university life.
As he addressed the students and parents, Hagan offered a glimpse into his own background.
"I know that you can stumble as a student because I did that myself when I was your age," he said. "I was very fortunate to have a counselor sit down and talk to me. Apparently, he saw something in me that I didn't see myself. He told me, 'I think you're smart enough to go to college.'
"All the people gathered here this evening are here for one reason and it can be summed up in one word: caring. We care about you. We want you to succeed and we know you can, if you're willing to put in the work.
"Probably all of the adults in this room had someone who cared enough to push them and encourage them," Hagan continued. "At Cal State Fullerton, we have great students, an outstanding faculty, wonderful staff members and a great community. When you leave with your degree, you will have a career orientation and be part of 200,000 alumni who have preceded you — it may even by 300,000 by the time you graduate! Education is all about being part of something bigger than yourselves. It prepares you and helps you feel more secure about the future. We're looking forward to welcoming you here in a few years."
Correa seconded Hagan's words.
"It is about caring," Correa said. "And we always want to give credit to those who helped us. Students don't do this on their own."
Correa also believes that if his path hadn't crossed with a caring junior high school counselor, his life could have taken a different path. He decided that he, too, could go to college ... and chose to attend Cal State Fullerton.
"At CSUF, I was given the opportunity to achieve my goals," he said. "They took a diamond in the rough and helped shape me. Cal State Fullerton's alums include doctors, inventors, astronauts and ... senators."
Based on his experience, Correa developed the Young Senators Pathway to College program that works with young students to offer them a way to achieve their goals.
"It's not always the easiest way," he admits. "But it is the pathway to gaining admission to college. This is what we need to do."
Murray closed the session by reminding students of all the benefits of pursuing a bachelor's degree. (See item at right.)
"You need to keep your eye on the prize," Murray said. "And the prize is a college degree — a bachelor's degree. This degree is the ticket to achieving your aspirations. Cal State Fullerton is a good destination for that goal. We have strong programs, faculty mentors and multiple opportunities for involvement.
"We are increasingly in a knowledge-based economy, and we need an educated workforce," he said. "This is quite a different picture from what your parents probably experienced.
"Find a path to get your college degree," Murray continued. "And never forget, we're here to help you."
Caption: High school students join Sen. Lou Correa and CSUF Interim President Willie Hagan for a group photo during the recent campus meeting and tour. Photo: Karen Tapia Download Photo
Jan. 25, 2012