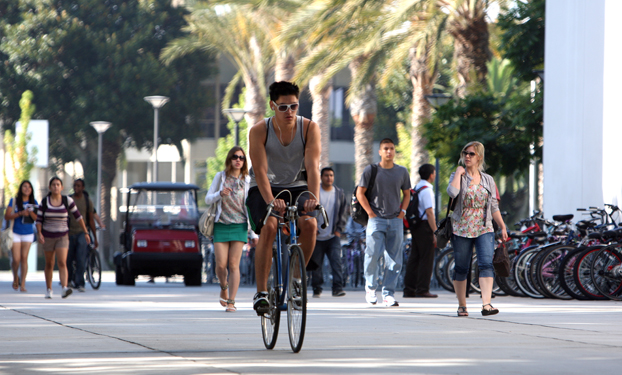 Caption: Soon more students could be riding bicycles to campus through a pilot bike-share program being rolled out in the city of Fullerton. Photo: Karen Tapia Download Photo
Sharing a Ride
OCTA, City, Campuses Partner in Bike Share Program
Soon students will be able to hop on a bike to get to and from the university, the store or, perhaps, even to their favorite Friday night hangout, through a program of bike sharing that is being instituted around the city of Fullerton.
A $700,000 federal grant awarded to the Orange County Transportation Authority will underwrite the pilot program, the first such citywide effort within the state of California, said Wes Parsel of the OCTA. Fullerton was selected after a review of census data and meetings with city and officials of the city's higher education institutions.
A preliminary map has been drawn up, Parsel said, indicating where some 15 docking stations will be located, including at CSUF, Hope University, Fullerton College and the Fullerton Transportation Center.
A vendor will be selected in April to operate the test program, Parsel added.
Under such a program, participants would pay a subscription fee to be able to access bicycles via a card-activation system at each solar-powered docking station. When riders reach their destination, such as the campus, they will be able to check in the bicycle and check out another when they are ready to leave. If the ride is less than 30 minutes in length, the cost will be free.
Cost per year hasn't been determined yet, said Parsel, who noted that a model program in Denver, which last year was operating 50 stations and 500 bicycles, charges $65 per year.
The docking stations will gather data on which sites are most popular and what times have the heaviest use. That information will be used to modify and expand the program if needed, said Parsel.
"If the program is successful, and we think we can translate it to other locations, we hope to make the program a regional offering," said Parsel. "And unlike in areas on the East Coast, we'll be able to offer the program year around."
"It's really a neat idea that will help students and cut down on the amount of vehicle traffic around the campus," said Joe Ferrer, campus director of parking and transportation services. "It dovetails with other efforts to manage transportation demand, including van pools and ride-share programs."
Cal State Fullerton and OCTA also partner on a University Pass, or UPass, program, which since 2003 has allowed students, faculty and staff members with a valid TitanCard to ride OCTA buses by swiping their card through the bus farebox as they board. The program is free to riders and available all day, every day, on all OCTA routes to all destinations. It is funded by parking ticket revenues.
Parking and Transportation also is finalizing a car-sharing agreement with WeCar. The program, said Ferrer, is similar to the bike station program and will allow employees and students to become members, renting a car on an hourly basis.
March 1, 2012