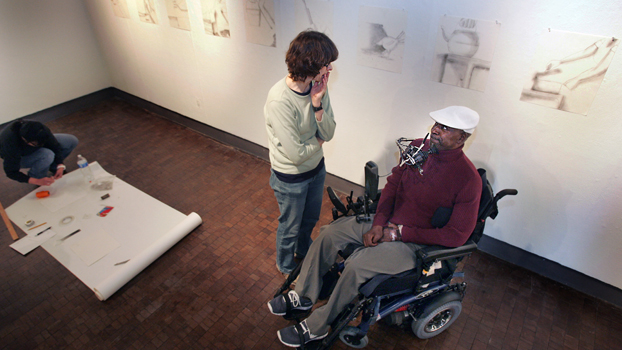 Caption: Graduate art major Rosemary Tesoro confers with Craig about his preferences for the installation of his drawings in the West Gallery. Photo: Karen Tapia Download Photo
Drawing From Memory
One Veteran's Journey Connects His Past and Present
It happened to Man of Steel Christopher Reeve when he was thrown from a thoroughbred during an equestrian event.
It happened to 2nd Class Petty Officer Odis Craig when he was playing tackle football on base with his naval Marine Corps buddies.
Craig left that game 35 years ago on a stretcher, paralyzed from the shoulders down. His third and fourth cervical vertebrae snapped during a tackle, damaging his spinal cord, immobilizing him. He was transferred to a series of naval hospitals, underwent rehabilitation therapy and, eventually, at the urging of an occupational therapist, embarked on a new direction in life, pursuing his art.
For the past 11 years, he has been studying at Cal State Fullerton, riding an OCTA bus to campus one day each week from his home in Garden Grove, where he also has a studio and lives with the assistance of caretakers.
He will tell you that "knowledge is power," and off campus, he can be heard urging others to pursue higher education. "'Are you taking classes?' and if they're not, I say 'You ought to try it.' I'm just mostly concerned about other people, trying to give them a boost. 'You've got no excuse; look at me; I'm taking classes,'" he will offer.
Craig takes one course each semester. Following that path steadily — "I'm in no hurry" — since 1979, he has earned an A.A. at Orange Coast College, a B.A. at CSUF (Class of 2008) and pursued postbaccalaureate studies before enrolling in a graduate program. This spring, he is completing an M.A. in art with a concentration in drawing and painting.
Concentration is right. The 61-year-old veteran uses a mouth pick affixed to an easel that is clamped to his wheelchair, enabling him to put brushes to canvas and pencils to paper. Most recently, he has been creating drawings depicting farm life in rural South Carolina, where he grew up during the 1950s and '60s. These drawings are the foundation of his graduate exhibition, "Life on the Farm," opening Saturday, March 31. The opening reception is from 3-5 p.m.
"This is not Hallmark card art," emphasizes Jade Jewett, professor of art and Craig's faculty mentor for the past eight years, describing his works for the benefit of someone who has not yet seen his paintings or drawings. "The complexity of his images is important.
"A level of ambition is required to pursue a master's degree," she adds, noting that Craig has been working steadily over the years to master his technique.
"He started by participating in a lot of life-drawing classes and improving his representation skills and ability to draw figures," recalls Jewett. "He worked on that for at least three years before moving on to these self-generated story drawings," which are the focus of his graduate exhibition and an even more ambitious project to follow.
The professor and student are collaborating on a book conceived around his drawings. Craig is mulling the narrative portion of the book, which is expected to debut online in the fall. Jewett received university grant funds for the development stage and is in the process of applying for outside grant funding with the aim of publishing the book.
"Each drawing tells a story," Craig explains. "Those pages that you will see on the wall are the pages in the book. I just have to decide how to structure the book," he explains soon after directing activities inside the West Gallery about how to structure his exhibition.
Installing the Exhibit
Tuesday afternoon, Jewett, Craig and a half dozen of his fellow grad students gathered in the gallery with tools and supplies to mount his drawings for the exhibition. Craig's 37-year-old son, Odis from Irvine, also was there, lending a hand. "This is real important to him," said the son, "so I took a day off work to be here."
Laying down plumb lines, determining what would hang where and at what level, what groupings made sense and, ultimately, installing more than 50 of his drawings is how the group spent the afternoon. Some have known Craig for years, having first met in class, and all fall into an easy banter with him, offering suggestions, following his directions.
"Odis is a remarkable guy," says fellow grad student Kevin Stewart-Magee. "He isn't fast, but he gets to a place in his work that most people will never reach, or couldn't if they had twice the time. I'm amazed that he does his work from memory. Memory and certainty are at odds in most of us, because we learn that we can't trust our memory. But Odis does work about memory that is also clean and certain, as if he were standing and watching, rather than recalling a scene. I hope someday to have half of his clarity. Odis also has a great attitude and a lot of humor."
According to Stewart-Magee, who was a member of the installation team, pitching in to help each other is typical: "We're all very community minded," he observes. "This particular core group, we've been very intentional about building community. We can accomplish a lot more as a group than we can as individuals."
Craig agrees. "Most definitely. It's like family," he says. "We're all looking at each other's faces; it's shoulder to shoulder; that's the way we are, just giggling back and forth."
With his upbeat nature and ready smile that radiates warmth, Craig is part of the glue binding them together.
"In the classroom, he raises the bar," according to Jewett. "No one complains they are tired, no one sloughs off, because Odis is right there working the whole six hours," she says of the life-drawing classes that demand stamina on the part of the artists attending the sessions.
Audio Extra
With the help of fellow grad student Patrick Faulk and his technical skills with sound equipment, Craig is incorporating an oral history element into his show, providing a soundtrack from his life for the images.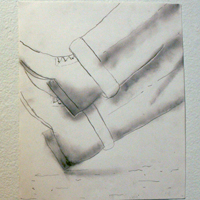 Caption: Craig's drawings harken back to his days growing up on a farm in South Carolina. Photos: Karen Tapia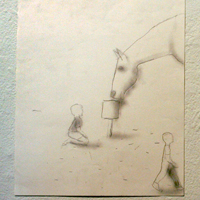 During annual summer trips back home to South Carolina to visit his four younger brothers and sisters, Craig and his siblings like to reminisce about their childhood growing up on a farm, which was miles from the nearest town.
"My mother, she wrapped all of us together so tight, you couldn't get us apart," is Craig's description for his close-knit family. The parents have long since passed away, but the siblings remain, tight as ever. "When we all get together, we all just recharge each other up."
In recent years, Craig has been taking along a recording device to capture their recollections. "We turn the sketch pad page over, we look at the drawings and hit the play button and let the words fly."
Visitors to Craig's exhibition will hear the siblings' recollections on an audio loop that's set to play inside the gallery during viewing hours — 3-5 p.m. Saturday and 2-4 p.m. April 2-5.
Farm Days
To hear Craig tell it, there's no end to the stories the siblings can share about their youth spent on the farm, chasing each other in and out of the barn and chicken coop, around the hogs and horses that co-existed on the land, where the family plowed the fields to grow cotton and sugar cane, ate possum stew and made black strap syrup.
"Those were the best times, because I was carefree and running and ripping," says Craig. "Ever since I can remember, even before I started the first grade and up until the fifth grade, we lived on the farm."
When Craig was 11, about the time the rural character of his environs was ebbing away, their farmhouse burned down, and the family eventually moved to the city.
Of the five siblings, Craig is the only one who left the South, joining the Navy right out of high school. As far back as he can remember, Craig says, he wanted to join the Navy so that he could be a jet mechanic, and that's what he ended up doing for eight years — the last four near San Diego at Naval Base Coronado, where he enjoyed bicycling to and from work, before the tackle football game that ended his military career.
"I was getting ready to re-enlist for another four years," says Craig. "I loved the Navy." He remembers waking up in the naval hospital and being told about his injuries, but the reality didn't sink in. He recalls saying: "Yes sir, as long as you can put me back together; I have to be at work on Monday."
All these years later, Craig has readjusted to civilian life by making education one of his priorities, along with art, which for Craig "is therapy."
He's used to being the only one in class using a wheelchair. "Everyone is interested and wondering, 'how are you doing that?' I'm just trying man, like you are."
Upon graduation, he plans to "re-enlist" at CSUF, to seek admission to the master of fine arts program to pursue his third degree as a Titan, and continue his exploration of art.
After Saturday's opening, Craig will return to the West Gallery to greet visitors to his exhibition on two more days of its run —  Tuesday, April 3, and Thursday, April 5, from 2-4 p.m.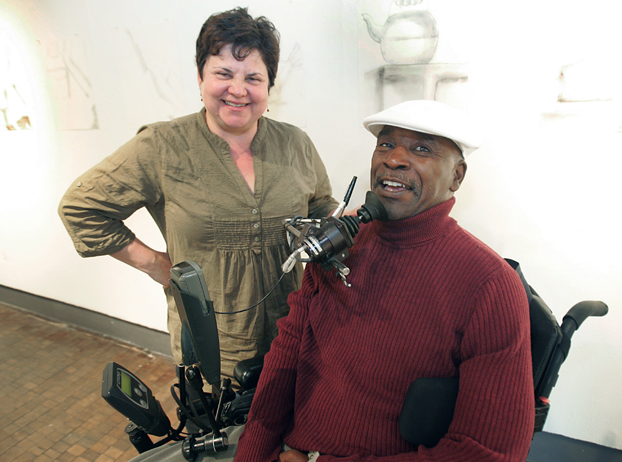 Caption:  Graduate art major Odis Craig and Jade Jewett, professor of art, are collaborating on a book that will feature his drawings depicting farm life in the rural South. Craig's graduate exhibition, "Life on the Farm," is in the West Gallery through April 5. Visitors can meet the artist from 2-4 p.m. April 3 and 5. Photo: Karen Tapia Download Photo
March 29, 2012