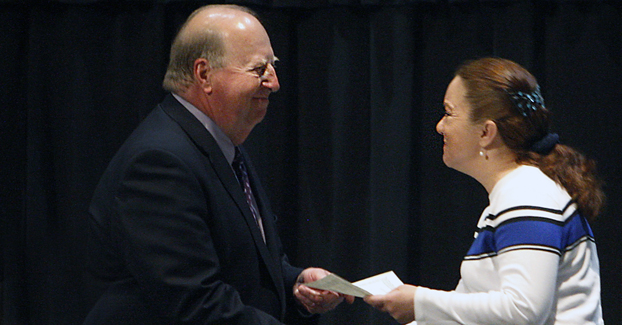 Caption: Steven N. Murray congratulates Eve Himmelheber. Photo: Karen Tapia Download Photo
Faculty Deeds Recognized
Honoring Service to Students, Campus and Community
Seventy faculty members were honored for their service to the campus and community during a special April 4 reception in their honor.
The honorees were nominated by their department chairs and deans for their extraordinary service to students, the university and the community over the past year. Such service includes activities outside of normal teaching responsibilities, like mentoring or advising, leadership in the area of collegial governance and/or professionally related service activities in the local, state, national and international community.
On behalf of the students, colleagues and community members who benefit from their service, "We thank you," Sheryl I. Fontaine, this year's Faculty Leadership in Collegial Governance Award recipient, told the honorees.
Steven N. Murray, interim provost and vice president for academic affairs, added: "To be recognized for service is quite an accomplishment."
By college, the honorees are (event program is available for download):
College of the Arts
Kimo Furumoto, associate professor of music and conductor of the University Symphony Orchestra
Charles E. Grieb, associate professor of art
Eve Himmelheber, associate professor of theatre and dance
John Koegel, professor of music
John Leighton, professor of art
Joanna R. Roche, professor of art
John Short, assistant professor of theatre and dance
Mihaylo College of Business and Economics
Fatima Alali, associate professor of accounting
H. Christopher Anicich, lecturer in marketing
Zvi R. Goldstein, associate professor of information systems and decision sciences
Gerry H. Grant, professor of accounting
Glen Hatton, lecturer in accounting
Pawel Kalczynski, professor of information systems and decision sciences
Christopher T. Kondo, director of the Sales Leadership Center and lecturer in marketing
Vivek Mande, professor of accounting, founder and director of the Center for Corporate Reporting and Governance
Robert W. Mead, associate professor of economics
Lori A. Muse, professor of management
Richard O. Parry, associate professor of management
Teeanna Rizkallah, lecturer in marketing
Golnaz Sadri, professor of management
Yi "Jenny" Zhang, associate professor of information systems and decision sciences
College of Communications
Jon C. Bruschke, professor of human communication studies
K. Jeanine Congalton, associate professor of human communication studies
Kurt P. Kitselman, professor of human communication studies
Heather Osborn-Thompson, assistant professor of radio-TV-film
Andi Stein, professor of communications
Toya Wyatt, professor of human communication studies
College of Education
Erica Bowers, assistant professor of reading
Sharon Chappell, assistant professor of elementary and bilingual education
Debra Cote, assistant professor of special education
Janice Myck-Wayne, assistant professor of special education
Rosie Ordonez-Jasis, associate professor of reading
Jennifer Ponder, assistant professor of elementary and bilingual education
Lynda Randall, professor of secondary education
Christine Valenciana, associate professor of elementary and bilingual education
College of Engineering and Computer Science
Kiran George, assistant professor of computer engineering
Sang June Oh, assistant professor of mechanical engineering
Christopher Ryu, professor of computer science
Binod Tiwari, assistant professor of civil and environmental engineering
College of Health and Human Development
Michelle Berelowitz, lecturer in human services
Leah Brew, chair and associate professor of counseling
Sean Hogan, associate professor of social work
Michele Mouttapa, assistant professor of health science
Pamella Oliver, associate professor of child and adolescent studies
David Park, U.S. Army captain, Military Science
James L. Rodríguez, associate professor of child and adolescent studies
Minerva Rodriguez, U.S. Army captain, Military Science
Traci Statler, assistant professor of kinesiology
Kavin Tsang, assistant professor of kinesiology
Penny C. Weismuller, associate professor of nursing
College of Humanities and Social Sciences
Jesse Battan, professor of American studies
Matthew Calarco, associate professor of philosophy
Dana Collins, assistant professor of sociology
Lana Dalley, assistant professor of English, comparative literature and linguistics
Max Dery, professor of criminal justice
Erualdo R. Gonzalez, assistant professor of Chicana and Chicano studies
Sarah Hill, assistant professor of political science
Matthew Jarvis, assistant professor of political science
Eric E. Reyes, associate professor of Asian American studies
Patricia Schneider-Zioga, assistant professor of English, comparative literature and linguistics
Jessica Stern, assistant professor of history
College of Natural Sciences and Mathematics
Nicole Bonuso, assistant professor of geological sciences
Amybeth Cohen, professor of biological sciences
Peter DeLijser, professor of chemistry and biochemistry
Barbara Gonzalez, professor of chemistry and biochemistry
William J. Hoese, associate professor of biological science
Hal Rogers, associate professor of chemistry and biochemistry
Marcelo Tolmasky, professor of biological science
Sean E. Walker, associate professor of biological science
Pollak Library
John Hickok, librarian
April 11, 2012