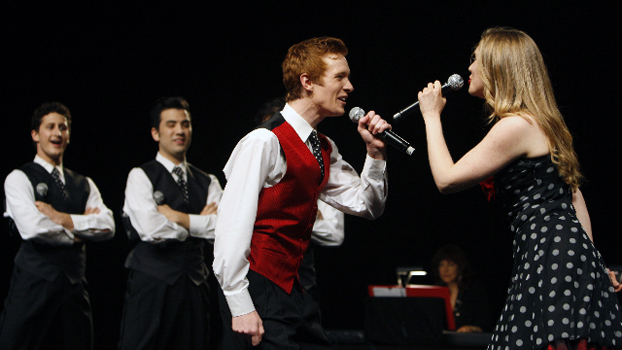 Caption: Vision & Visionaries honorees were serenaded by student performers, from left, Dennis Bendersky, William Hoshida, Kevin Rose and Audrey Curd. Photo: Karen Tapia Download Photo
Distinguished Alumni Honored
Grads Shine at Vision & Visionaries
May 10, 2012
Eight distinguished alumni in the fields of business, engineering, film and journalism, plus volunteerism were honored April 28 during the university's 19th annual Vision & Visionaries.
Family members and friends of the honorees joined alumni — including past V&V honorees — faculty and other campus members at the event to applaud the successes of the graduates, along with the students who performed song-and-dance tributes to the honorees.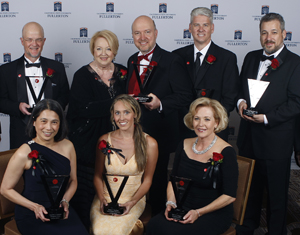 Caption: This year's Vision & Visionaries award recipients. Photo: Karen Tapia Download Photo
Recipients of the 2012 Distinguished Alumni Award are: Randall L. Baumberger (MBA '92), president of Paramount Studio Group; Caecilia S. Gotama (B.S. engineering-mechanical '82, M.S. engineering-mechanical '86), founder and principal of Gotama Building Engineers Inc.; Tony Ortega (B.A. English '87, M.A. English '89), editor-in-chief of the Village Voice; Dale Raoul (B.A. theatre arts '73, M.A. theatre arts '79), actress, and her husband, Raymond L. Thompson (B.A. theatre arts '77), senior lighting designer for "The Young and the Restless"; Jeffrey S. Van Harte (B.A. business administration-finance '80), chief investment officer, Focus Growth Team, Delaware Investments; and Verne D. Wagner (B.A. business administration-accounting '77), CSU Alumni Council volunteer representative. Documentarian Becky L. Hamilton (B.A. communications-radio-TV-film '06) received the Recent Graduate Achievement Award. (Short biographies of honorees here.)
"Considering this select group of alumni has been chosen from among more than 200,000 graduates, tonight's Distinguished Alumni and Recent Graduate Achievement awards represent significant accomplishments," said CSUF Interim President Willie J. Hagan, who presided over the festivities.
To the honorees, he said: "You represent what Cal State Fullerton is all about: Creating educated individuals to lead California and the nation. When we look at you and other successful alumni, we see the outcome of our faculty engagement and of your hard work and tenacity."
CSUF Alumni Association President Paul J. Carter (Class of '92) served as the evening's master of ceremonies for the event held at the Hilton Anaheim.
"Tonight, we are here to pay tribute to a select group of Titan alumni. Through their leadership and expertise, each has experienced extraordinary achievements throughout their professional and personal lives," he said as the program began. "We'll hear impressive accolades that will demonstrate what a force Cal State Fullerton is in the greater community and throughout the world. The university has much to be proud of."
Their stories were told by an audience-pleasing troupe of eight students from the Theatre and Dance Department, who performed one-night-only musical tributes with special lyrics for such familiar melodies as "Anything Goes," "In the Mood" and "You're the One That I Want."
Titan Pride
The students weren't the evening's only entertainers. When it was their turn at the podium, husband-and-wife honorees Thompson and Raoul delivered a "Top Eight List" of how "CSUF has been important to us."
The show business couple with numerous awards for their craft took turns ticking off items on the list, sprinkling in humorous asides. They spoke of forging "lifelong friendships," opportunities to explore new things and of capable faculty members, who taught them valuable skills for their chosen field, encapsulating the remarks of other awardees.
"If our achievements can be called in any way remarkable, it's primarily because of what we learned here," Raoul said. "I don't know if we can be called visionaries, but we certainly did have visions — and high hopes and big dreams. They were allowed to flourish here. Mainly, we were taught a strict sense of professionalism. My mentor, Dr. Alvin Keller, taught me that it was an honor to be in our profession and that, as such, it was to be respected. That lesson has stood us both well out in the big wide world. Be on time, do your homework, be meticioous in your commitments. Send thank-you notes. Be proud of your work. No matter if we are shooting a commercial, lighting a television show, playing Shakespeare or running from vampires, we have reference for the process."
Thompson credited Abel Zeballos, professor of theatre and dance, with introducing him to the art of theatrical makeup design.
"He became my mentor in this; he opened up the door to the whole technical side of the business for me," said Thompson, noting that he went on to apply the techniques he learned to lighting design, which has earned him four Emmy Awards and 14 nominations.
Despite their successes since graduation, honorees spoke of their surprise and astonishment — and pride — at being chosen for the alumni award.
Volunteer Extraodinaire
Wagner, a longtime campus volunteer for the CSUF Alumni Association, Philanthropic Foundation and President's Scholars, told the audience: "I never could imagine that I'd be standing here."
She characterized the President's Scholars as "my kids" and thanked the many students in the audience who had bought their own tickets to attend the tribute dinner. "I have such a full life with so many students who call me their campus mom. ... My life is so enriched."
Now serving on the CSU Alumni Council, Wagner spoke of the pride she feels at council meetings when representatives from other campuses talk about new programs being launched, and she smiles, thinking about her alma mater: "We've been doing that for years."
Reflections on paths taken were a recurring theme in honorees' remarks.
"I feel like I'm just getting started with my reconnection with CSUF," said Van Harte, who graduated in 1980.
He told of how 30 years ago he "had a choice to make" about where to go to college and picked CSUF because it was among the few to offer course work in securities analysis — his area of interest. "That decision was so fortunate for me because it led to things I never would have imagined."
He is now the chief investment officer for the Focus Equity Team at Delaware Investments, which manages $15 billion in assets for various funds and foundations. A former securities analyst and trader, he has been managing portfolios for more than two decades.
Like Raoul and Thompson, Van Harte expressed gratitude for meeting his future spouse on campus, and "the multiplier effects" of meeting other Titans and the enduring friendships that resulted.
Early Achiever
In her remarks, Hamilton said: "I feel like the bar has been set really high," in reference to her future endeavors. The youngest honoree, now living in Hawaii, was recognized for early success in her career. She produced a documentary one year after graduating that led to co-producing the popular feature film "Soul Surfer" just four years later.
"I hope that I will live up to your expectations,"  she said. In expressing her thanks for the award, she added, "I love you, too, CSUF."
Gotama, founder of her own engineering firm, confessed to feeling "somewhat embarrassed" about the honor and spoke of the many "people along the way who helped me get here," of the confidence others had in her.
Referencing her professional colleagues and mentors, she noted, "I was lucky enough to be the recipient of all that trust." Then deadpanned: "Nobody ever gives an engineer an award."
She said she chose engineering for her career, in part, because "it was a non-feminine thing to do."
Having grown up in Indonesia, "not a rich country," she brings to her work an appreciation for limited resources. An LEED-accredited professional, Gotama is active with the Long Beach branch of the U.S. Green Building Council.
Noting her satisfaction in choosing to attend Cal State Fullerton for both undergraduate and graduate studies, she said, "I'm proud to be part of CSUF."
Humorous Moments
Stepping to the podium, Baumberger got a laugh and plug for his company when the Paramount Studio Group president addressed the students in the audience in a stern mocking tone: "Stop downloading our movies illegally, and please go see 'Titanic' in 3D."
His tongue-in-cheek comment for the student performers: "The kids on the stage are all hired. I want you all on the lot in the morning, and I want that done every time I enter the room."
In poking fun at himself, Village Voice Editor in Chief Ortega said after watching the students perform his tribute to the tune of "My Guy": "If anyone in New York saw that, I'd be toast!" He went on to praise his faculty members and spoke of "every day relying upon skills I learned from people like Tom Klammer," emeritus professor of English, comparative literature and linguistics, who went on to become dean of the College of Humanities and Social Sciences.
He credited William Koon, emeritus professor in the same department, with "taking a guy in the middle of his undergraduate career and getting me to focus."
Finale as Tribute
By way of paying tribute to the late Jerry Samuelson, emeritus dean of the School of the Arts, who had passed away the night before and had been part of the creative team that launched the alumni recognition event, the evening's finale, "You're the Inspiration" was dedicated to him.
Under the direction of William Lett, theatre and dance lecturer, who served as director and choreographer, the student cast members were: Dennis Bendersky, Casey Canino, Audry Curd, Abby Hankins, William Hoshida, Edgar Lopez, Laurel Petti and Kevin Rose.
Other members of the show production team: Diane King Vann, musical director, who also fashioned lyrics from the honorees' biographies; Susan Hallman, show adviser and emeritus professor of theatre and dance; Karen Weller (Class of '81), costumer; and Anthony Conchelos, stage manager.
Band members Bill Dickson, King Vann, Ed Kusby and David Page provided the program's live music.