On the Hunt for a Missing Protein
Researcher Focuses on Protein Loss Related to Genetic Disorder
Jessica Valadez, Vinod Valluri and Sirene Helwani are getting the chance to work on a research project that potentially could improve the quality of life for people with a rare inherited disorder.
They are working in the lab of Math Cuajungco, assistant professor of biological science, who recently received a three-year, $338,855 National Institutes of Health-National Institute of Neurological Disorders and Stroke grant to study the TRPML2 protein, which could potentially help people with Mucolipidosis type IV.
The rare genetic disorder, mostly afflicting children and adults of Ashkenazi Jewish ancestry, affects brain function and is caused by the loss of a protein called TRPML1. The disorder causes delayed development and loss of motor skills, such as walking, impaired vision and even blindness.
The science focus reflects Cal State Fullerton's heightened emphasis on increasing student interest in the STEM fields, one of the university's initiatives.
"I wanted to work on this project because I feel that it concentrates on improving human life, and there is no greater reward than knowing that your work, in the long run, can help save a life," said Valadez (B.S. biological science '09). She begins the master's program in biology this fall and plans to pursue a career in biomedical research. "I also hope that my research serves as a stepping stone to future treatments for this neurological disorder."
Valluri, a senior who plans to graduate next spring, wanted to be part of the project to enhance his undergraduate research skills and accomplish "something meaningful in the medical field."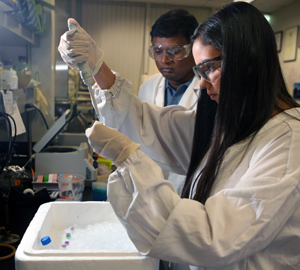 Caption:  Jessica Valadez, right, and Vinod Valluri cut a DNA plasmid as part of the cloning process for their research work in the lab of Math Cuajungco. Photo by Greg AndersenDownload Photo
"Ultimately, my goal is to be part of serious work that can help alleviate human suffering," said Valluri, who wants to be a medical doctor.
Cuajungco conducted his postdoctoral training at Harvard Medical School and Stanford University and started teaching at the university in 2007. His mentor at Harvard studied TRPML1, which piqued his own interest in now studying the TRPML2 protein. These proteins are believed to be involved in transporting other proteins inside the cells, as well as the recycling of molecules needed for cells to survive, Cuajungco said.
"This research is about identifying the region and portion of the DNA sequence involved in regulating the process of making the protein TRPML2. The DNA region that controls the creation of TRPML2 protein is called the promoter. Once we identified the promoter region, we will then identify the protein known as the transcription factor that directs the creation of TRPML2 protein," Cuajungco explained.
"This research will allow us to know how TRPML2 protein expression is regulated in cells and what signals the cells to create or express TRPML2 protein."
TRPML2 and TRPML3 both share similar properties and cellular functions with TRPML1, Cuajungco said.
"Because of the similarity between TRPML1 and TRPML2 proteins, we hope to use the knowledge we gain from this research as a means to potentially replace the missing TRPML1 function in Mucolipidosis type IV."
The students working in his lab are gaining valuable knowledge and experience by working on this important project, Cuajungco said, adding that the trio will be involved in presenting and publishing their research results. "These students are getting the opportunity to do hands-on scientific inquiry and develop their problem-solving and analytical skills through the experiments."
Valluri completed one year in the university's Research Careers Preparatory Program, where he studied genes expressed in various tissues, and is excited about his new opportunity to work with Cuajungco.
"Conducting research in Math Cuajungco's lab is a privilege and an honor," said the Anaheim resident. "Dr. Cuajungco strikes the right balance between active motivation in encouraging us to meet our goals, coupled with patience when it comes to giving us space to figure out the research process. Full-time research with him is going to be the best initiation, as well as a bridge to the world of productive scientific research."
"I am fortunate to be a part of this important project because my hard work and dedication may make a difference in the life of these individuals with Mucolipidosis type IV," said Valadez, a resident of Lawndale. "But, I am also looking forward to working with Dr. Cuajungco because he is passionate and dedicated to his research."
Aug. 2, 2011