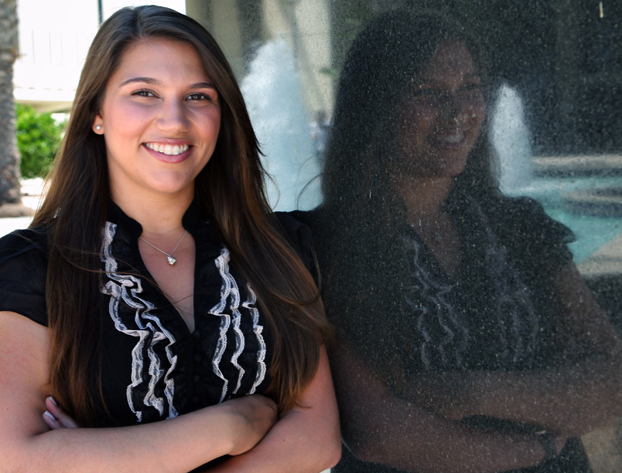 Caption: Jacqueline M. Kamel is Cal State Fullerton's student representative for this year's Leon and Sylvia Panetta Institute for Public Policy Congressional Internship program. Photo by Karen TapiaDownload Photo
Goal Getter
Student On Her Way to Panetta Institute Internship
Jacqueline M. Kamel wants to help shape political campaigns and eventually serve as press secretary for a U.S. president.
Soon, the senior communications and political science major's goals will get a big boost as she takes part in the Leon and Sylvia Panetta Institute for Public Policy Congressional Internship program.
Annually, each California State University campus chooses one student to participate in the program. Kamel is this year's Cal State Fullerton student representative.
After a two-week training session at Cal State Monterey Bay, where the Panetta Institute is based, Kamel and her fellow interns will fly to Washington, D.C., where they will spend the fall semester working in a congressional office.
Kamel said being selected for the internship is an incredible opportunity, one she won't take for granted.
"I'm hoping to learn what exactly politicians do on a daily basis, see what the public doesn't get to see," she said. "I wish I could tell my mom about this amazing internship that I'm really looking forward to. I know she'd be really proud of me."
Kamel's father died when she was 10 and her mother died after her first college semester in 2006. The loss caused her to drop out of her second semester classes, but after moving and landing a full-time job in Laguna Niguel, she returned to campus, ready to fulfill her dreams.
The 23-year-old undergraduate with a 3.8 GPA grew up in Arcadia and will complete her bachelor's degree as she completes her internship this fall.
As a freshman, Kamel met her mentor, Scott J. Spitzer, assistant professor of political science, who she calls her "surrogate father" and who she credits for guiding her through a stellar academic career.
"Jackie is the kind of student we all dream about when we go into a career in higher education," Spitzer said. "It has been a privilege and a joy getting to know her, and working with her as her professor and mentor."
Despite the difficulties she has faced, "Jackie somehow maintains a boundless energy and optimism," he added. "In her studies, she is endlessly curious, excited by learning, and has a terrific work ethic. Outside of the classroom, Jackie has been involved in campus activities, national electoral campaigns, and has been an officer in the political science honor society, Pi Sigma Alpha. She has done all of this while working full-time. Whatever she is doing, Jackie puts 150 percent of herself into it — and it shows."
Kamel, who worked on Irvine City Councilwoman Beth Krom's congressional campaign in 2010, said she wants to work on future campaigns of candidates she supports wholeheartedly.
"I want to help get someone elected, someone who will make a positive difference in the world," Kamel said.
Aug. 1, 2011