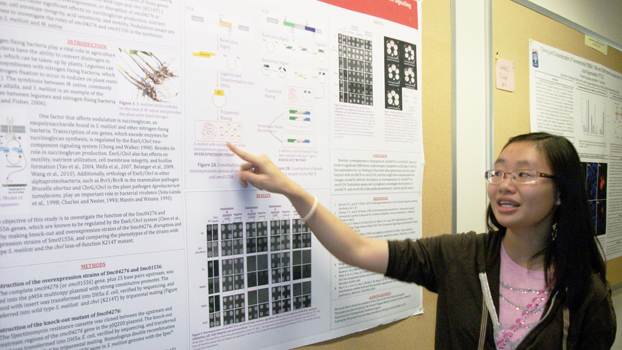 Caption: Trinh Tran of Santa Ana College who worked in the lab of Esther Chen, assistant professor of biological science, explains her research efforts during this summer's Howard Hughes Medical Institute program. Photos courtesy of the CSUF/HHMI programDownload Photo
University STEM Initiative
Scientists in the Making
Summer Program Promotes Biomedical Science Careers
For Miguel Garcia, spending the summer in a campus laboratory and conducting research for the first time was an impressionable experience. Most importantly, it was one that will help him in taking the next steps to become a scientist.
"I had never done research before. Now I have an idea what research is all about," said Garcia, a recent Santa Ana College graduate who plans to pursue a doctorate in environmental chemistry.
"Being exposed to research and how it works is really going to help me out," said Garcia, who will attend UC Riverside in the fall.
Garcia worked side by side with Paula K. Hudson, assistant professor of chemistry and biochemistry, and Cal State Fullerton students as part of the Howard Hughes Medical Institute grant program. The summer research program for college undergraduates ended Aug. 5.
Maria C. Linder, professor of chemistry and biochemistry, directs the three-year-old program, which is supported through a $1.2 million Howard Hughes Medical Institute grant awarded in 2008.
The grant also supports:
a two-year, intensive Undergraduate Research Scholars program that provides students with in-depth research experiences with a faculty mentor and other kinds of training to prepare them for doctorate or M.D./Ph.D. programs;
a five-week summer research experience for local high school students and science teachers, which concluded Aug. 12 this year; and
a Weekend Research Experience for community college and high school students and teachers. This year's program is scheduled Nov. 12-13 and 19.
The goal of the program is to promote the flow of students into research careers in the biomedical sciences, said Linder, a recipient of the university's Outstanding Professor and California State University system's Wang Family Excellence awards.
Through the 10-week summer program, Garcia and five other community college students had the opportunity to work with faculty members on projects ranging from the effects of aerosols on cloud formations and cloning genes for pathogen resistance in tomato plants, to understanding the molecular basis of symbiotic relationships between bacteria and plants.
During the session, the community college students were introduced to scientific literature and learned how to present their findings, Linder explained. They concluded the program by writing formal reports and making poster presentations about their research work.
The science focus reflects Cal State Fullerton's heightened emphasis on increasing student interest in the STEM (science, technology, engineering and mathematics) fields, and one of the institution's universitywide initiatives.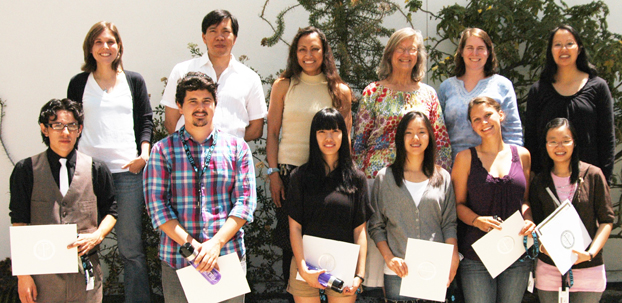 Caption: This summer, six community college students participated in the Howard Hughes Medical Institute research program and worked in the labs of CSUF faculty members. In front, from left, are the students, with their faculty mentors behind them: Miguel Garcia and mentor Paula K. Hudson; Tcharles Fagundes and mentor Math P. Cuajungco; Tzu-Chi "Kate" Wang and mentor Madeline E. Rasche; Kyoung Jin "Eunice" Lee and mentor Maria C. Linder; Brittany Grassbaugh and mentor Melanie A. Sacco; and Trinh Tran with mentor Esther Chen.Download Photo
Aug. 18, 2011