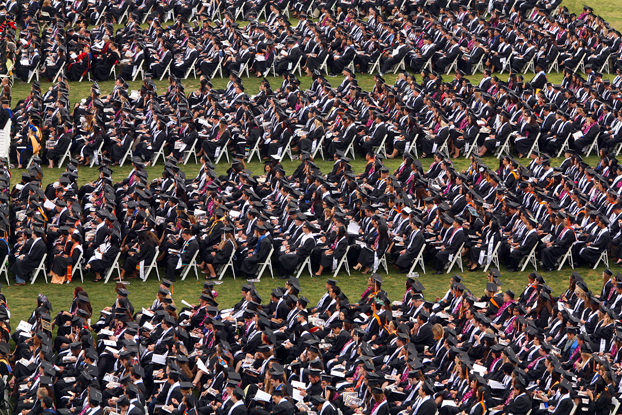 Caption: In a report released this week, Cal State Fullerton was among only five universities cited by the Education Trust as the most affordable and accessible institutions with high graduation rates. Pictured above are some of the roughly 10,000 students who took part in this year's commencement celebration. Photo by Greg Andersen
One of Only Five
CSUF Is a National Leader in Price, Quality and Accessibility
The Washington, D.C., based Education Trust completed the first-ever analysis of federal net-price data (drawn from the Integrated Postsecondary Education Data System) and discovered that Cal State Fullerton is a national leader in price, quality and accessibility and one of only five of the nation's nearly 1,200 four-year colleges and universities doing a good job of serving low-income students.
Besides CSUF, the five schools singled out for praise include Cal State Long Beach, City University of New York campuses Baruch and Queens colleges and the University of North Carolina at Greensboro.
Their report, "Priced Out: How the Wrong Financial-Aid Policies Hurt Low-Income Students" was made public June 1.
Besides making Cal State Fullerton look great, the report is an early example of the coming wave of computational critiques that will increasingly bring disruptive pressure to bear on higher education.
The report didn't look only at cost. Four-year colleges had to cost no more than $4,600 a year after all grants for students in households earning up to $30,000 a year. The colleges also had to have at least a 50-percent six-year graduation rate, and at least 30 percent of their enrollments had to be Pell Grant recipients.
June 2, 2011