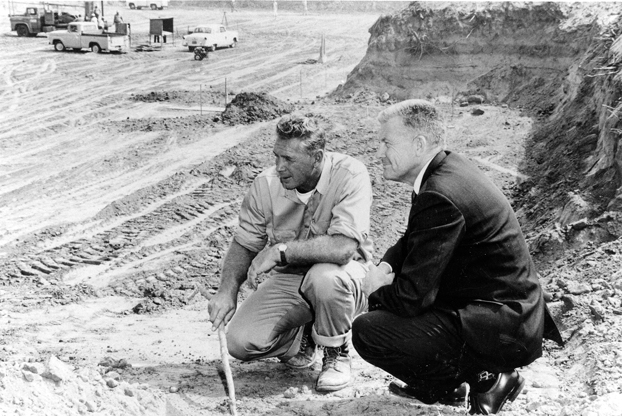 Caption: Founding President William B. Langsdorf, right, reviews the construction site for the university's first building, the Letters and Science Building (later named for Miles D. McCarthy in 1984).
From the Archives
From Orange Groves to a Thriving Campus
Founding University President William B. Langsdorf Dead at 93
William B. Langsdorf, founding president of California State University, Fullerton, died Nov. 18. He was 93.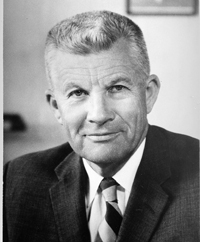 Caption: William B. Langsdorf
Langsdorf served as president of Cal State Fullerton from 1959 to 1970, during the time the 225-acre campus was transformed from a vast orange grove into one of the most populous campuses in the California State University system. Mirroring explosive growth of Orange County, enrollment grew from 454 students to more than 15,000 during his presidency.
"We, here today, stand on the shoulders of those who have gone before," said Cal State Fullerton President Milton A. Gordon. "President Langsdorf provided the first set of shoulders for all of us to stand on. CSUF is what it is today because of the great leadership President Langsdorf provided in those early years."
Appointed in 1959 by the State Board of Education to become the first president of a new state college to be established in Orange County, Langsdorf was given complete authority to design the educational program, recruit the faculty and shape the building program. He secured top scholars from throughout the nation who welcomed the opportunity to help build an institution from scratch.
Throughout his 39-year career in higher education, Langsdorf never lost his love for teaching. Former students and fellow professors remember him as a stimulating and knowledgeable professor of history, as well as a profoundly gifted leader.
"He had the ability to inspire people to do their best, and that's a rare gift," said P. June Pollak, emeritus professor of English and comparative literature, who joined the faculty in 1960. "he was a wonderful man. He was determined to create a university that was led by the high ideals of academic freedom and the pursuit of truth and knowledge and had a very strong emphasis on faculty governance."
"He was all-wise, all compassionate and all-just," said Bill Maxwell, emeritus professor of communications and founding chair of the Communications Department. "In all the years I knew him, I always found him to be low-key in his approach, but firm in his decisions. He was a gentleman in the truest sense of the word. He was approachable, but at the same time, I always felt a sense of awe around him.
"No matter what happened since, he was the captain who set the course."
Langsdorf presided over the first staff meeting of Orange County State College — as the institutions was then known — in a Ford leased from the state motor pool that he parked on the site of the planned campus. The first classes were held eight months later in six rooms at then-new Sunny Hills High School. By 1960, students were attending classes on the college campus in temporary buildings.
In 1963, when completion of the first permanent building provided the space to admit the first freshmen, Langsdorf raised the admission standards to encompass the top third of high school graduates — a level later imposed by the state on other public colleges and one that remains in place today throughout much of the 23-campus California State University system.
In 1964, Langsdorf was named "Man of the Year in Education" by the Orange County Press Club.
When Langsdorf was feted in 1969 for a decade of service at the helm of the campus, north Orange County's Daily News Tribune noted: "By striving for what Admiral Ernest King once called the 'quality of excellence' — and seeing this recognized through the considerable professional and academic recognition Cal State Fullerton has garnered — William Langsdorf leaves a legacy far more important than a building inscribed with brass letters."
A building, nevertheless, bears his name. In 1974, the university's tallest building was named William B. Langsdorf Hall. It was the first campus building to be named in honor of an individual. In October 2000, a bust of Langsdorf was dedicated in the lobby by the Honor Society of Phi Kappa Phi.
His son, William, chief financial officer of Wet Seal Inc., attended classes in Langsdorf Hall, graduating with a bachelor's degree in business administration in 1980. He recalls visiting the orange groves and watching them become vast patches of open space, then transform into buildings, one by one, under his father's direction.
"Frankly, I think it turned out the way he thought it would," Langsdorf said. "They planned for the campus to reach 30,000 students — and it does. His overall view of the campus centered on academic quality, and that focus on quality is the single most important legacy he left."
Part of his father's success, he said, was his collegiality. "I think inclusiveness of all the stakeholders — the faculty, the legislators, administrators and students — into the decision-making process was rather forward-thinking." Back then, a more dictatorial style was prevalent among university presidents, he noted.
Langsdorf's forward thinking permitted Cal State Fullerton to avoid much of the internal turmoil faced by other campuses in the late 1960s.
"In those turbulent years, he provided tremendous leadership, doing an interface with the university and the public," noted James D. Young, founding chair of the Theatre and Dance Department. "It was the real task of the president to not only live with what was happening on the campus, but to interpret the university's place in society to the public."
Lawrence B. de Graaf, emeritus professor of history and a founding member of the faculty had similar recollections. "In 1967, Bill started an outreach program for minorities, and in 1968, he established a committee to begin an ethnic studies program here," he said. "This was much earlier than other campuses. His philosophy of education was fluid. Liberal arts was an established core, but it could grow and change."
In 1970, Langsdorf was tapped to serve as vice chancellor for academic affairs for the California State University In that position, he was primarily responsible for curricular programs, academic staffing, student affairs, extension services, international programs and innovative instructional approaches at the system's universities and colleges. Upon Langsdorf's retirement in 1973, Chancellor Glenn S. Dumke cited the former president's "qualities of wisdom, creativity and leadership" throughout his career, including his efforts in "one of the most demanding positions in our system."
Prior to his service with the California State University system, Langsdorf spent 20 years at Pasadena City College, serving as PCC's president from 1950-1959. He began his professional career on the history faculty of Occidental College in 1934.
Langsdorf earned his doctorate in history from the University of California at Berkeley, and his master's and bachelor's degrees in history from Occidental College, where he was valedictorian of the class of 1931 and president of his social fraternity, Sigma Alpha Epsilon.
Born in Denver, Langsdorf grew up in Pasadena. He graduated at the top of his class from Pasadena High School and Pasadena City College, then known as a junior college. Langsdorf went on to serve as president of the Southern California Junior College Association and the California Junior College Association. In the summer of 1948, Harvard University invited him to be visiting professor to teach the first courses about junior colleges that were offered in the East. He also was a visiting professor at UCLA in 1938 and 1959.
Other leadership positions for Langsdorf included serving on the board of directors of the Western Association of Schools and Colleges as chair of the Senior Accrediting Commission of the Western College Association, and as director and treasurer of the American Association of State Colleges and Universities.
Langsdorf is survived by his wife, Eileen; his daughter and son-in-law, Sherry and Steve Haiman of San Diego; his son and daughter-in-law, William and Mary; and four grandchildren.
July 21, 2011; originally published Dec. 5, 2002