Warhol Images
Exhibit Features Photo and Prints Created by Artist
More than 200 Polaroid images and 50 black and white photographs created by artist Andy Warhol — and donated to Cal State Fullerton in 2008 — will be exhibited at the Begovich Gallery beginning Jan. 29.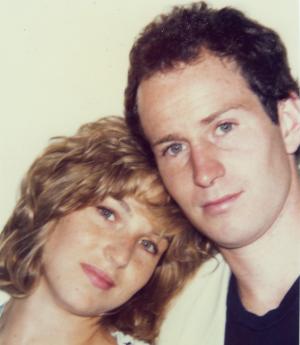 Caption: Among the polaroids taken by Andy Warhol that will be on exhibit is this image of then husband and wife, actress Tatum O'Neal and tennis star John McEnroe.
"Andy Warhol: Selected Photographs and Prints From the Collection" will be the first time the photographic collection has been shown on campus. The exhibit, which continues through March 3, will include two Warhol prints that had previously been donated to the university.
"The exhibit provides a glimpse into Warhol's image-making process," says Mike McGee, gallery director. "Multiple Polaroid shots of the same subject are shown together — the artist's first step in preparing his large-scale silkscreen paintings, drawings and prints. Many are of recognizable public figures, such as Tatum O'Neal and John McEnroe."
"There is a great sadness present in a Polaroid picture. More so in Warhol's than others simply because of who he was able to take pictures of," writes guest curator and art historian Matt Jarvis, in an essay about the exhibition. "The whole of a person is reduced in an instant to a snapshot — but not a singular snapshot, one of many, hundreds, thousands. To sit for a Warhol photograph was to be the same as all who came before and would come after. Merely, the sitter lasts in relation to Warhol: we do not look at the picture because of who the subject is, we look at the picture because of Andy Warhol."
The gallery, located in the Visual Arts Center, is open from noon to 4 p.m. Mondays (except Feb. 21 - Presidents' Day) through Thursdays and noon to 2 p.m. Saturdays. An opening reception is scheduled from 5-8 p.m. Jan. 29.
For more information, go to: http://www.fullerton.edu/arts/cota_featured_event.html.
Jan. 11, 2011