Titans in Japan Are Safe
International Education & Exchange Reaches Out to International Students Here
UPDATE March 15, 1:35 p.m.: Citing health, safety and other concerns for California State University students studying in Japan, CSU Chancellor Reed has directed that campuses begin bringing these students back to California.
They're all safe — that's what campus administrators checking on the status of the four Cal State Fullerton students currently studying in Japan happily reported, in the aftermath of Friday's devastating earthquake and tsunami.
All four undergraduates are based in cities away from areas directly affected by the natural disaster. Three are studying at universities in Nagoya, Osaka and Tokyo, and a fourth, an international business major, is completing an internship in Fukuoka.
By 7 a.m. Friday, "the whole office was checking on the status of our students studying abroad in Japan," said Mikyong Kim-Goh, acting associate vice president for international programs, referring to the Office of International Education and Exchange.
Noted LayTuan Tan, IEE director, updates had been coming in overnight from exchange coordinators at the affiliated universities.
Meanwhile, the 86 international students enrolled this spring at Cal state Fullerton were sent e-mails with expressions of sorrow about the tragedy in the students' home country, along with invitations to visit the IEE staff to discuss feelings or concerns. Counseling services will be provided to any who seek such assistance, and staff members in Counseling and Psychological Services are standing by.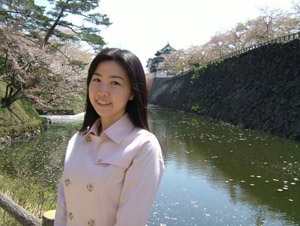 Caption: Yuko Abe Jourdan outside Hirosaki Castle in Aomori, in the northern part of Japan.
Additional outreach efforts, conveyed through text messages and Facebook, are being readied for the international students.
"The administration ... has expressed a full commitment to provide whatever support the Japanese students need, in order to help them overcome this trying time," Kim-Goh added.
She Hails From Sendai
One such student, Yuko Abe Jourdan, a senior majoring in Japanese, spent the weekend worrying about her missing brother. Her family is from Sendai, one of the hardest-hit areas struck by the tsunami.
"When I saw the news on TV, I just could not believe it, and I was very shocked," she said. "I called them right away, but the line was busy. I kept calling so many times, and I finally got in touch with my parents. They said 'We are OK, but our house is totally messed up,' and then the line was cut off. All lifelines were off after that.
"Actually, my brother, who was working near the ocean, was missing for two days. We were very worried about him, and I could not sleep over the weekend. Finally, my sisters in Tokyo got in touch with him by cell phone Sunday. I am happy that all my family in Japan is fine."
Despite her relief about her own family, she is particularly saddened by the thousands who lost their lives in the Tohoku area, the northern part of Japan.
"I was so distressed and sad by the tragedy, but my friends' prayers helped me a lot. My teachers from CSUF prayed for my family in Sendai, too. I was very touched by their kindness. There are still many people who are missing and suffering in Japan. My family in Sendai still lives without lifelines and a lack of water and food. Please pray for the people in Japan."
March 15, 2011