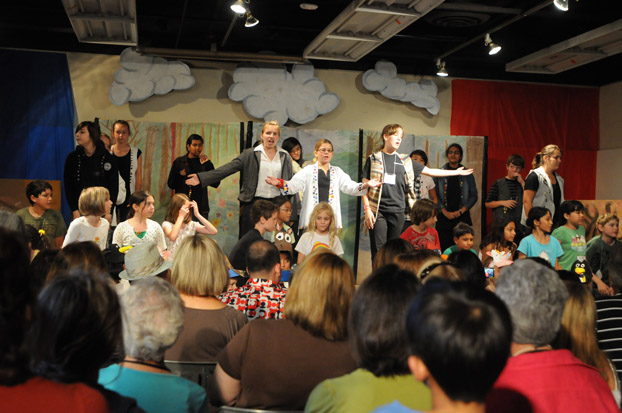 Caption: A student performance of songs from "Mary Poppins" draws Sabrina Evans, Alexis Reynolds and Jody Sullivan, from left, into the spotlight during the 2009 Summer Art Camp. Photo by Kelly Lacefield
Kids Busy This Summer?
University Programs Offer Gamut of Activities and Learning
Cal State Fullerton's University Extended Education, Titan Recreation and Fullerton Arboretum offer multiple alternatives to a summer spent watching television or playing computer games.
Titan Recreation offers three programs for school-age children: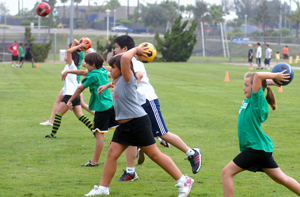 Caption: Children from a previous Titan Sports Camp practice throwing a soccer ball in from the sidelines. Photo by Kelly Lacefield
Learn to Swim Camp offers six levels of swimming instruction for children ages 6 months and up during five sessions June 13-Aug. 6. Monday-Friday and Saturday sessions are taught in 30-minute blocks. Private swimming lessons also are available by appointment.
Titan Youth Sports Camp has six weeklong sessions scheduled June 20 through July 29 for children in kindergarten through eighth grade. Half-day and full-day sessions are available.
Rock Wall Camp, for children ages 8 to 13, is offered in six weeklong sessions from 1-4 p.m. June 20 through July 29.
Parent information sessions for all Titan Recreation summer programs will be held from 6-7 p.m. June 10 and 17, as well as 10-11 a.m. June 11 and 18.
For information on any of the three Recreational Sports camps, call 657-278-PLAY or visit the Titan Youth Summer Programs website: http://asi.fullerton.edu/tysp/.
The Fullerton Arboretum Summer Camp 2011 "Gifts From the Earth: Discovering Nature's Bounty" will be offered in two sessions, June 20-24 and June 27-July 1. The 8:45 a.m. to 1 p.m. camp is open to children 7 to 12 years of age. For more information about the Fullerton Arboretum's camp and/or to register, call 657-278-3407.
For youth who are artistically inclined, or would like to be, the UEE's popular Art Camp is available in two-week programs. For those ages 7-14, the program is offered from 9 a.m. to 4 p.m. July 11-22 and July 25-Aug. 5.
For youngsters hoping to get a head start on the next school year, UEE offers various weekly classes in algebra, geometry, reading, writing, drawing and painting. The course sessions are two hours a day, Monday-Friday and begin as early as July 18.
Additional information on UEE's programs is available by calling 657-278-2796.
# # #
May 24, 2011