Caption: Credential student Sohayla Meknat Lajevardi explains math to a class of students at Brookhurst Junior High School, where she is teaching this semester under the guidance of master teaching fellow Susie Min. Photo by Karen TapiaDownload Photo
STEM Initiative
Making of a Teacher
Credential Student Prepares to Teach Middle School Math
Student teacher Sohayla Meknat Lajevardi confidently walked between the rows of desks inside the math classroom at Brookhurst Junior High, checking each students' homework.
The eighth-graders sat quietly while she glanced at their papers.
Lajevardi then walked to the whiteboard and began writing pre-algebraic problems, asking her young students to call out the problem's answer. One boy recited the correct answer with ease.
"Excellent job!" she beamed, then turned and asked the entire class: "Are you all clear about this?"
Students nodded affirmatively.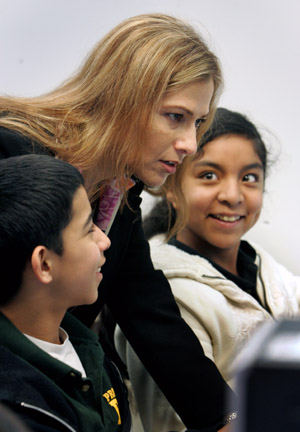 Caption: Sohayla Meknat Lajevardi works closely with the students in her Brookhurst classroom. Photo by Karen TapiaDownload Photo
When Lajevardi started student teaching last fall semester at the Anaheim school, she wasn't always as confident as she is today. She admitted that, at first, she had some anxiety about student teaching.
But this semester, she is back in the classroom with valuable teaching experience, which has helped to boost her confidence as a teacher.
Through student teaching, she has had the opportunity to manage curriculum, lead pre-algebra and algebra instruction to seventh- and eighth-grade students, and been mentored by the school's math teachers.
"I get to watch my master teachers as they interact with students when teaching and managing classrooms," she said. "This helps me learn different techniques and strategies, which helps me get ready for when I will have my own classroom."
Lajevardi is enrolled in the College of Education's foundational-level mathematics single subject credential program to prepare for a career teaching middle school math.
The math focus reflects Cal State Fullerton's heightened emphasis on increasing student interest in the STEM fields one of the university's initiatives for 2010-11.
In addition to coursework ranging from teaching methods to preparing curriculum, Lajevardi and other students in credential programs receive real-world classroom training in local schools to better prepare them for teaching careers.
"Can you imagine driving a car after just reading the manual? Teaching is a highly demanding job that requires lots of on-the-job experience," explained Sandra Alaux, lecturer in secondary education and foundational-level math program adviser.
"Student teachers need time in the classroom to find their niche as a teacher. Our student teachers have a semester to observe other teachers and ease themselves into the role of teacher," said Alaux. "Then, they spend a semester actually teaching three periods a day.
"By doing this in a classroom with a master teacher present, someone is there to catch them if they start to fall. Someone also is there to make sure that the students are learning. Student teachers get feedback every day about what went well, what didn't, what they might try. They have help preparing for the lessons they teach," Alaux continued. "Our plan is that by the time they leave our credential program, they are ready to have 'kids of their own.'"
Classroom of Her Own
That is Lajevardi's plan as well. She is on track to complete the math credential program in May, and then plans to teach middle school math.
Despite current economic times when teaching jobs are harder to find, well-prepared math teachers are in demand — and the foundational-level math program addresses a critical statewide and nationwide need to prepare quality math teachers, noted Mark Ellis, chair and associate professor of secondary education. (See sidebar.)
Lajevardi has been selected as a math teaching fellow in a $2.5 million National Science Foundation grant-funded program led by Ellis, Martin V. Bonsangue, professor of mathematics, and Ruth Yopp-Edwards, professor of elementary and bilingual education. The program's goal is to increase the number of math teachers in local middle schools and high schools.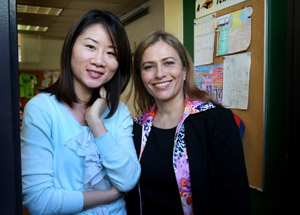 Caption: Sohayla Meknat Lajevardi, right, with her master teaching fellow, Susie Min. Photo by Karen Tapia
Through the program, which began last fall, top teachers, named master teaching fellows, serve as mentors to the university's student teachers. Lajevardi's master teaching fellow is Susie Min, a pre-algebra and algebra teacher at Brookhurst Junior High School for eight years and founder of the school's Math Club.
"Sohayla has the best attitude and is very passionate and patient in teaching the kids. She is hard working and is always willing to learn," Min said. "It is a great pleasure working with Sohayla because she is always positive and optimistic."
Min agreed that Lajevardi's classroom training is invaluable in her preparation as a future teacher.
"This is a special opportunity for the student teacher to explore and experiment in a safe environment," Min said. "As a master teacher, I provide honest and immediate feedback each day and share suggestions and resources. We resolve many problems that arise by sharing ideas and discussing the issues. I expect the student teacher to stay positive and know that it is better to take risks and make mistakes rather than to stay in the comfort zones. Students can benefit from a variety of teaching methodologies because they all have different learning styles."
Min also has some good advice for future teachers. "Teaching is hard work and it requires strong passion and patience to be a great teacher. Although people might see teaching as a routine job, it is actually the opposite. Each day is a new challenge with new opportunities as a teacher. While you are a teacher, you need to remember that you could be the only reason why some students come to school and not give up with their future."
Becoming a Teacher
Born in Tehran, Lajevardi and her family came to the United States when she was 14. Becoming a math teacher is full circle for Lajevardi, who found the subject easy to learn as a child and adult. In her undergraduate college education, she took rigorous, high-level math courses, including calculus 3.
After earning a bachelor's degree in electrical engineering 25 years ago from San Diego State University, the Laguna Niguel resident taught math and electronics at a Los Angeles technical school.
In 2003, she started a math-tutoring center in her neighborhood, working with students from elementary- to college-level. Four years later, she began working at Ladera Ranch Elementary School to tutor students needing extra instruction in academic subjects.
Being in the classroom inspired her to return to college and earn a teaching credential.
"I love working with adolescents, I love teaching and I love mathematics," Lajevardi said.
When looking for a credential program to attend, Lajevardi spoke to different educators and did her own research to determine the best program for her.
"I found out that Cal State Fullerton is the best place to be because the credential program is ranked very highly in the nation. Furthermore, I discovered that the College of Education is looked upon very highly among many educators and its graduates are having an easier time finding jobs.
"I also was very much impressed when I saw how everyone in the college gave me their personal attention and guidance," she added.
The College of Education is the only university teacher preparation program based in Orange County and accredited by the National Council for Accreditation of Teacher Education, the nation's leading accrediting body for teacher education programs.
As a teacher, Lajevardi hopes to encourage students' interest and ease any apprehension about learning math.
"I hope to bring an excitement to students about learning math, rather than the usual discouraging attitude most of them possess now," she said. "I also want them to know that mathematics is very logical and can be and should be used in every day experiences."
March 22, 2011