STEM Initiative
Call to Service
Future Science Teacher Named Federal Student Ambassador
Future high school science teacher Kristy Mar spent last summer getting an insider's look at what it's like to work for the federal government in Washington, D.C.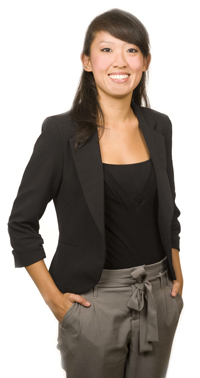 Caption: Credential student Kristy Mar is serving as a Federal Service Student Ambassador for 2010-11. Photo courtesy of Sam Kittner/Kittner.com
As a result of her internship service at the Office of Inspector General, U.S. Department for Health and Human Services, she has been selected to serve as a Federal Service Student Ambassador for the 2010-11 academic year.
Sponsored by the nonprofit Partnership for Public Service, the program enlists students to promote public service on college and university campuses nationwide. A total of 47 students representing 40 colleges and universities across the country were selected from more than 150 applicants. Mar is one of three students selected from a California university.
To be eligible for the ambassador program, students had to complete a federal government internship. Mar's summer work experience gave her insight about the work of a federal agency, as well as the opportunity to be mentored by professionals from varied backgrounds and skills.
"It's amazing to see what kind of work goes on in our nation's Capitol. Now I am in a unique to position to share this information with my peers," she said.
As an ambassador, Mar serves as an on-campus resource for federal job and internship information, providing "insider" tips on where to find and how to land coveted federal jobs. Her responsibilities range from conducting presentations and workshops to collaborating with campus career services representatives.
This spring, Mar plans to spread the word about public service by holding student networking sessions, meetings and workshops to raise awareness of the opportunities and benefits of federal service.
"By completing these goals and making an impact at the university, my hope is to enforce the idea that students on our campus are active contenders in the job market," Mar said. "It also means that I have an opportunity to share information about employment with my fellow peers. Often, my peers tend to seek opportunities in either private or nonprofit sectors, and completely miss the possibilities in government jobs."
Despite the array of opportunities, many federal agencies have trouble attracting students because of a lack of knowledge, according to the Partnership for Public Service.
"I don't want to say that I am trying to force information about the federal government being the best employers, because I do not know," she added. "But I simply could not let my experience during my summer internship go to waste and thought this would be a great opportunity to share my story and those of my fellow interns to students who may be interested in gaining significant experience that will boost their marketability in landing a government service job."
Teaching Science
Mar graduated from Cal State Fullerton last spring with a bachelor's degree in biological science. As an undergraduate, she considered a career in the health professions, but decided to use her science background to make a difference in the classroom.
In fall 2010, she returned to her alma mater, attending courses in the single subject credential program — in biological science — to prepare for a teaching career. The science focus reflects Cal State Fullerton's heightened emphasis on increasing student interest in the STEM fields — one of the university's initiatives for 2010-11.
"Science is a well-rounded field of study that I feel is worth a student's investment. I want to teach high school students to become skilled scientists and to encourage scientific thinking prior to entering college," said Mar, who is student teaching biology courses at Anaheim High School this semester.
"It leaves a lot of room for opportunities — and I want my students to see that. I want to help ease the intimidation about science and to make each student realize that we are all scientists in our own way."
Jan. 31, 2011