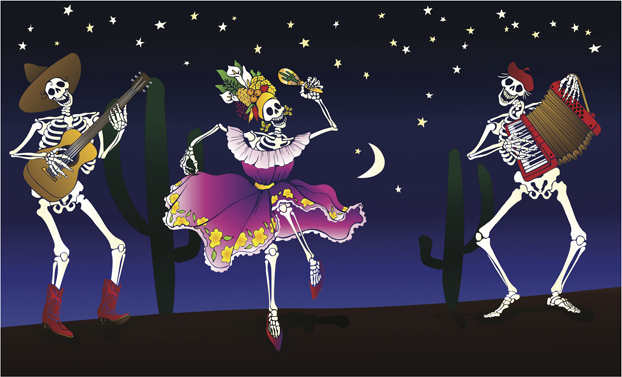 Caption: Students will celebrate Dia de Los Muertos on Nov. 2 and Nov. 9.
Celebrating Tradition
Students Sponsor Dia de Los Muertos Events Nov. 2 and 9
Oct. 21, 2011 :: No. 48/mkc
What: Cal State Fullerton students will celebrate Dia de Los Muertos Nov. 2 and 9 through special altar displays and contests, mariachi performances, Aztec dancing, face painting, sugar skull decorating, storytelling and Loteria games.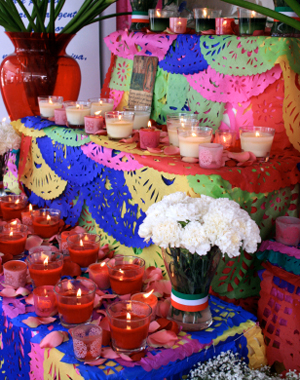 Schedule:

Wednesday, Nov. 2
10 a.m. to 10 p.m.
 in the Quad
An altar competition kicks off festivities. Contestants are asked to start setting up at 9 a.m. Other activities throughout the day include face painting, sugar-skull decorating, free pan dulce and pan muerte (two traditional kinds of breads served on Day of the Dead) and Aztec dance performances.
Wednesday Nov. 9
Plaza in front of the university's Humanities-Social Sciences Building
11 a.m.-noon — ofrenda workshop with artist Daniel Martinez
Noon-1 p.m. — Mariachi Monumental de America performance
1-2 p.m. — art exhibit, Loteria playing and ofrenda workshops
2-3 p.m. — storytelling
4-5 p.m. — Xipetotec dance performance
Sponsors: Members of Movimiento Estudiantil Chicano de Aztlan (MEChA) de CSUF are organizing the Nov. 2 event for the 18th year, and members of the Chicana and Chicano Studies Alliance, are producing the Nov. 9 event for the first time.
Parking: $2 per hour or $8 for a daily permit. Details are available online.
More Info: Call MEChA at 657-278-3846 or C@SA at 657-278-3839
Media Contact: Mimi Ko Cruz, Public Affairs, 657-278-7586, mkocruz@fullerton.edu