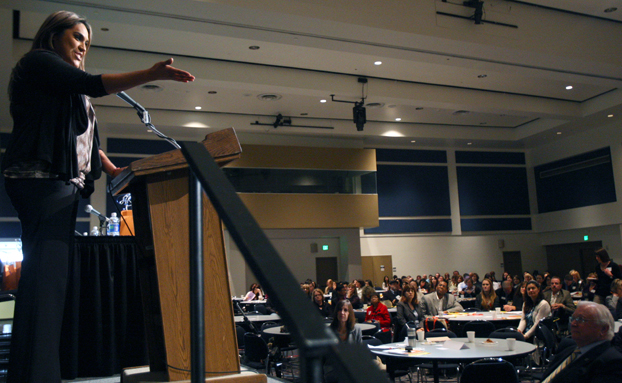 Caption: Student Maura Solano speaks at the Conditions of Children Forum. Photo by Karen TapiaDownload Photo
Breaking the Cycle
Forum Addresses Impact of Family Violence
AS A CHILD and teenager, Maura Solano lived in angst. A victim of abuse, she finally felt safe when she married a police officer. Unfortunately, her abusive husband was no protector. "I lived in fear every day and night and ended up in the emergency room with a concussion and bruises," the Cal State Fullerton human services major said Nov. 16 at the 10th annual Community Forum on the Conditions of Children in Orange County.
"I had a gun pointed to my head by my supposed friend, my supposed companion," she said. "When I found out I was pregnant, I hoped the violence would stop, but it only got worse. His violence against our son was the final straw."
With the help of a number of Orange County social service agencies along the way, Solano and her son left their violent home and began the healing process. Today, Solano's ex-husband has no parental rights to their son and Solano is completing her bachelor's degree. She hopes to pursue a career in which she will be in the position to help victims of violence.
"We have broken the chain of violence and started a new beginning," she said. "We're no longer victims. We are survivors."
Her story exemplifies the need for services that help those in need, especially victims of family violence, forum organizers said.
"Family violence is a problem that affects everyone," said Michelle G. Berelowitz, director of Cal State Fullerton's Center for Community Collaboration. "Prevention and treatment require the effort of the entire community."
The topic was addressed in a special section of this year's Report on the Conditions of Children in Orange County, which is produced by Cal State Fullerton's Center for Community Collaboration and Orangewood Children's Foundation and is sponsored by the county of Orange and the Children and Families Commission of Orange County.
Family violence also was the subject of the forum's keynote address, delivered by Los Angeles Superior Court Judge Yvette Verastegui.
"Although there is room for improvement, I am more than confident that the conditions of children in Orange County will continue to improve," said Verastegui, who with her younger siblings grew up in Orange County homes for wards of the state because of parents who abused, neglected and, ultimately, abandoned them.
She stressed the importance of mentors, who provided her with support and guidance and helped her when she needed it most. And, she said, education made it possible for her to succeed as an attorney and as an Orange County public defender from 1994 to 2001. In 2010, at age 43, she was appointed a Los Angeles Superior Court judge by then-Gov. Arnold Schwarzenegger.
Mentoring and education are critical components to the success and survival of hurting children, especially disadvantaged kids, child-abuse victims and incarcerated youth, Verastegui said.
She thanked her mentor, William G. Steiner, former Orange County supervisor and executive director of Orangewood Children's Foundation, for his support and friendship when she lived at Orangewood Children's Home and during her college years.
"Do not underestimate the value of mentoring," she told the nearly 300 attendees — mostly educators, social workers, policymakers and health care providers — at the forum. "It has the ability to transform lives."
As for education in Orange County, she said, "we all know it is key. Nothing predicts future success more than an education, and nothing guarantees failure more than a lack of one."
Yet, she said, the county spends dramatically less to educate a child than the state spends to incarcerate one.
"It costs more than $47,000 to incarcerate one individual for one year; $47,000 easily covers tuition at an Ivy League university," Verastegui said.
In contrast, the county spends $43 a day to educate a public school student, based on a 180-day school year, she said, adding that the cost to incarcerate a youth for 180 days works out to $317.46 per day.
The 2010-11 average-per-pupil expenditure for grades K-12 was $7,852 for Orange County, compared to $8,846 for California and $10,586 for the United States.
"We have to invest in education in earnest and make it a priority," Verastegui said. "Education was my salvation. It provided the pathway to my success. I believe in the transformative power of an education. It ensured that I did not become a product of my environment."
She concluded her talk with this: "Without a doubt, working with youth is challenging and heartbreaking, but most rewarding. Thank you on behalf of all the children that you've helped in the past and for all the children you will help in the future."
The 17th annual Report on the Conditions of Children is available for download at this website: http://www.occhildrenandfamilies.com/EkContent.aspx?mid=37&id=472.
Nov. 17, 2011