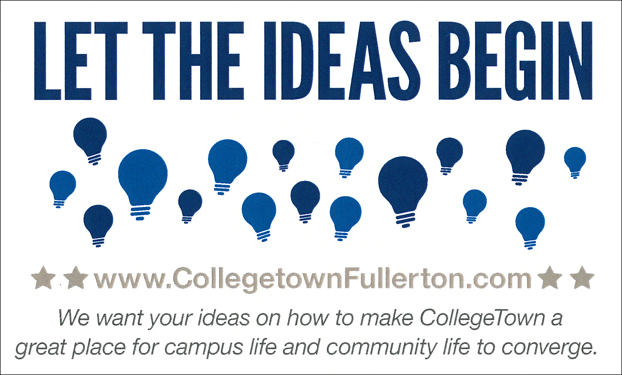 Caption: Posters are one of the avenues MindMixer uses to engage campus and community members in sharing their thoughts, ideas and priorities about the CollegeTown District proposed for the area  south of the main campus.
University Initiative: Titan Pride
CollegeTown Innovation Continues
Virtual Town Hall Fosters Greater Public Engagement
Nearly three years ago, the city of Fullerton, Cal State Fullerton and Hope International University (HIU) began planning a special district of livable streets, trails and walkways for the neighborhood immediately south of the main CSUF campus.
CollegeTown was the name they gave to their shared vision of "a university without walls, where campus and city life converge."
Fresh Approach to Planning
Their approach to the planning process has proved to be as innovative as the CollegeTown project itself. Utilizing MindMixer, a new online platform that functions as "a virtual Town Hall," CollegeTown planners are seeking the greatest possible community collaboration in planning this ambitious town-gown project.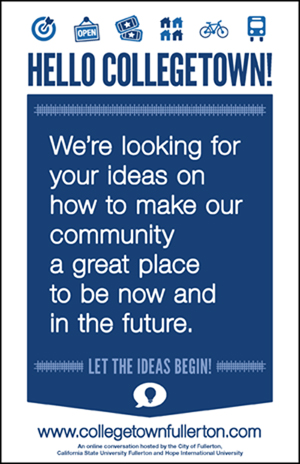 Caption:
Thanks to their efforts, neighborhood residents, citizens of Fullerton and members of the greater Titan community will have an unprecedented opportunity to weigh in on all aspects of the proposed development for the area bordered by Nutwood Avenue, Chapman Avenue, State College Boulevard and the 57 freeway.
The planning area already contains Hope International University's undergraduate campus, Cal State Fullerton's College Park building and parking lot, a mixture of older apartments, retail and office buildings, as well as a new mixed-use project developed by Inland American Communities for completion in 2013. University House will add housing for 1,189 students and 30,000 square feet of retail space along Commonwealth.
Council members received the three partners' draft vision plan enthusiastically in fall 2010 and directed the town-gown planning group to seek community response and report back to the Fullerton Redevelopment Agency at a future date.
Fostering Community Collaboration
Public meetings and actual town halls are far from perfect as a means for determining public sentiment, explains Nick Bowden, MindMixer's co-founder and CEO, pointing out that community members must travel to a specific location at a specific time. Because sitting in a town hall or gymnasium for a few hours can be exhausting, inconvenient and unproductive, the same people tend to show up, the same voices are heard articulating the same recycled ideas, he added.
As an alternative, the group enlisted MindMixer, an online platform that allows community members to plan collaboratively, from the privacy of their own home, school or workplace. MindMixer's virtual town hall enables community members to define the topics for discussion, submit ideas and give feedback on ideas submitted by others. With MindMixer, civic leaders get better feedback, citizens get their ideas heard, community planners reach a wider demographic and ideas are judged on their merit, not on the basis of their source,
"Most people want to be active participants in their community's decision-making, yet the existing model for civic engagement is rooted in community meetings that still require citizens to physically show up at a specific time and specific place."
The MindMixer platform was designed and built from the ground up by people who have spent their careers working with government entities, Bowden said.
"We have first-hand experience in the difficulty associated with attracting citizens to traditional meetings and we understand the challenged of prolonged engagement. We believe that if you provide the right tools and put forth the right topics, citizens will often surprise with their enthusiasm and knowledge."
From Specific Plan to Realized Vision
California state law requires that each county and city in the state develop and adopt a General Plan — a comprehensive long-term plan for the physical development of the county or city. In this sense, a city's General Plan is a "blueprint" for municipal development.
A Specific Plan is a tool for the systematic implementation of the general plan. It links implementation of the policies of the general plan and the individual development proposals in a defined area. Any interested party may request the adoption, amendment or repeal of a Specific Plan.
Council members voted in July 2011 to begin working on the Specific Plan for the CollegeTown area by gathering public input from stakeholders, including the CSUF & Hope campus communities, property owners, neighborhood residents and the greater Fullerton community.
Next Steps Include Impact Report
The next stage of project planning is now under way, and the MindMixer website is being used to solicit feedback from the community in 2011-12. The partners expect to file a Specific Plan and Environmental Impact Report for the proposed CollegeTown District with the city in late 2012.
A Specific Plan will provide the standards and guidelines for future development projects and improvements to the area, including streets, open spaces, bikeways and other amenities. The MindMixer website also will contain links to the draft documents and maps that will be prepared for the Specific Plan. Notice of upcoming events, including community workshops, also will be posted there.
Join the Collaboration
While the project planners representing the city of Fullerton, Hope International University and Cal State Fullerton acknowledge that financing, planning and developing the proposed district may take a decade or more to complete, the enthusiasm with which they speak of the district's possibilities makes that distant prospect seem as close as tomorrow, said Christopher Reese, Director of Community Relations in the Office of Government Relations.
Little wonder, then, that their enthusiasm spills over into an equally vibrant passion for collaboration.
"We're looking for useful ideas that will make CollegeTown a great place in the future," the CollegeTown MindMixer site promises. "Click on any topic to start participating!"
Fullerton residents and members of the larger Titan family can help shape the character and future of CollegeTown by joining the collaboration online at CollegeTown's MindMixer site.
11/08/2011