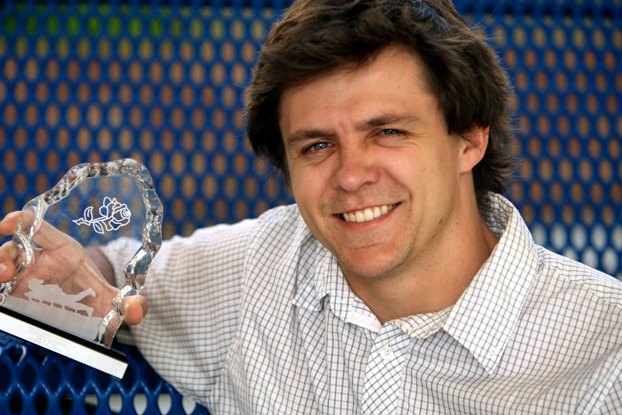 Caption: Senior art major Jonathan Soto is wrapping up his senior year as a Rosebud Award winner for his first-place finish in the animation category of the statewide CSU Media Arts Festival. His winning entry, "Beaver Fever," is an action-packed animated short. See Clip. Photo by Karen Tapia Download Photo
Festival Winner
Art Major Navigating Nickelodeon
UPDATE: Senior art major Jonathan Soto won the first-place Rosebud Award in the animation category at the Nov. 12 CSU Media Arts Festival.
Jonathan Soto is thinking a lot these days about teenage mutant ninja turtles — the animated kind. But not because he's a kid obsessed with the four vigilantes and their friends.
The 24-year-old art-entertainment art/animation major is spending the fall semester at Nickelodeon, where he's serving as a production intern for the popular "Teenage Mutant Ninja Turtles" franchise.
Soto is among three Cal State Fullerton students and another two dozen from across the country who landed a production internship this fall at the kid-friendly channel's Burbank studios.
"It's an awesome experience," said Soto. "As a kid growing up, you watch these shows, and you don't really know what goes into them. It's cool to see what everyone does from start to finish, how a group of people have one mindset to get the show done."
Soto likes breathing in the collaborative atmosphere at Nickeodeon, where he shadows production assistants and coordinators in their daily routine, observing how the various pieces of an animated effort come together in a "production pipeline."
"It's a great experience just to be there," he said. "It's one of the top 10 internships in the nation."
His classmates Kenneth Hung and Kim Schneider are the other CSUF fall interns at Nickelodeon.
"We get to take classes there, and they have artists who teach us things like storyboarding, so we get to learn from the artists how this is done," Soto added. "I'm learning more of how they organize things, how their production pipeline works. It's good to see how a major studio does it."
It's a step beyond the collegiate world he's used to in the entertainment art/animation concentration, toiling away on assignments for his courses, experimenting with different tools and techniques to find what works. He looks forward to the critique sessions in class when he can break out of solitary artist mode and learn from others.
Now in his final semester, Soto will be finishing his course work in December and starting his job search.
"Jonathan distinguished himself early in his classes with a group of fellow animation enthusiasts, who could hardly wait to get back to creating more ideas on the screen," said Dana Lamb, chair and professor of art. "I have confidence that Jonathan will be applying his abilities and strange sense of humor professionally very soon."
Festival Finalist Is Winner
Soto's timing couldn't have been better to enter the CSU Media Arts Festival, which is being hosted this year by Cal State Fullerton.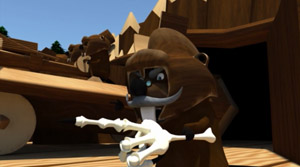 Caption: Beavers stand ready to defend their home in this scene from Jonathan Soto's animated "Beaver Fever," a winner in the CSU Media Arts Festival.
The festival attracts nominations from students statewide for the annual competition. "Best in Show" and other awards plus $9,000 in prize money will be handed out Saturday, Nov. 12. Update: Soto picked up $500 for his first-place win in the animation category.
Soto is one of only two from Cal State Fullerton who were chosen as finalists. Natalie Rodriguez, a radio-TV-film major, is the other CSUF finalist, for her short screenplay "Code Red." Update: She was named the third-place honoree in the short screenplay category for her work.
Soto's winning entry is a 3-D animated short about a group of beavers in the wild who defend their dam from a bear. Click to see a clip.
"They've lived through a couple winters," he explained. "The beavers have survived, and now the bear is back for vengeance."
Professor Lamb characterized "Beaver Fever" as "a great example of the dynamic, animated shorts our students are capable of when you mix passion for storytelling with the animation skills we focus on during their time in the visual arts."
Soto figures the three-minute film of action sequences took about 18 months from concept to completion, spanning one summer and two courses over two semesters — 353A "Drawing for Animation" last fall and this spring's 353B "Animation."
In the first course, "you develop your story and start to lay out your film. For me, that consisted of building my 3D assets, such as the environment and characters," he said, adding, "353B is the class where you actually animate your film."
In the process, he tapped some classmates to lend their voices to the animated characters. Credited on the film for their vocal roles are: Jose Manuel Cisneros, Garrett Danger Eves and Christina Mijares — all senior art majors with Soto in the bachelor of fine arts program — plus Brandon Strathmann, assistant professor of art and the faculty member who assigned the project.
Why this character and this tale? "I was just drawing one day, drew a beaver and it evolved to this, after talking with friends," said Soto. He credits the class assignment with giving him the impetus to finish his film, which became his submission for the festival.
"You have to do a short story for the class. I had a couple of ideas for it — this one was the funny one."
Soto's animated short will be screened Saturday night in Mihaylo Hall along with the films and music videos of other finalists beginning at 6 p.m. The screening is open to the public, free of charge.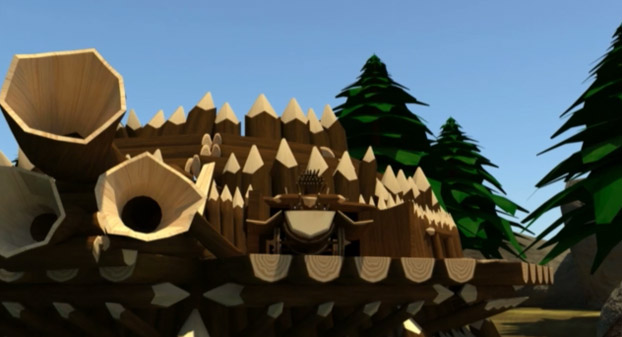 Caption: Beavers have built a dam fortress to protect themselves from a vengeful bear in this scene from Jonathan Soto's animated short "Beaver Fever." The film won Soto the first-place Rosebud Award in the animation category of the California State University Media Arts Festival held Nov. 12 at Cal State Fullerton. The works of the festival finalists were shown at a free, public screening that evening.
Nov. 10, 2011| Updated Nov. 14 and 18, 2011