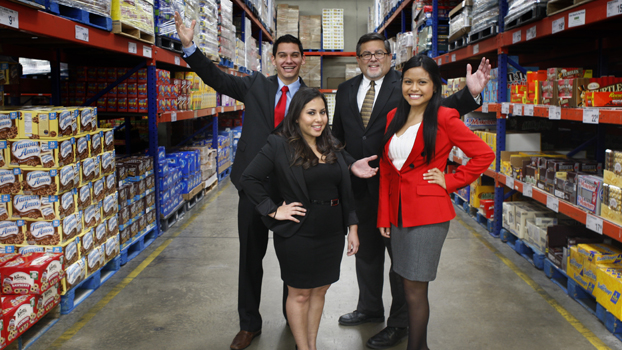 Caption: Three students from Mihaylo College of Business and Economics were one of five teams to come up with an award-winning marketing plan around the theme of "Increasing Sam's Club Marketing Penetration of the Latino Population." Pictured in the Fullerton Sam's Club are, from left, Shaun Vasquez, Susana Carmona, team adviser Christopher Anicich and Lizbeth Martinez. Photo by Karen Tapia Download Photo
Team Effort Brings Results
Trio of Business Students Are Winners in National Marketing Plan Contest
How would you market a national retail chain, in order to encourage more Hispanic families to shop there?
For three business administration majors, deriving the answer was simple: what would get their families to go there? What would they seek in the way of products and merchandise?
Shaun Vasquez, Susana Carmona and Lizbeth Martinez's hard work and ingenuity snagged $20,000 in prize money as one of five winning teams in a recent Hispanic-Serving Institution Scholarship Competition sponsored by Sam's Club. Their winnings amounted to $15,000 in scholarship funding for the students and $5,000 awarded to the university.
The competition was open to teams of full-time sophomores and juniors from universities designated Hispanic-Serving Institutions by the U.S Department of Education (see related item). Each team was tasked with developing a marketing plan around the theme "Increasing Sam's Clubs Market Penetration of the Latino Population."
"We used our family perspectives to help us consider what Sam's Club should do to reach more of the Hispanic market," said Martinez of La Habra, a junior studying accounting and marketing who hadn't taken a marketing class prior to working on the project. "I also posted a 'status' asking my friends their opinion of Sam's Club on Facebook. The simple question became a discussion that included friends from all over the country. I received more than 50 comments."
For their marketing plan, "we focused on marketing in California, but we believe the plan could be used for various regions," said Carmona of San Clemente. The senior, whose concentration is international business, added that the team also looked at the type of products sold and how the stores were promoted in areas with sizable Hispanic populations. The team was able to use ESRI Business Analyst Online, a demographic tool, to identify key market segments with Latino consumers likely to shop at a Sam's Club store.
"ESRI had made a presentation to the Marketing Department earlier in the year, and we asked if it was possible for the students to use the product for this contest," said Christopher Anicich, lecturer in marketing who assembled the team from students in his "Principles of Marketing" class. "They allowed the students to use it for one week free, and it was a wonderful opportunity for them."
"We also talked to club employees about the store, its products, pricing, etc.," said Vasquez, a resident of Seal Beach. "One thing we believe is that few in the Hispanic community realize how easy it is to get a membership at Sam's Club — informing the public would help the store become more inclusive.
"We worked very well together despite our different majors and backgrounds," added Vasquez, a senior who is studying finance and accounting. "Our collaboration was solid."
The collaboration continued through the selection process and the contest's November awards dinner held in Washington, D.C.
"In mid-October I got an email that our team was one of seven finalists," said Vasquez. "To narrow the field down to five, contest organizers wanted to conduct phone interviews." Four questions were posed: "What are the core beliefs and values of Sam's Club? How would we implement our plan, including a time line of the roll-out dates? What is our favorite attribute of Sam's Club? and What is our dream career? The following Monday we heard that we were one of the winning teams."
Team members took a red-eye flight to Washington, D.C., arriving at 6 a.m. Skipping any shut-eye, they headed straight for their hotel to change clothes and get ready for the diversity conference, as well as that night's awards dinner. The team met with executives from Sam's Club, then took part in the conference, using the opportunity to network with corporate attendees.
During the dinner, all the winning teams were to sit at one table, but the Cal State Fullerton team was asked to sit with the Sam's Club executives at their table, said Vasquez.
The CSUF team stayed two extra days to take in the conference and to network. They also sent out thank-you emails to every individual they met with from the warehouse company, said Carmona.
"It was nonstop," said Vasquez. "We wanted to suck up the whole experience. We knew that it was a once-in-a-lifetime opportunity."
The extra effort seemed to work: Carmona recently landed an interview with Sam's Club executives.
The experience of competing and meeting business leaders at the diversity conference, "opened doors for me and taught me that an education is important, but having the skills to talk to people in a competitive environment is also important," said Carmona. "I enjoyed the work and seeing what we could accomplish."
Added Martinez: "This experience showed me how I could come up with ideas, be creative and do well. It actually encouraged me to study marketing and I'm considering careers in retail, marketing and marketing research."
"I realized that I could really do this," said Vasquez, who is interning at a financial investment company. "I gained confidence in what I could do, what I could accomplish."
"I'm very proud of what our team was able to accomplish, and hope that we can work with Sam's Club on other projects that will provide real-world experience for our students," said Anicich, lecturer in marketing. "It turned out to be an amazing experience for all of us."
Dec. 12, 2011