Historian in D.C.
Rast Takes Part in National Discussion on Latino Landmarks
Raymond W. Rast, assistant professor of history and associate director of Cal State Fullerton's Center for Oral and Public History, will be in Washington, D.C., Oct. 11-12, speaking at the American Latino Heritage Forum being hosted by the White House and the U.S. Department of the Interior to celebrate the past and ongoing contributions of American Latinos who have helped shape America's diverse history.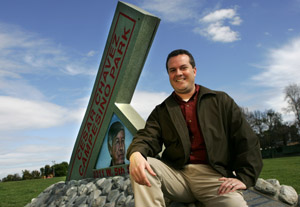 Caption: Raymond W. Rast, is participating in a national discussion on Latino history. Photo by Karen Tapia
Rast will be among 14 historians and scholars from across the nation participating in the forum. He was tapped because of his ongoing research as part of a National Park Service project to name one or more landmarks in honor of César E. Chávez, the celebrated late labor leader who founded the United Farm Workers.
"We will be discussing what the National Park Service has done to preserve sites related to Latino history and what it should be doing," Rast said. "President Barack Obama will deliver remarks at the forum, and I'm pleased to see that he and Secretary of the Interior Ken Salazar are recognizing the work being done to preserve historic sites."
Rast said the country has and continues to preserve and protect historic sites of Spanish colonial significance, such as the California missions. "But, there's a considerable need to look at sites related to 20th-century American Latino history in the areas of work, education, the arts, culture, civil rights and political activity," he said.
The forum, held during Hispanic Heritage Month, is expected to attract a broad spectrum of business leaders, cultural leaders and scholars from the Latino community to discuss how the legacy of American Latinos should be recognized, preserved and interpreted for future generations, according to a White House press release.
The forum will feature three panels that will discuss: "Recognizing the Contributions of the American Latino in the American Economy," "Honoring the Contributions of American Latinos From the Revolutionary War to Iraq and Afghanistan" and "Celebrating the Contributions of American Latino Heritage in Arts and Culture."
"Our country thrives on the diversity and ingenuity of its people," Salazar stated in the press release. "Through the centuries, American Latinos have contributed to all aspects of our society and our culture. They are entrepreneurs and public servants, laborers and farm workers, doctors and lawyers, activists and educators, and brave service members who defend our way of life at home and abroad. Our ability to harness the resources and talent of the Latino community will only strengthen our nation's ability to out-innovate, out-educate and out-build the rest of the world."
Oct. 7, 2011