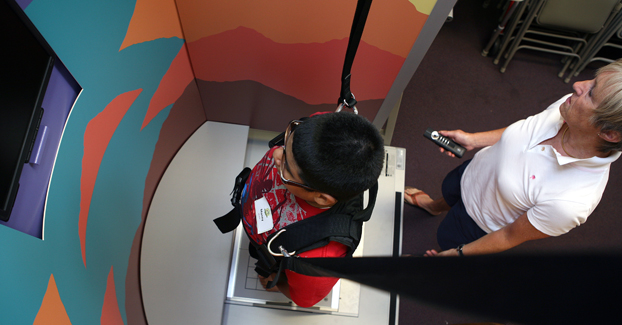 Caption: A child taking part in Cal State Fullerton's Prader-Willi Syndrome and childhood obesity research takes a sensory test as Debra J. Rose, right, records his results. Photo by Greg Andersen 
Tackling Obesity
Increasing Physical Activity is Goal of Prader-Willi Study
It was difficult to keep his balance on a sensory-testing machine and he stepped off the platform twice, but the sixth-grade boy got through it, and Debra J. Rose meticulously recorded the results.
"We're testing sensory perception, motor skills and activity levels, checking bone density and taking other related measurements today," Rose said on a recent Saturday as children with Prader-Willi Syndrome began participation in a 24-week study, with the goal of increasing physical activity levels.The professor of kinesiology and director of the Center for Successful Aging, is part of a team of professors, staff and graduate students working on Prader-Willi Syndrome and childhood obesity research. The syndrome is a genetic disorder that causes one in 12,000 to 15,000 people to develop an insatiable appetite, often resulting in life-threatening obesity.
The project, which began in 2008, has been funded by U.S. Army Medical Research Agency grants. More than $6 million (including a $1.4 million grant awarded this month) has been awarded to date to complete several projects at Cal State Fullerton and at the University of Florida at Gainsville, under the helm of lead researcher Daniela A. Rubin, assistant professor of kinesiology.
Rubin and the research teams at Fullerton and Gainsville have been studying Prader-Willi Syndrome to gain insights into the role of exercise and nutritional phases of the condition. They are comparing data with that of those who are obese but don't have the disorder. Their conclusions, they said, will most likely result in effective interventions for obesity prevention or treatment.
During the first years of research, Rubin and Daniel Judelson, assistant professor of kinesiology, evaluated how children with and without Prader-Willi Syndrome respond to different types of exercise.
From their results so far, Rubin said, "it appears that the hormonal and metabolic response of children with the syndrome are similar to those without the syndrome."
She said that at Gainsville, Daniel J. Driscoll, professor of pediatrics and genetics, and his colleagues have identified the different nutritional stages of Prader-Willi Syndrome, delineating a hormonal profile for each phase.
Preliminary findings from the ongoing studies have been reported in journal articles and the research team has made presentations at conferences nationwide.
Now, Rubin and her colleagues are administering a home-based intervention that involves 36 families so far. The intervention consists of a six-month physical activity curriculum called Active Play At Home. It includes a combination of playground games and interactive console-based games. Parents are involved as key mediators for the completion of the program, Rubin said.
Some of the parents in the Active Play At Home project also are involved in a decision-making intervention being directed by Jie Weiss, associate professor of health science.
The intervention involves obese children, ages 8-11, and youths with Prader-Willi Syndrome who are 8-16, plus their parents or guardians. The materials are being provided to families at no cost and instruction is being given in English and/or Spanish.
The curriculum was developed by Rubin; Rose; Lenny Wiersma, professor of kinesiology; and kinesiology graduate students Matt Junior and Lindsay Schroeder. The study subjects are taking part in different types of games at least three times a week.
Additional subjects and their parents are being sought for the Active Play At Home study. To sign up, call Diobel Mendoza Castner, project manager, at 657-278-8737.
"We are recruiting 65 families total at CSUF and 35 at the UFG until August," Mendoza Castner said.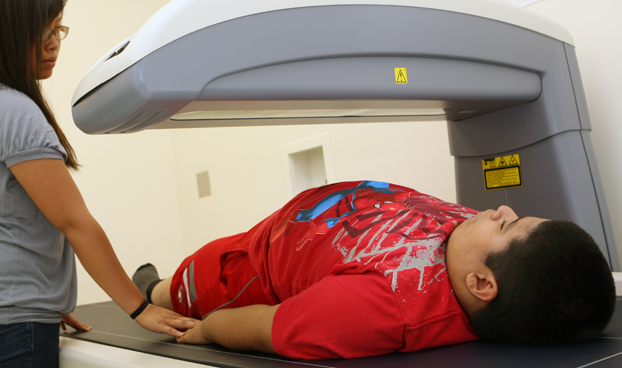 Caption: Diobel Mendoza Castner, left, uses a DXA (dual X-ray absorptiometry) machine to measure the body fat and bone density of a research subject. Photo by Greg Andersen
Oct. 11, 2011 | Updated Oct. 14, 2011