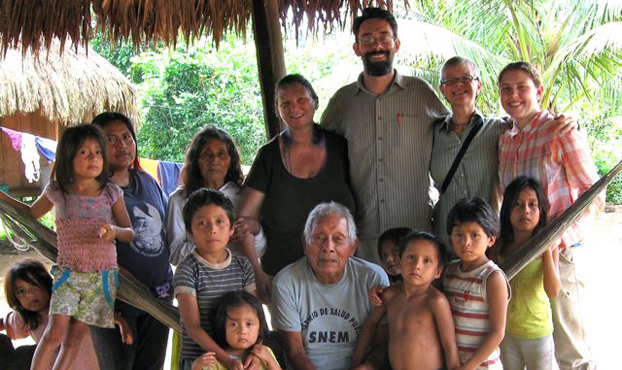 Caption: Brenda J. Bowser, assistant professor of anthropology, back row, center, gathers for a portrait with members of the Záparo Nation and fellow researchers during a recent visit to the Ecuadorian Amazonia. Pictured in front, surrounded by youngsters is elder Cesario Santi. In the back row, from left, are Julia Pichura, a Quichua language consultant; elder Ana Maria Santi; Bowser; and linguists Lev Michael of UC Berkeley, Christine Beier of the Cabeceras Aid Project, and Vivian Wauters of UC Berkeley. Photo courtesy of Brenda J. Bowser.
Capturing a Dying Language
Professor Documents Linguistic and Oral History of Záparo
It is a race against time.
Brenda J. Bowser, assistant professor of anthropology, is working to capture the linguistic and oral history of the Záparo of Ecuadorian Amazonia. She is working with three fluent speakers of the language — all in their 90s and in fragile health — and five semifluent speakers in their 80s.
"Because there are so few who can still speak the language, and the language is underdocumented, it is urgent that we capture the linguistic and oral history from these few elders who are still with us," said Bowser. "Before our work, phonological and grammatical descriptions were limited to partial sketches: only some 500 reliable lexical items had been collected, one short text had been published and no audio recordings were available."
Bowser, who has focused her research in the area of the Ecuadorian Amazon for 20 years, led a team of anthropologists and linguists to work with these last speakers of Záparo earlier this year under a $14,999 National Science Foundation grant.
"Not only Záparo, but the entire Záparoan family is underdocumented," said Bowser. "We believe that our work will fill a large gap in the understanding of the precolonial social and cultural history of the upper Amazon, where the Záparoan peoples were once the dominant cultural group between the Napo and Pastaza River basins."
Developing a trilingual dictionary (Záparo-Spanish-Quichua), an archive of audio and video recordings and other teaching materials will help enrich language and cultural activities within the Záparo Nation, including the teaching of its language, noted Bowser. Material will be shared with the Záparo Nation, Bowser added, as well as with the Archive of Indigenous Languages of Latin America to ensure widespread access and dissemination.
"The oral history texts produced by the project will be an important resource for ethnographers and historians of the upper Amazon, since written and archaeological materials are scarce," she said.
Bowser's project gathered oral histories, audio and video recordings of the surviving speakers, and cultural sketches that highlight Záparo history, beliefs and behaviors, songs, genealogies, indigenous names for different rivers, mountains and other places, as well as indigenous knowledge pertaining to biodiversity, which is stored in the language.
"People don't realize how rapidly native languages are disappearing throughout the world, and how much traditional cultural knowledge is lost when that happens. For this reason, UNESCO designated the Záparo language as a Masterpiece of Oral and Intangible Heritage of Humanity in 2002," Bowser said.
Dec. 16, 2011