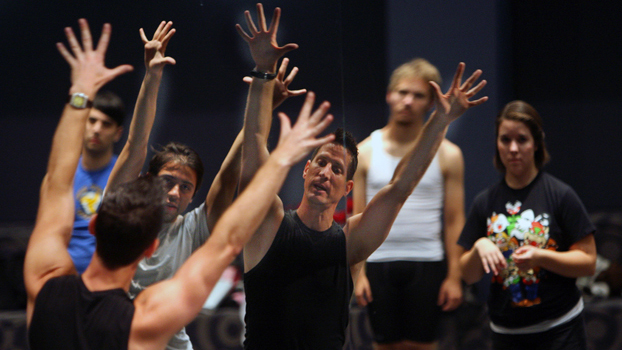 Caption: Matthew J. Vargo demonstrates dance moves as the guest artist in the "Dance for Musical Theatre" class of Bill Lett on Sept. 20. The CSUF graduate (Class of '91) has danced with the national touring productions of "Young Frankenstein" and "The Producers," as well as on Broadway in "Cats." More photos of Vargo dancing with students can be found on Flickr. Photo by Karen Tapia Download Photo
'Transylvania Mania'
Dance Pros Conduct Master Classes for B.F.A. Students
For students in William F. Lett's "Dance for Musical Theatre" class, their morning routine could be devoted to learning moves from a Disney production number or the Broadway stage.

"Transylvania Mania" was the lesson last week when CSUF alumnus Matthew J. Vargo, who was dance captain for the national touring production of the musical "Young Frankenstein," conducted two master classes for the B.F.A. hopefuls, introducing them to the choreography of Tony Award-winner Susan Stroman.

"He was wonderful," said Amanda Sylvia, who has a role in the current campus production of "Dead Man's Cell Phone." "He was so professional, but he made sure we were having a ton of fun at the same time. It was a great opportunity to have him in the class."

Professionals from the dance world are tapped by Lett throughout the semester to present master classes to augment his instruction.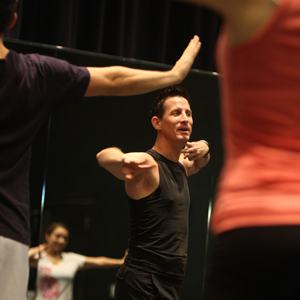 Caption: Matthew J. Vargo, a professional dancer and Cal State Fullerton alumnus, leads students through a musical theater production number during a master class. Photo by Karen Tapia Download Photo
"There are so many advantages to having guest artists come into the classroom/ studio space," noted Lett, a lecturer in theatre and dance. "Sometimes when you are teaching, students don't hear what you are actually saying, and often don't ask questions. However, a guest artist will come in and offer the same pearl of wisdom and, suddenly, they get it.

"Firsthand knowledge makes for a better academic learning experience," he explained. "I can recreate any iconic dance, share research on the choreographer's life and stories that have been handed down to another generation, but I would rather bring in someone who worked with that icon to be able to give a firsthand narrative."
Learning From the Pros
Besides Vargo, guest artists he's booked for the fall include: Linda Love-Simmons, an award-winning director and choreographer who has created works for Disney, Mattel, the 2002 Olympics, Paramount and Holland America cruise lines; soprano Karen Nowicki Bradbury, a choreographer and performer with numerous civic light opera credits; and Dana Solimando, whose stints on Broadway range from "Cats" to "Peter Pan," and who has shared the stage with the likes of Jennifer Lopez and Sheryl Crow, among others.

"Having the guest teacher come in gives us a chance to work with people who have a different style and a different way of teaching," said Sylvia, a junior pursuing a bachelor of fine arts in theater with a concentration in musical theatre. "It's a nice way for us to experience the variety that we'll find in the professional world."

Sylvia was chosen by Vargo to be the dance captain for the "Transylvania Mania" number for the dance showcase the students will present Dec. 15 in the Clayes Performing Arts Center.

"It's my responsibility to make the dance look as clean as possible and as sharp as possible and apply everything that Matthew taught us while he was here," she said.

"Because what we do is so ephemeral, it's important to keep alive and present," Lett added. "Guest artists also help build a bridge from CSUF to the professional world. Numerous students have been asked to audition for outside projects solely based on the master class experience with the guest artists. It's a win-win all the way around."
Lett's Dance Career
For his part, Lett has choreographed more than 50 musicals for universities and professional theaters and other venues. As a performer, he has worked in theater, television and films, including for Disney CBS, NBC and Touchstone.

This summer, he choreographed the revival of "Chicago" for the Torrance Theatre Company, and two of his students were cast as leads in the critically acclaimed production. Senior theatre arts majors Shauni Gerner and Micaela Martinez portrayed Roxi Hart and Velma Kelly, respectively.

Jeff Favre, writing for the Daily Breeze, noted in his review that "Lett captures the essence of the dance action that made Fosse a legendary choreographer. Saving the highly athletic dances for most skilled performers, Lett focuses on the shimmies, gyrations and staccato movements that ooze sensuality ... " and credits Lett with "solid command over the material."

The dance showcase for fall semester students in "Dance for Musical Theatre" is set for 6 p.m. Dec. 15 in the Hallberg Theatre. Admission is free.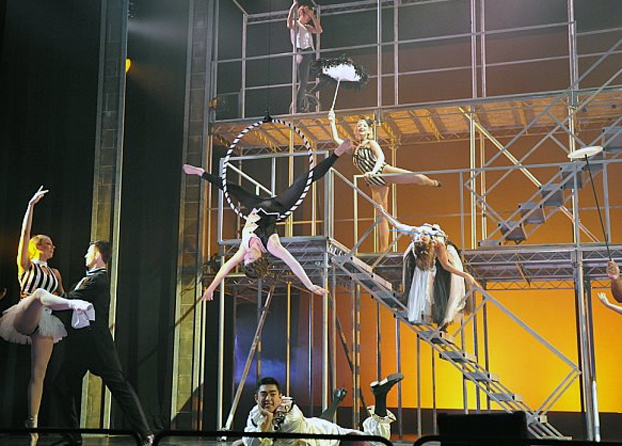 Caption: William F. Lett choreographed "Chicago" for the Torrance Theatre Company, having cast members dance atop and around the multilevel metal scaffolding of the set. Download Photo
Sept. 29, 2011