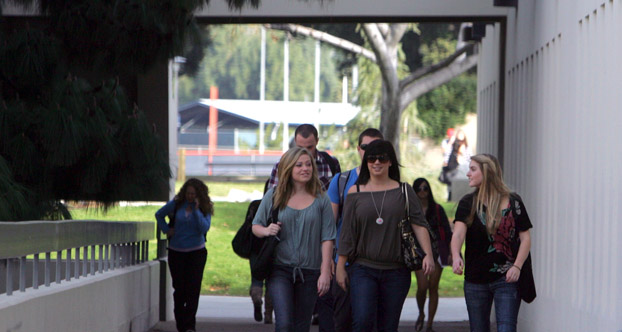 Caption: Students head to class at one of America's best colleges — Cal State Fullerton. Photo by Karen TapiaDownload Photo
Sixth in the West
CSUF Moves Up in Top Public Universities in the West
Cal State Fullerton has moved higher on U.S. News and World Report's "America's Best Colleges" annual ranking — from No. 10 to No. 6 — among "Top Public Schools: Regional Universities (West)."
The university shares the ranking with two of its sister campuses: Cal Poly Pomona and Cal State Chico. The category highlights public institutions that award bachelor's and master's degrees, but few doctorates, if any.
In the magazine's broader "Best Regional Universities (West)" category, incorporating both public and private institutions, Cal State Fullerton moved up to No. 33 from No. 37, along with CSU Chico and CSU Pomona.
Listings are available online and in the magazine's September 2011 edition.
Overall, 626 institutions in four geographic regions throughout the nation are ranked by region; 280 institutions are listed as national universities. The magazine surveyed more than 1,600 institutions overall for their statistical data and obtained data from other sources, as well, including the U.S. Department of Education's National Center for Educational Statistics. Rankings are based on peer assessment, graduation and retention rates and faculty resources, as well as student selectivity, financial recourses and alumni giving.
Harvard, Princeton and Yale University are the top three institutions, respectively, in U.S. News & World Report's list of the nation's "Best National Universities," which ranks only those institutions offering doctoral degrees.
Sept. 30, 2011