Natural Healing
Geologist Studies Ways to Mitigate Oil, Ethanol Spills
Tara Kneeshaw, assistant professor of geological sciences, spent her summer in Bemidji, Minn., studying how to remediate wetlands polluted by oil and ethanol spills. She was based at the Bemidji National Crude Oil Spill Fate and Natural Attenuation Research Site, where a pipeline ruptured in 1979, resulting in a field laboratory for researchers.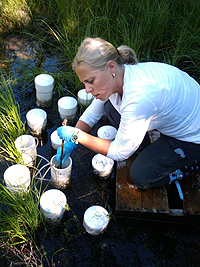 Caption: Tara Kneeshaw 
Kneeshaw's areas of study include polluted water, soil and wetland remediation by natural means.
Her work is part of the U.S. Geological Survey's ongoing Toxic Substances Hydrology Program, which focuses on the effects of spills on marshes, swamps and wetlands, such as those along the Gulf Coast, where recovery work is ongoing, following the April 20 British Petroleum drilling platform explosion and oil spill.
The efforts of Kneeshaw and two collaborators — Isabelle M. Cozzarelli of the USGS and Jennifer T. McGuire of the University of St. Thomas in Minnesota — were underwritten by a $10,000 grant from the Bemidji research site — a collaborative venture of the USGS, Enbridge Energy Limited Partnership, the Minnesota Pollution Control Agency and Beltrami County. Their research also was supplemented by funds obtained for pollution/remediation work by each of the collaborators at their respective institutions.
Kneeshaw will give a talk about her Bemidji work at 4 p.m. Wednesday, Sept. 29, in Room 341 of McCarthy Hall. Her talk is open to the public, but seating is limited.
The trio's findings will be presented during the Geological Society of America conference Oct. 31 - Nov. 3 in Denver and at the American Geophysical Union conference in San Francisco Dec. 13 - 17.
Kneeshaw, who earned her doctorate at Texas A&M University, joined the Cal State Fullerton faculty in 2008.
Sept. 22, 2010