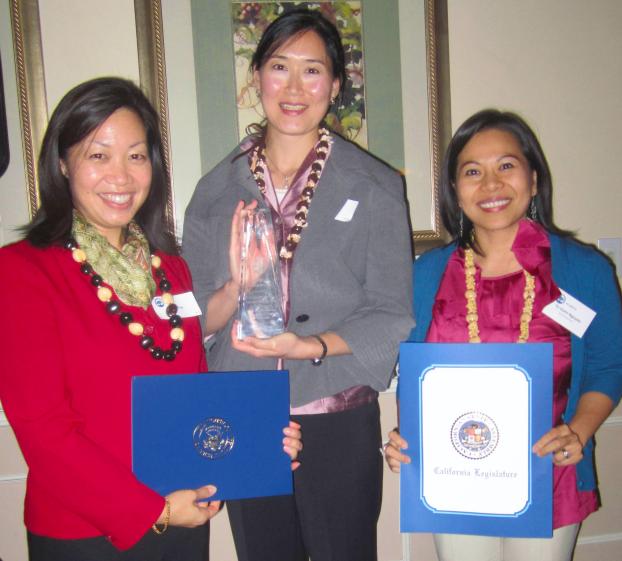 Caption: Jennifer A. Yee, left, Eliza Noh, center, and Tu-Uyen Nguyen accept OCAPICA's Kukua Award.Download Photo
Asian American Studies Honored
CSUF Program Receives OCAPICA's Kokua Award
For its kokua (Hawaiian for extending help to others and for their benefit rather than personal gain), Cal State Fullerton's Asian American Studies Program was recognized by the Orange County Asian and Pacific Islander Community Alliance.
OCAPICA bestowed its Kokua Award on the 14-year-old program at its annual dinner Sept. 23. Eliza Noh, Jennifer A. Yee and Tu-Uyen Nguyen, all Asian American studies faculty members, accepted the award on behalf of the program.
"Our faculty members have worked with OCAPICA over the years in various capacities and we have become familiar with all the amazing programs that OCAPICA does, so to receive this prestigious award validates the work that we do in our program," said Noh, associate professor and coordinator of Asian American studies.
OCAPICA is a nonprofit organization dedicated to enhancing the health and social and economic well-being of Asians and Pacific Islanders in Orange County. It partners with universities and community groups to work to improve and expand the community's opportunities through service, education, advocacy, organizing and research.
Nguyen, assistant professor of Asian American studies, said she has grown professionally in partnership with OCAPICA.
"In 1997, as a graduate student at UCLA in public health, I had the fortune of being introduced to Mary Anne Foo (OCAPICA's executive director), our visionary leader who was starting a community-based health organization," she said. "I felt strongly from that first day that I was part of something very special and I was truly excited to be involved. And, 13 years later, I am still involved, because Mary Anne and all the OCAPICA staff and community partners throughout the years have really been like an extended family to me. Working with them on various projects has taught me so many valuable lessons and insights in my efforts to be a better teacher, a responsible researcher and an engaged community collaborator and advocate/activist."
In tough economic times, Nguyen said, "it is crucial that we develop and nurture more campus-community partnerships because students, faculty, staff and community partners all mutually benefit by being able to share our resources."
Yee, assistant professor of Asian American studies, said she's worked with OCAPICA for the past two years, designing a new service-learning class now offered to students.
"This fall, 17 Cal State Fullerton students will volunteer in OCAPICA's Youth Programs and office, and we look forward to many more semesters/years of working together," she said.
The university's Asian American Studies Program is designed for any students who have a particular interest in learning more about the experiences of Asians and Pacific Islanders in America. The program offers 21 courses, ranging from Asian American history to Asian American creative expression and Asian Pacific American identities.
There are five tenure-track faculty members in the Asian American studies program — Noh; Nguyen; Yee; Thomas Fujita-Rony, associate professor; and Eric Estuar Reyes, assistant professor.
For more information about the program, visit its website.
October 5, 2010