Dual Exhibits
Grand Central Welcomes Works by Joe Sorren and Mila Gokhman
Campus and community members interested in art have two exhibits to check out at the Grand Central Art Center through Jan. 2.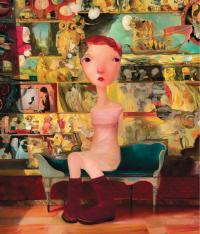 Caption: "Interruption" by Joe Sorren
"Interruption" featuring the work of Arizona-based artist Joe Sorren and the creations of Ukrainian-born artist Mila Gokhman are available for viewing during the hours of 11-4 p.m. Tuesdays through Thursdays and Sundays, and 11 a.m.-7 p.m. Fridays and Saturdays. The art center is located at 125 N. Broadway, Santa Ana. 
Sorren is the 51st artist-in-residence at the center, which was established in 1997 through a joint city/university effort. The noted painter and illustrator has unveiled 10 new paintings along with sculpture collaborations with Jud Bergeron and highlights of work painted throughout the last decade. 
Gokhman, who was born in Kiev, switched to art from a career in civil engineering. As a self-taught artist, Gokhman works with wood, clay, precious stones, metal, fabrics and her preferred medium — leather. Her exhibit of leather collage and jewelry is her first solo exhibit since moving to the U.S. in 2000. 
For more information about these and other events at Grand Central, call 714-567-7233 or go to the Grand Central website.
Nov. 12, 2010