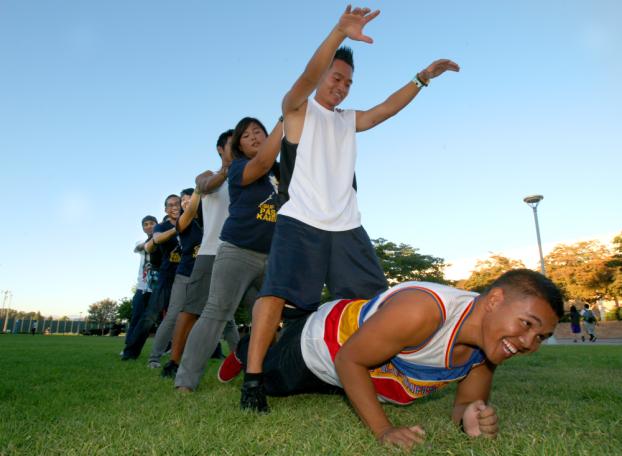 Caption: Nap Paholio, foreground, and fellow students practice the "Groundhog" game, one of the many activities to take place Oct. 30 during the 25th annual Friendship Games. The annual event brings together Filipino American college students for a day of fun, competition and culture. Photo by Karen TapiaDownload Photo
25th Anniversary
Filipino American Students Celebrate Friendship Games
Keisha Macon grew up learning about her African-American heritage. It wasn't until she came to Cal State Fullerton three years ago that she discovered more about her mother's Filipino roots. 
Macon joined the Pilipino American Student Association where she learned about Filipino culture, traditions and made new friends who shared her ancestry. 
"The Pilipino American Student Association opened up a whole new world for me," said Macon, who performs Philippine folk dances. 
Today, Macon is co-coordinator of the student organization's annual Friendship Games, held on campus each fall to celebrate college students' Filipino heritage. 
Her mission is to heighten awareness and cultural understanding about Filipino Americans on campus and in the community.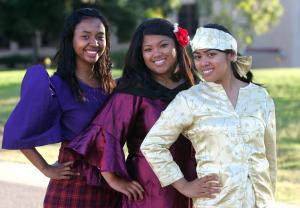 Caption: By joining the Pilipino American Student Association, Keisha Macon, from left, Kimberly Alonso and Mara Pangan have learned more about their Filipino heritage, including traditional dress and folk dances. Photo by Karen TapiaDownload Photo
A Quarter Century Celebrating Culture With Fun
This year, the association will celebrate the 25th anniversary of the games on Oct. 30. The games are expected to draw thousands of Filipino American college students from higher education institutions across California, Arizona and Nevada. 
"The event is a time when old friends reunite and where new friendships form, and we all come together to celebrate our Filipino heritage," said Macon, who is coordinating the event with Jerell Rosales. "Friendship Games has become a staple of the Filipino American college experience, promoting what we call S.P.U.F. — Spirit, Pride, Unity and Friendship. It is an experience like no other." 
In 1983, the Pilipino American Student Association, Kaibigan (meaning "friend" in Tagalog, the major language of the Philippines), was established to promote Filipino unity through education, responsibility and character. 
"This is accomplished through communication, organization, leadership, recruitment and retention," said Alvin Reyes, president of the association, which has about 100 members. "By understanding our Filipino culture, we build integrity and friendships so that each of us can make a difference." 
Reyes, a nursing major, said that the student organization is a way for college-age Filipino Americans, as well as students of other cultures, to connect to the Filipino culture. "Our student organization stresses the importance of staying connected to your roots and raising awareness regarding issues that young Filipino Americans face," he said. 
One way to achieve that goal is through the Friendship Games, supported through registration fees, fundraisers and sponsorships. In October 1985, students organized the first Friendship Games for the sole purpose of bringing together student cultural clubs from the local area. 
Highlight of College Experience
"What started off as a fun and friendly picnic has now become one the largest student-run Filipino American gathering in the nation," Reyes said. "Now, 25 years later, the annual event has become the highlight of Filipino American college life." 
This year, more than 30 Filipino American college student organizations will compete in the spirited, friendly, nontraditional picnic games. Students compete for an 8-foot gold trophy, awarded to the team showing the most "S.P.U.F." 
The games have evolved into a humorous spin to traditional picnic games with unusual names such as "Conveyor Belt" "Tidal Wave" or "Alpine Green." 
"Over the years, the games have evolved into students' own college versions of picnic games, making them more interesting, fun and memorable," said Macon, a health science major planning a career as a physician's assistant. 
"But most of all, the Friendship Games make us all proud of who we are," added Macon, who is visiting the Philippines in January to meet her mother's family.
Oct. 19, 2010